The Time and Space for Disruption: Using Technology to Reinvent Hospitality Business Models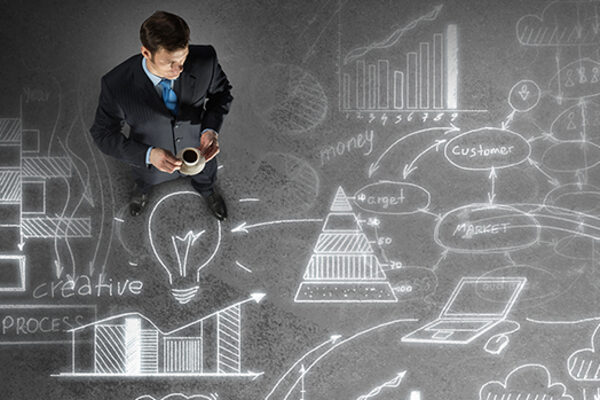 "Digital tech is changing the world," said School of Hotel Administration Associate Professor Elena Belavina, before referencing venture capitalist Marc Andreessen: "And tech is eating the world." Interpreting Andreessen to mean that tech-savvy companies are taking over, Belavina set the tone for the keynote webinar titled Using Technology to Reinvent Hospitality Business Models: Investing, Development, and Operation. Held in March, the event included a trio of industry experts who have been working together to lead the pack in rapidly-developing technologies which are disrupting hospitality business models.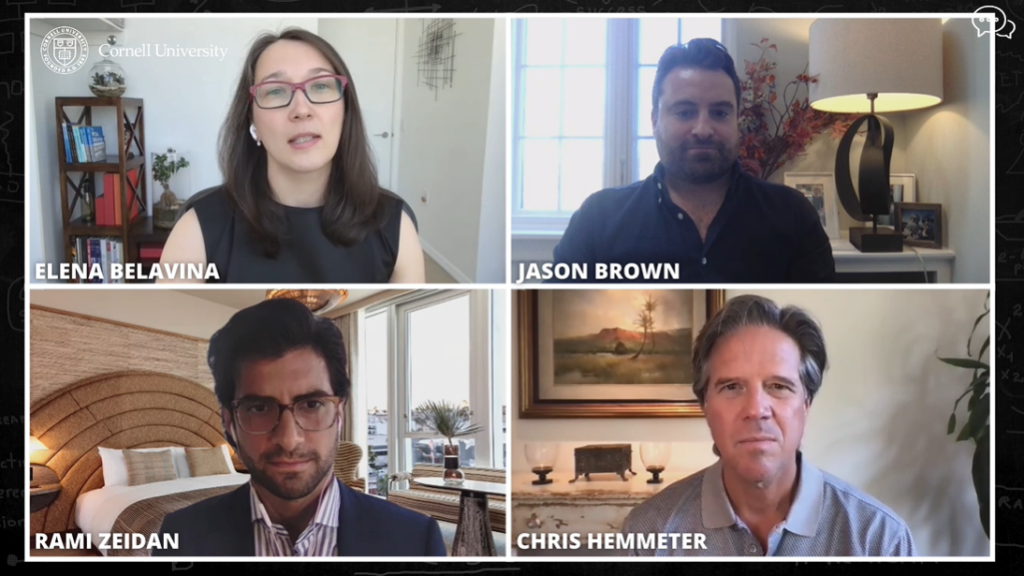 Presented by the Pillsbury Institute for Hospitality Entrepreneurship and eCornell, the event featured hotel technology entrepreneur and executive Rami Zeidan, founder and CEO of Life House Hotels, in conversation with Jason Brown '05, of real estate development and investment firm Blue Flag Partners, and Chris Hemmeter '86, co-founder and managing director of Thayer Ventures, a venture capital firm focused on emerging technology companies in the travel and transportation space. As Brown and Hemmeter are both investors in Life House, the trio was uniquely placed to discuss their progress and goals in conceiving, developing, funding, and operating this cutting-edge hospitality business model.
Re-thinking the value chain
Rapid advances in digital technology and major shifts in customer culture are combining to provide a rare opportunity for entrepreneurs and investors to reinvent the hospitality business model, particularly in regards to investing and operations. In describing the hospitality space, Hemmeter sketched an industry whose goals had not been reconsidered in too many years. As the industry expands from "a place where people sleep when they're not at home" to one offering lifestyle experiences to a more nomadic and tech savvy consumer, traditional hotel brands have been slow to adapt. This complex value chain has been resistant to adoption of technology…and that has sort of anchored a resistance to change."
Reinventing the business model
Zeidan, who worked in the private equity side of hotel business and saw operations backlogged by the need for tech innovations, determined to be a disruptor in modern hospitality by responding with technology-driven solutions to systemic problems. "We decided to throw out everything existing, build an optimal operating system; not trying to fix it, but starting from scratch." Zeidan's company has built a suite of proprietary technology that automates costs and drives incremental revenue. As clean API (application programming interface) culture evolves, he said, "Great products are sprouting and you need to integrate them. By owning the vertical stack, we own the experience, change staffing models, monetize our technology through management contracts." Life House is now working with KAYAK to help independent owners drive demand to their hotels.
Revolutionizing P&L by automating to scale 
To start, Zeidan aimed, unsurprisingly, to increase revenues and decrease expenses by optimizing the P&L (profit and loss), but with the customer in mind. "Wherever a cost didn't add value to a guest, we automated it," he said, looking at revenue, staff, and non-staff costs. Zeidan and team focused on creating ways to automate back-office positions in finance and accounting, revenue management, marketing, and certain HR and other administrative costs, including the senior management model. "The general managers are not overseeing so many departments," he noted, "and now, [they] are more guest experience managers, which is a far less expensive position…that translates to a greater guest experience because the people on the property are more focused on the guest."
Zeidan was unequivocal about the commitment of capital his approach requires. "This is a big investment and you need scale. We partnered with big investors who understood the value we [would] have if we scale, so we've automated accounting, finance, revenue management, pricing…even for positions we couldn't automate, we automated scope, so that on-site staff can spend more time engaging with guests and less [time] behind a computer or a spreadsheet." He went on to describe the ease of implementation. "As we scale, we plug and play our systems." Zeidan reminded the audience that "Uber didn't just automate the dispatcher. They also created software that makes it really easy to be a good driver at a lower cost with less training. We've thought about it the same way; as we launch new hotels, the reliability of [Uber's] experience is also in line with our expectation."
Bucking the conventional advice
This approach is working, Brown illustrated, chuckling. "When I was at Cornell, it was hammered into us: don't invest in seasonal markets, don't invest anything less than 150 (hotel keys)…we're doing the opposite of all that, and we're making money from an operations perspective, because Rami…has been able to figure out ways for us to gain the scale that we had when we were investing in the big urban core hotels in very complicated markets with tiny cap rates. That is essential to us being able to achieve the kind of returns we're looking for as real estate investors."
Unlocking the beachhead
Hemmeter, a Pillsbury Institute Entrepreneur in Residence, emphasized Life House's "elegant story" for hopeful startup entrepreneurs in the audience. "So much of it is that initial beachhead: it was as much about Rami's insight into the small hotel space and the emerging lifestyle traveler and the way young travelers were willing to absorb more automation in their experience. Those three things unlocked the beachhead, and that's where he was then able to construct a real business, raise money, start to build tech, and now, from that beachhead, is well positioned to expand into other places."
Hemmeter noted that the fact that incumbent players in the hotel industry were "willingly ignoring the beachhead," actually created the time and space to do something new for customers and investors alike. "We're a case study in this," said Brown. "You have to be responsive. I want to start new, from a real estate standpoint. We can be flexible with what we're offering and designing, but we know that the technology is integrated to one company, soup to nuts." Life House is an operator as well as a tech company. "The value that Rami unlocks for Jason starts the flywheel, which is the dream of every startup CEO," observed Hemmeter, continuing to explain that Blue Flag Partners' hospitality expertise helped Zeidan to show what Life House can do. "It's a testament to the knowledge of hospitality and real estate working together."
Watch the full keynote here; learn more about the Pillsbury Institute for Hospitality Entrepreneurship, a hub for students, faculty, hospitality industry leaders, and innovators to connect and drive cutting edge research and thought leadership; and sign up for the Pillsbury Institute's e-newsletter.