Post-2020 Food and Beverage: Rebuilding an Embattled Industry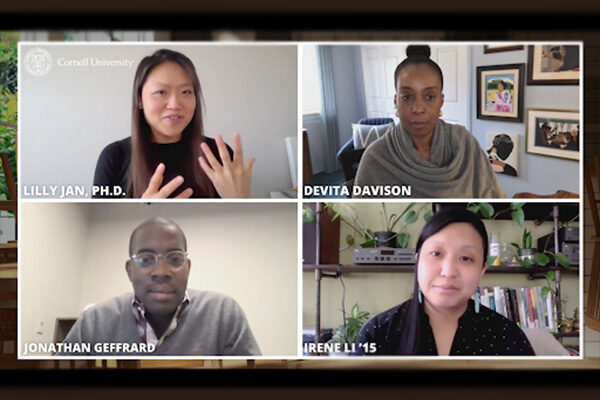 Out of all of the industries affected by the COVID-19 pandemic, food and beverage has been one of the most severely impacted. The pandemic has pushed the industry to a tipping point, with many in the industry agreeing that owners and customers must start treating restaurant employees better or face a reckoning that has been brewing since long before COVID.
On March 23, three experts and industry leaders joined Cornell Peter and Stephanie Nolan School of Hotel Administration lecturer Lilly Jan, Ph.D. to discuss issues facing the food and beverage industry following COVID-19, and possible solutions.
Titled "Post-2020 Food and Beverage: Rebuilding an Embattled Industry," the keynote webinar was produced by the Center for Hospitality Research (CHR) and eCornell. The panelists included Devita Davison, executive director of FoodLab, Michigan; Jonathan Geffrard, director of bars, restaurants, and events at Thompson Dallas; and Irene Li '15, chef and owner of Mei Mei, Boston.
Below, you can find some of the highlights of their discussion.
COVID-19 highlights ongoing issues within industry
The food and beverage industry has been hit hard by the pandemic. From Mei Mei's pivot from brick-and-mortar restaurant to packaged dumpling company to FoodLab's adoption of the "3 R's" (rapid response, recovery, and resilience)—the panelists and their organizations struggled to adapt in the rapidly changing environment.
While COVID created new challenges for individual restaurants, it also shone a spotlight on industry-wide problems that started long before the pandemic hit. Geffrard noted the industry's pervasive "toxic culture" that glorifies working "7 days a week, 17-20 hours a day," which makes it especially difficult for low-wage restaurant employees, many of whom must juggle multiple jobs to support themselves and their families, to maintain a reasonable work-life balance.
Not only do workers face long hours and fatigue, the pandemic has pitted unruly customers against them as they try to enforce restaurant rules. Devita Davison pointed out that the least customers could do is follow mask mandates and social distancing to protect workers who are risking their health to serve them.
Changing the culture, educating customers, and what managers can do
The panelists offered up concrete strategies and examples from their own organizations for changing restaurant culture. Irene Li explained Mei Mei's policy of open-book management, where everyone in the company "from dishwashers up" learns about the restaurant's finances. The transparency of open-book management allowed all employees to share in Mei Mei's success, thereby contributing to its low turnover rate—19% versus the industry average of 73%.
Geffrard, on the other hand, proposed that educating customers would be the first step to making the lives of employees easier. One viewer suggested visual aids—breaking down how food is prepared and the cost of dishes to show exactly how much time, money, and labor went into making a meal. With this knowledge, customers might show greater appreciation and respect for workers, tip more generously, pay higher prices, and follow a restaurant's health protocols.
Davison favored a straightforward tactic. Simply paying workers a living wage, she pointed out, would alleviate much of the pressure placed on them. As "tip-wage workers," many restaurant employees earn a minimum wage much lower than other workers, with the expectation that tips will make up the difference. For example, according to the U.S. Department of Labor, the Texas minimum wage (cash and tip combined) is intended to be $7.25, but tipped employees are only entitled to $2.13 in direct wages from employers, with the other $5.12 theoretically coming from tips. This becomes an issue with a lack of customers, individual customers who do not tip, or when tips are low, causing the gap between an employees' direct wages and the minimum wage to never be made up.
The overall tipping model is also problematic. When the biggest portion of a worker's paycheck comes from tips, that worker is at the mercy of the customer (not their employer) to make ends meet. And unlike employers, customers have no obligation to pay or treat workers fairly. Raising minimum wages to $15 or higher, Davison argued, would be the best way for managers to show that they value all of their workers, especially during a pandemic. Otherwise, managers should expect to see workers unionize at unprecedented rates, as "they feel expendable… exploited… [and] unsafe."
Encouraging new generations to enter the industry
Now that COVID-19 has exposed the industry's quality of life and culture issues, many are wondering what appeal it could have for younger generations.
The industry offers more than service positions, Davison stressed, noting areas like law, accounting, and research and development that are in-demand. However, she hopes that everyone can gain some experience with "front-of-house" or "back-of-house" work—interacting with customers or food preparation in a restaurant setting—because it can produce well-rounded talent. Encouraging those with this experience to run for office, she said: "We need more people who work around [people], who actually care about people… to also be leaders on the frontline of government."
Change in industry standards is important as well, as Geffrard pointed out—by figuring out who is being equitable, the industry can "lift up and elevate" the restaurants making an effort to treat their workers well. This will take partnering with leaders in larger corporations, as "sometimes… standards are set by those who have the loudest bark in the fight."
Through her work with small businesses, Li said that what keeps people in the industry is their desire to share their stories, whether personal or cultural, and to "make an impact on the people around them." She encouraged people to hire for potential: to look for those who are passionate about the business and can rise through the ranks.
While it is clear that a long overdue reckoning is at hand in the food and beverage industry, these experts have shared many valuable insights to meet it head on. To learn about their discussion in more detail, watch the webinar.