The View for 2022: Insights and Expectations for the U.S. Hotel Industry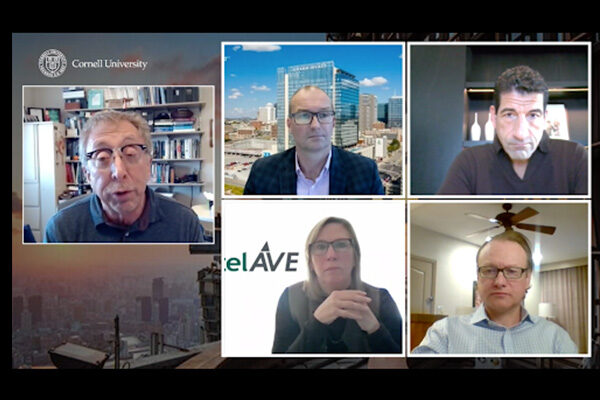 As the new year begins, the hotel industry wonders—what trends face the market going forward? This is precisely the question that finance professor Steve Carvell of the Cornell Nolan School of Hotel Administration and four experts came together to answer in a keynote webinar titled The View for 2022: Insights and Expectations for the U.S. Hotel Industry, produced by the Center for Real Estate and Finance.
The keynote, taking place on December 17, 2021, included representatives of various sectors of the industry. Panelists included Jan D. Freitag '97, national director of hospitality market analytics at Costar Group; Michael G. Medzigian '82, chairman, CEO, and president of Watermark Lodging Trust Inc.; Michelle Russo, CHAM, MAI, CHA '87, founder and CEO of Hotel Asset Value Enhancement; and C. Patrick Scholes '94, managing director of lodging and leisure equity research at Truist Securities. They joined Carvell to discuss the outlook for the hotel industry in 2022, particularly considering the impact of the Omicron variant.
Recovery since 2020: "A Tale of Two Cities"
The panelists started off by discussing the progress toward recovery that the industry has made since COVID-19 first impacted the U.S. in 2020. Russo was "positive" about recovery in 2022, but recognized that there will be "pauses," like the one currently caused by Omicron, if new variants emerge. Hospitality stocks are also doing well, according to Scholes, who said that Hilton and Marriott are trading on the expectation of full earnings recovery by the end of 2022 or early 2023.
Meanwhile, Freitag and Medzigian stressed the difference between high-end luxury resorts' and urban hotels' recoveries, describing them as a "tale of two cities" in which the former are doing better than the latter. Freitag noted that leisure travel is up since the beginning of the pandemic, and Medzigian pointed out group business is also recovering, with one of Watermark's Florida hotels receiving 75% of demand from groups. Ultimately, however, luxury resorts and leisure travel seem to be recovering at a more rapid rate than urban destinations and group travel.
Changing consumer expectations
Changing consumer expectations present another challenge going into 2022. As Russo put it, guests' "tolerance level" was stable in 2021, but going forward, their patience will decline. To keep guests happy, hotels can invest revenue growth into staffing, which will allow them to bring back pre-pandemic service standards.
Carvell defined a term for this phenomenon known as "skimpflation," in which hotels cut certain services, such as frequent housekeeping or dining options, while still charging the same prices. Part of the reason for this, explained Medzigian, was due to the rapid loss of funds during the pandemic, leading to a staffing shortage that made providing services difficult.
However, as Russo described, hotels have also made pandemic-related innovations that guests may begin to expect going forward. These include QR codes to pay for food and beverages, affiliations with food-ordering companies that allow customers to earn "points," and warming/freezing lockers for storing items. Meanwhile, services predicted to be phased out—such as room service in luxury hotels—are still hanging on due to consumer demand.
Hiring challenges
Looking ahead into 2022, Freitag raised the question of hiring issues in the industry, wondering "where" employees lost in 2020 are now. In response, Carvell pointed out the growth of small businesses during the pandemic, and that many used this time to train in different skills such as coding, finding new sources of income equivalent to their previous jobs. Some former employees have not returned because, as Medzigian acknowledged, the industry "broke [its] promise." Watermark, he shared, furloughed 10,000 employees at the start of the pandemic, and the industry as a whole furloughed 6 million and rehired only around 2.5 million.
He and Russo agreed that the cost of labor has grown as well, up to 15-20% in the south, while Russo noted that many families downgraded their numbers of income earners. In a trend she believes was "accelerated" by the pandemic, fewer young people have been joining the workforce, and the only growing labor cohort has been among those aged 60-70. Scholes also brought up the unique pandemic-related challenges that hotel employees may now face, such as enforcing mask and vaccination guidelines, which may discourage people from work in the hotel industry.
Overall outlook for 2022
Overall, the panelists had varied outlooks on 2022. Freitag described himself as "moderately optimistic," predicting that room rates would return to 2019 levels in 2023—a view shared by Russo, who nevertheless acknowledged that recovery was "slightly behind" looking ahead toward 2022. Medzigian was "quite optimistic," citing consumers' desire for travel and experiences after saving up during the pandemic. Scholes expressed a "mixed" outlook, optimistic on domestic leisure in the long term while pessimistic for "the next month or two" on business travel and large corporate meetings.
In this tumultuous time for the industry, no one can predict the future with one-hundred-percent accuracy. But these panelist perspectives seem to suggest that recovery—even if far from immediate—is in sight. For more insights on hotels going forward in 2022, including from a real estate investment standpoint, watch the keynote.