Hospitality Hiring Crisis: Legal Concerns Facing Employers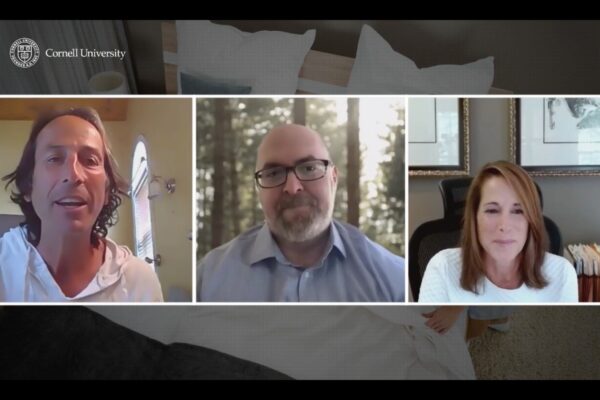 At this challenging time for hiring in the hospitality industry, two experts joined Dave Sherwyn, academic director of the Center for Innovative Hospitality Labor and Employment Relations (CIHLER) and John and Melissa Ceriale Professor of Hospitality Human Resources, to discuss the latest legal issues confronting employers, especially in pay equity and pandemic-related policies. This keynote webinar, titled "Hospitality Hiring Crisis: Legal Concerns Facing Employers," was made possible by CIHLER and took place on July 7, 2021.
Panelists included Ilene Berman '86, founding partner of Continuum Legal Group LLP, and Zev Eigen '96, JD '99, founder and Chief Science Officer of Syndio Solutions. With their legal expertise, they explored in detail issues pertaining to the changing landscape of hiring in hospitality and other industries.
Performance and flexibility during COVID
Remote employment during COVID-19 was one of the first topics they tackled. Berman revealed that a major issue encountered by her clients was how to measure performance, due to difficulties associated with tracking work done remotely.
According to Berman, a major goal for employers was to set "clear, specific definitions," including "goals, measurements, and benchmarks," which give employees the flexibility of working from home while also encouraging them to come to the office. These may take the form of "periodic check-ins and performance evaluations" as well as "constructive feedback."
The pandemic has altered the balance of employment evaluation styles. With the increased necessity for remote work options, Eigen says, more employers have shifted to "objective, data-driven" performance evaluations, as opposed to more subjective ones that existed pre-COVID. These methods have provided greater transparency and analysis ability, reducing bias in evaluations.
Pay equity and "employers of choice"
While discussing at-home interruptions, the topic shifted to groups disproportionately impacted by the pandemic—such as women, who must often balance childcare with work. As Berman pointed out, this has contributed to the departure of women from the workforce in greater numbers. For Eigen, this trend underscores the importance of pay equity, or fair payment among employees of different demographics.
The term "employer of choice," introduced by Sherwyn, reflects the increased demand for employers that can attract and retain employees based on benefits like pay equity. Although rarely given as an explicit reason in exit interviews, pay equity is more often brought up in subsequent lawsuits. However, as Eigen noted, even without the risk of lawsuits, employers should still be invested in paying equitably for the simple reason of retention. What this means is that employers will have to accept that "fairness costs money," and that their profit margins may be affected by these measures if they wish to attract and retain talent.
Unintentional discrimination and data collection
Finally, the panelists touched on pay equity cases that also revealed unintentional discrimination on the basis of sexual orientation or gender identity. Unintentional discrimination cases have typically been litigated and won using statistics to prove that certain policies have unintentionally and disproportionately impacted one group of people negatively.
Why don't employers try to prevent this type of discrimination by documenting employees' sexual orientation or gender identity? According to Berman, it can be difficult—and may be unlawful or unethical—for employers to collect this type of demographic information. Looking ahead, Eigen expressed hope that these issues will resolve as societal discrimination lessens, making both employees and employers more comfortable with sharing—or asking for—information on gender identity or sexual orientation.
Concluding thoughts
On navigating the changing landscape of hospitality employment, the panelists offered their concluding insights. Eigen encouraged employers to take advantage of counsel like Berman as well as resources like Syndio, while Berman stressed the need for employers to be "human, flexible, genuine, and sincere." Finally, Sherwyn emphasized that one should consider both aspects—technology and law—when making employment decisions, while ending on an appeal for employers to implement vaccine requirements.
For additional insights, including on tuition reimbursement as employee benefits, watch the full keynote.