13th Annual Cornell International Real Estate Case Competition Challenges Global Teams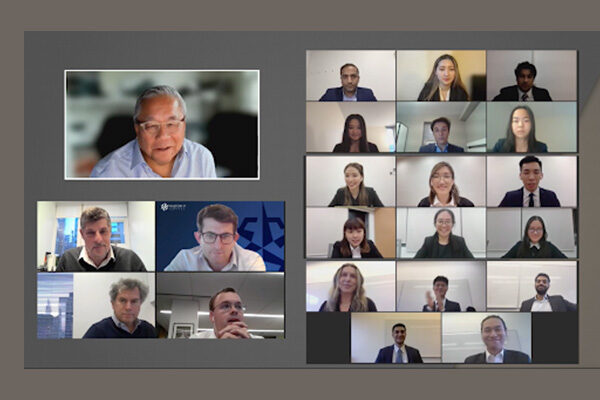 On November 12, 2021, 13 teams from universities across the globe competed in the 13th Annual Cornell Real Estate Case Competition (CIRECC)for bragging rights and a total prize of $10,000, which will be split among the top three teams, with first place receiving $5,000, second place $2,000, and third place $1,000. Sponsored by the Center for Real Estate and Finance (CREF), the case competition tests real estate students by asking them to analyze an actual commercial real estate transaction, render a recommendation, and present their analyses and proposal to industry expert judges.
Participating universities included Cornell University, Indiana University, KTH Royal Institute of Technology, New York University, Penn State University, Sauder School of Business, the University of British Columbia (UBC), Southern Methodist University, the Chinese University of Hong Kong, University of Connecticut, University of Guelph, University of Michigan, the University of Wisconsin, Madison, and University of Texas, Austin.
The event was moderated by Daniel Quan, Robert C. Baker Professor in Real Estate of the Cornell Nolan School of Hotel Administration. Judges included Alan Kanders '87, managing member & founder of Three Wall Capital; David Kelly '10, senior vice president of RXR Realty; Bruce Kimmelman '91, executive vice president of capital markets & acquisitions, Macklowe Properties; Andrew Gindy '11, senior principal of Walton Street Capital, LLC; Jakub Hejl, president & founder of Westside Capital Group; Matthew Shore '00, chief investment officer of DRA Advisors; David Martin, chief executive officer of Terra Group; and Jason Kaufman '87(A&S), managing director of Silverstein Properties.
As explained by Jason Kaufman during the streamed finals, this particular case was based on an actual transaction performed by Silverstein Properties starting in the summer of 2020. In the scenario, teams were asked to advise a fictitious real estate company, 76 Capital, as it decided to invest in a proposed life science lab in West Philadelphia. One important consideration was the choice of whether or not to partner with another company, Frazier Brothers, who could either be a co-developer or sell the property to 76c outright.
At the end of the first round, three teams were brought back as finalists including Cornell's "Sonic the Hedgefund", the Chinese University of Hong Kong's "KS Capital", and UBC's "Blue Water Advisors". After each team presented again, the judges asked a series of questions to test their ability to improvise and respond to problems on-the-spot. All three finalist teams responded remarkably well, drawing on their research and knowledge of real estate transactions to prove their acuity. After lengthy deliberation by the judges, Blue Water Advisors placed first, with KS Capital in second and Sonic the Hedgefund in third.
Blue Water Advisors clinched the win by identifying two options for addressing the case. "Option A" was to forgo the investment, while "Option B" was to pursue a partnership with the Frazier Brothers. Based on their analysis, they chose Option B. Through a detailed presentation with visual aids, an investment overview, market analysis, development proposal, partnership proposal, financial analysis, and conclusion, Blue Water Advisors justified their decision  calling the proposed investment "an attractive investment in a fast-growing, yet resilient market" and concluded that Philadelphia was a particularly promising location for the life science market, with University City being the "most desirable location" within it, containing multiple institutions receiving NIH funding.
As the competition drew to a close, finalists greeted the judges' congratulations with smiles. Although this year's competition was virtual, Quan ended the stream with hopes for another meeting next year, possibly in Manhattan.
Every year, CIRECC helps participants to engage with professors, industry professionals, and peers from other universities. In addition to the prize money, all of the students gain a valuable learning experience that puts their teamwork, public speaking, and higher-level problem-solving skills to the test. Future competitions are sure to continue in this spirit, as we await the 14th Annual Cornell Real Estate Case Competition in the fall of 2022.