The Student Voice: Meet Bianny De La Cruz '24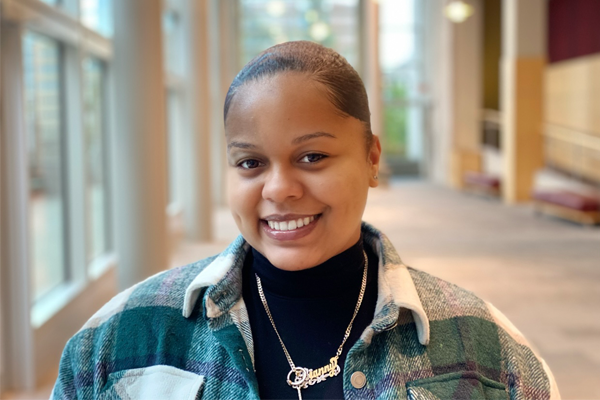 Bianny De La Cruz '24 is an undergraduate student pursuing a Bachelor of Science (BS) degree in hotel administration at the Cornell Peter and Stephanie Nolan School of Hotel Administration.
"The most important thing I have learned as a Hotelie is that there is no thought too wild or dream too big," says De La Cruz. "There is opportunity to do just about anything and everything at the Nolan School. No matter where your interests are, there is always a place for you here and a group of people ready to help."
Learn more about De La Cruz in this Student Voice Q&A.
Tell us about your life before Cornell.
I grew up in the South Bronx as the second oldest of five siblings. I was involved in a lot of extracurriculars in high school which limited the amount of time I spent at home with family. I worked really hard to achieve all the goals I set but I wasn't particularly good at balancing work and life.

I remember vividly planning my little brother's birthday party and how stressed I was because I hadn't taken a day off. I enjoyed putting that event together so much that by the end of it, I didn't even remember I was supposed to be at work. This allowed me to look at the bigger picture and realize that my passions and interest reside in the hospitality industry. After coming to that realization, Cornell seemed like the best option for my newfound passions and goals. The rest was truly history.
Is there something you're particularly excited to learn and experience this year?
I am super excited to learn the ins and outs of the food and beverage industry. I am currently enrolled in culinary which is where we get the opportunity to cook, develop recipes, and learn about the operations in the kitchen. This is an experience I have been looking forward to since the beginning of my career at the Nolan School. I love cooking and food is one of my passions so I am excited to explore this area of study.
What meaningful experiences are you engaging in outside the classroom?
Outside of the classroom, I am an ambassador for the Nolan School. I am also an intern at Cornell University's Herbert F. Johnson Museum of Art. I am currently looking to become involved in more social clubs that involve the representation of students of color and the Latinx community.
Describe your favorite moment or memory at Cornell so far.
I can't pinpoint a favorite memory because there are quite a few and I make new memories that stick with me every day. However, I can name a favorite period of time at Cornell which would have to be the spring 2020 semester. This specific semester was special for me because I finally felt like I fit in here at Cornell.

I found a community at the Nolan School, in the Cornell community as a whole, and most importantly, with myself. I was and currently still am very happy with where I am and the opportunities awaiting. I spent that period of time surrounded by unconditional support, love, and understanding from my communities here which made my experience positive. It is so special to me because it gave me the confirmation and reassurance that Cornell is the place for me.
If you had one area you'd like to grow this year, what would it be?
While there are many areas for growth, the most important area for me this year has been learning to take care of myself outside of the classroom. Cornell is such a big place with so many opportunities and things to do. It is so easy to get caught up and lost in the midst of it all. I am grateful for where I am today, but I am practicing being intentional and purposeful with the things I devote my energy to.

For me, self-care exhibits itself in many ways. It can look like staying home and doing laundry or going to the top of the slope to watch the sunset. Above all, this is the most important lesson I am learning because I can't put my best foot forward towards the things I am passionate about if I am not healthy and taken care of.