The Student Voice: Meet Dana Birke '23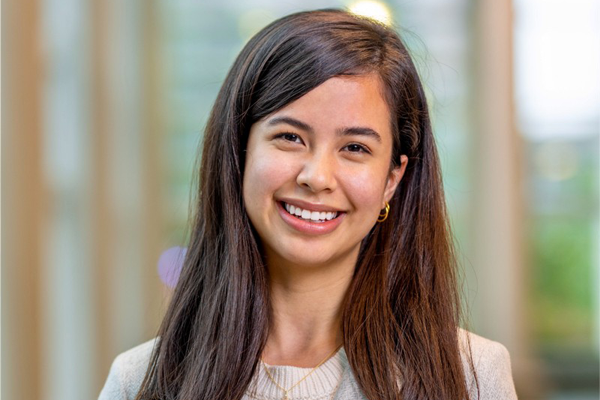 Dana Birke '23 is an undergraduate student pursuing a Bachelor of Science (BS) degree in hotel administration at the Cornell Nolan School of Hotel Administration. She is also minoring in information science.
"Each one of us has a combination of talents with which we can serve humanity," says Birke on the Cornell University principle of Doing The Greatest Good. "While our energy levels vary day-to-day, we can choose to do our best with whatever job or project that has been set before us. We can find ways to make the best of whatever situation we happen to be in. I want to remember that doing the greatest good includes the smallest act of love and kindness towards the people we work and live with, people we can take for granted in our pursuit of greatness."
Learn more about Birke in this Student Voice Q&A.
Tell us about your life before Cornell.
In high school, I was passionate about baking and enjoyed making cookies and unique cakes for friends, teachers, and neighbors—some of whom became paying clients. When planning for college, my parents pointed out that this was an opportunity to expand my horizons beyond the kitchen so I researched universities that offered degrees in hotel administration. Everyone must have thought it a pipe dream when I tossed my hat in the Cornell ring. After persevering through several hurdles before admission, here I am loving life in Ithaca!
Is there something you're particularly excited to learn and experience this year?
I'm thrilled to be a teaching assistant for both the Dean's Distinguished Lecture Series (DDLS) and HADM 2010: Hospitality Quantitative Analysis. I love helping students navigate their coursework challenges as much as I enjoy learning from the DDLS speakers who connect what we learn in the classroom with real-world industry insights and experiences. The combination of hospitality law, real estate, and service operations courses this school year all excite me. These courses will have practical applications across a wide variety of industries, allowing me to expand my repertoire in whichever direction I may choose to explore for my career.
What meaningful experiences are you engaging in outside the classroom?
Being a member of the executive board of The 97th Annual Hotel Ezra Cornell (HEC), a position that allows me to plan and execute educational, leisure, and networking events, is the highlight of my junior year. The high-caliber team that I work with is determined to create a most unique, interactive, and memorable experience for the Hotelie community.
Describe your favorite moment or memory at Cornell so far.
There are too many to describe! Reuniting this school year with friends I barely saw during COVID-19 and sharing an apartment with inspiring Cornellians from a variety of majors and backgrounds—that's certainly a favorite moment for me right now.

Being chosen as the 2019 awardee for the Les Dames d'Escoffier Future Women Leaders scholarship made me feel affirmed by the strong women who have prevailed over their circumstances to pave the path of success for the rest of us.

Also, for my nineteenth birthday, my friends thoughtfully designed a treasure hunt featuring clues that allowed us to relive memories of where I met which friend. We shared inside jokes and recalled fond moments with a grand finale where my favorite Cornellians gathered around a birthday cake a friend had lovingly baked for me.
If you had one area you'd like to grow this year, what would it be?
Self-care and pacing myself to nurture resilience, endurance, and strength so I can continue to make meaningful contributions for the long haul. Problems and challenges are life's teaching moments and fatigue blinds us to the gifts of obstacles and undesirable situations or outcomes.