The Student Voice: Meet Luke Verzella '23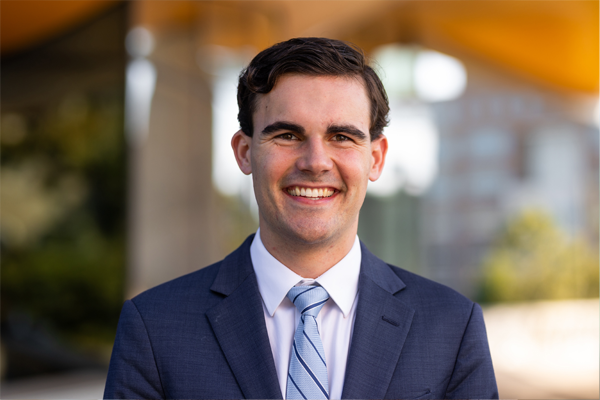 Luke Verzella '23 is an undergraduate student pursuing a Bachelor of Science (BS) degree in hotel administration at the Cornell Nolan School of Hotel Administration. He is also minoring in real estate.
Verzella points to the tight-knit community—one that prides itself on contributing to the growth of others—as one of his favorite parts of his Cornell experience. "Doing the greatest good means contributing to this aspect of the community and always looking out for the best interest of others," he says.
"It means being the best classmate, friend, and student I can be. Contributing to the collaborative nature of practical education, advocating for an inclusive environment for all students, and supporting my classmates in their academic and extracurricular endeavors is how I contribute to this idea."
Learn more about Verzella in this Student Voice Q&A.
Tell us about your life before Cornell.
I grew up in a suburb outside of Philadelphia, Pennsylvania called Havertown. From a young age, I was fascinated by the way real estate and hospitality connect to create experiences and enhance life. My first real experience in the industry was when I worked at my local swim club snack bar. As the cashier and fry cook, I grew a passion for serving others and working in a guest-facing role.

Combining my two passions in real estate and hospitality with the opportunity to gain a practical and rigorous education is what led me to apply to the Cornell Nolan School, but the global, close-knit Hotelie community is what convinced me that it was home.

When I spoke to current Nolan students as a senior in high school, I couldn't help but notice the passion and excitement they shared about their experiences in Statler Hall. Two years later, I can now see first-hand why they each shared that sentiment.
Is there something you're particularly excited to learn and experience this year?
I am excited to continue to learn from my classmates. I am always amazed at the lessons I pick up every day from the conversations I have with my fellow Hotelies. Whether it be studying for a Principles of Real Estate test, or preparing for a Persuasive Communication presentation, the feedback, advice, and support my classmates have given me has been a tremendous catalyst to my growth as a professional and person throughout my time at Cornell.

This year, with a fully in-person semester, I look forward to continuing to grow alongside my peers while lending advice and support to the newest additions of the Hotelie family.
What meaningful experiences are you engaging in outside the classroom?
I am an active member of Cornell Varsity Sprint Football, Hotel School Ambassadors, Pi Sigma Epsilon (PSE) Professional Business Fraternity, and Cornell Financial Analysts (CFA). Each of these programs allow me to grow my skills and interests in a plethora of fields.

I am able to continue to feed my competitive spirit and work in a team-oriented environment as a sprint football player. Being an ambassador gives me the opportunity to improve my presentation and communication skills when I speak to prospective students. And PSE and CFA, both pre-professional clubs on campus, allow me to be surrounded by motivated classmates who are some of my closest mentors to this day.

These activities contribute to the well-rounded student life each of us Cornellians endure. All in all, they have been invaluable to my growth as a college student.and are an integral part of my Cornell experience.
Describe your favorite moment or memory at Cornell so far.
My experience at Cornell is predominantly made up of the little things. When I look back at my past two years, I think most fondly of the lunches I have spent with my friends at Macs or Terrace, running into someone new at every turn of Statler Hall, and the countless hours spent studying with classmates who ultimately became friends.

However, if I had to choose one, my favorite memory would be creating 2 Stay 2 Go, Cornell's first student-run, pop-up restaurant. This experience allowed me to put all of my education to the test and work with a close-knit, passionate team of Hotelies to create something bigger than ourselves. With the idea to create a brand that would bring people together, promote local products, and give students the power to apply their education to the real world, 2 Stay 2 Go was founded.

This moment was so memorable because it truly embodied the Hotelie spirit. Through immense hard work and overcoming obstacles, our team was able to create something that added value to the Cornell community and empowered students to take initiative and challenge themselves. I will never forget the lessons and memories I gained from 2 Stay 2 Go.
If you had one area you'd like to grow this year, what would it be?
I would love to become a great mentor to younger Hotelies.

I like to think that "you get what you give." As a first- and second-year student, I cannot express how much I looked up to my fellow classmates and the impact they had on me. Because of this, I am eager to return the favor to the newest class of Hotelies and help ease the transition to college and make Ithaca feel more like home. This is important to me because this type of mentorship and support is what makes the Nolan School so special and is the reason I take so much pride in being a part of the community.