New research reveals three customer service tips for using tabletop technology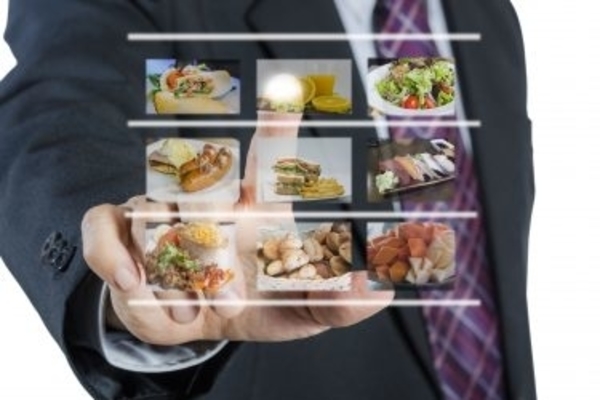 In some restaurants today, waiting around for a server is as outdated as a rollerskating waitress.
Instead, when you're ready, just grab the tablet sitting on your table, click what you'd like, and within a microsecond, your tasty and accurate order is sitting in front of the chef.
In the restaurant industry, this tabletop hardware is gaining appeal, but what do patrons think?
According to one new study, customers are also embracing these technological changes.
The article, "An Examination of Customers' Attitudes about Table Top Technology in Full-Service Restaurants," was published in June's Service Science.
The authors explain that the adoption of technology requires that all stakeholders understand how to use the technology and the benefits associated with using it. For restaurants, the benefits of tabletop hardware include convenience and faster service.
One of the two researchers was Alex M. Susskind, associate professor of food and beverage management at the Cornell University School of Hotel Administration (SHA).
"Our study shows that adding a layer of technology improves the service experience for most guests," Susskind said.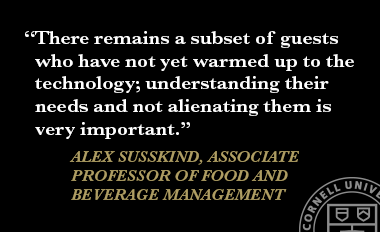 It all boils down to the two C's: convenience and control.
In a related study, researchers found this technology reduced front-of-house labor needs, providing an opportunity for servers to invest more time in guest interaction and/or to manage a greater number of tables and customers.
"Operators can choose which path to take," Susskind said.
The research
Susskind worked with data scientist Benjamin Curry of tablet-builder E la Carte, who collected the tablet data and matched them to each table's check. They conducted two related studies at a full-service casual dining restaurant, looking at 20 locations across ten states.
The restaurant provided a touchscreen device that allowed customers to view the menu, play games, sign up for the restaurant's loyalty program, order food and beverages, and pay their bill. Servers introduced the technology, instructed customers on its use, and encouraged patrons to use it as they saw fit.
After the meal, researchers asked the customers to complete a survey via email.
And they liked it…mostly
Results indicate that 70 percent of the customers liked the device and 79 percent reported that it improved their restaurant experience. Also, 80 percent of the customers reported that they would return to the restaurant.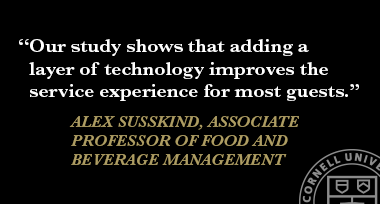 Most customers reported that the tabletop device added convenience, improved order accuracy and delivery, and made the dining experience more enjoyable. According to the report, this indicates that patrons will accept the devices.
Not all were as happy, though.
Some reported that they preferred a traditional interaction with servers. They did not like having to order/pay for themselves and found the technology intrusive.
"There remains a subset of guests who have not yet warmed up to the technology; understanding their needs and not alienating them is very important," Susskind said.
The takeaway
Based on the results of their study, the authors say new technology cannot replace restaurant servers.
Instead, the multi-functional devices can add a new dynamic by encouraging greater engagement by customers, requiring them to rethink or confirm their expectations of the customer-server interaction.
Susskind says that the best strategy for getting customers to embrace service-oriented technology is information sharing.
"If the technology is user-friendly, teaching guests how to use it should be easy," he says.
The tips
Susskind offers three suggestions:
"Let your guests know how the technology works."
"Help them get comfortable with it."
"And let them know they don't have to use it if they don't want to."