Here's what online hotel shoppers are looking for…and at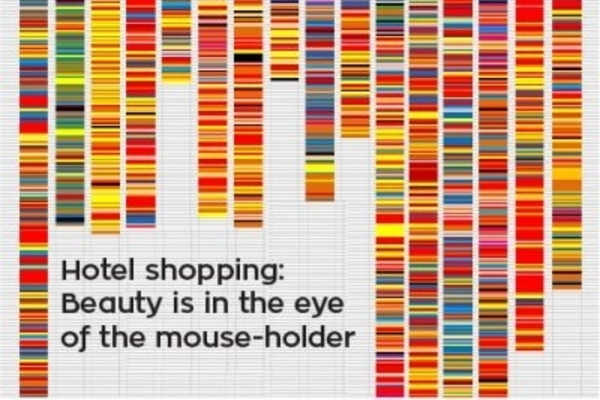 When shopping for hotels, online booking sites make it easy to sort by price, but for some consumers, other factors are just as important.
So what happens if the price is right, but other features are wrong?
New research shows factors like appearance and other company-generated information can provide a bigger picture, ultimately influencing booking decisions as much as—if not more than—user-generated content like reviews.
The authors included Stephani K. A. Robson, senior lecturer in properties development and management at Cornell University's School of Hotel Administration.
What do online hotel consumers value?
When browsing online, hotel shoppers initially focus on the following features:
The hotel name
Images
Price
Location
Ratings
If and when a hotel is selected for a closer look, shoppers focus on a mix of company- and user-generated content, with hotel building images most important, closely followed by descriptions of the site and its offerings.
Robson says the outcome is a more holistic look at value.
"What guests appear to be thinking about is how well all the pieces of information about the hotel—price, brand, photo, ratings, and so on—fit together," she said. "Non-price information that suggests your property is unique in some way appears to be a good way to attract attention. The straightforward daytime exterior shot of a hotel's front facade may not be enough to attract interest unless the rate is particularly good."
The study's data were compiled using a combination of users' eye movements while they conducted an online search for hotels, and retrospective "think-aloud" interviews. Results show that consumers use photos of the property, reviews, and descriptions of the hotels' amenities and services to compare price with value. However, there is variation in how each piece of information is weighed before the final choice is made.
Judging a hotel by its cover (picture)
Consumers also take note of incongruities between pictures and prices.
"If the picture shown in search results suggests a 'better-than-the-price' experience, say, by making the hotel look unique through providing lots of greenery, consumers will take a closer look," Robson says. "If the pictures or reviews suggest a 'not-worth-the-price' experience, they'll look elsewhere even if the price is in their range. It is the contrast between the price information and non-price information like pictures or ratings that draws attention, either positively or negatively."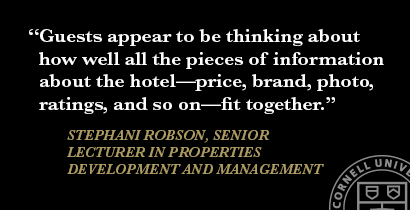 Few of the study's participants looked at any user-generated images and none looked at a video, she notes, with most choosing to concentrate on company-generated content. "And this isn't just an age thing—we looked at consumers across three distinct age cohorts and saw no distinct pattern of whether the consumer looked at reviews or not."
This suggests that a hotel, or brand, can greatly influence what consumers consider when choosing a hotel online, by selecting strong pictures of the property or including an interactive map. "We saw a lot of interest in maps that allowed guests to see what was around the hotels they were considering, and where the hotels were, relative to key demand generators and attractions," says Robson.
The next phase of this research will explore in greater detail the emphasis consumers give to non-price elements under different circumstances, and how they balance these elements against each other, says Robson. "We're not at the point where we can state whether a certain type of picture will let you increase your rate, but it seems likely that some of these non-price elements may interact with rate in quite significant ways."
What can hotels do?
For hotel owners and managers, the report's key message is that a good price is not enough to secure a booking—in fact, Robson says, many people bypass competitive prices because non-price information catches their eye. They may not even consider a hotel with an attractive price if the picture isn't compelling.
"They used pictures to imagine themselves at the property and to see if the hotel was the right 'fit' for them, so images that provide some sense of the experience, not just what the hotel looks like from the outside, may be powerful, perhaps even more than reviews or ratings which get a lot of attention from the industry."
The study
The paper, titled "Understanding consumers' inferences from price and non-price information in the online lodging purchase decision," was co-written by Breffni M. Noone, associate professor at Pennsylvania State University.
The study has just been published in Service Science.