Johnson Welcomes Dean Mark Nelson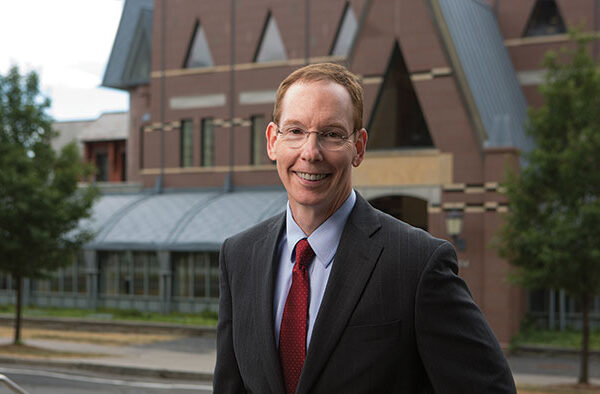 Collaborating for Excellence
Mark Nelson, an award-winning teacher and highly respected accounting scholar, values Johnson for the excellence and collaboration of his colleagues as well as the high quality of its students. He is passionate about the inherent excellence of Johnson's culture and eager to lead the school into its next phase of development in the Cornell College of Business. Here, he talks about why.
Q. What sparked your interest in becoming dean of Johnson at this point in time? What attracted you to this new role, both personally and professionally?
Nelson: Johnson has given me a lot of opportunities, and I'm very grateful. Now I'm at a point in my career when I can give back: give back to my colleagues, give back to our students, and give back to the Johnson and Cornell community.
It's also a really exciting time at Johnson and at Cornell. When you take on a dean's role, it's wonderful to have opportunities to make use of new facilities, offer new programs, and interact with faculty you weren't able to access previously. We're building new space at Cornell Tech on Roosevelt Island, and we're building the Breazzano Family Center for Business Education in Collegetown. The Cornell College of Business (CCB) will give us access to faculty in the School of Hotel Administration(SHA) and the Charles H. Dyson School of Applied Economics and Management. The three sister schools in the CCB can help each other in many ways.
I've been here a long time – 26 years. I know a lot of people here, and a lot of alumni. We all share an appreciation for the culture that makes Johnson so special. Frankly, that culture is one of the defining characteristics of the school, and preserving it is a focus of mine.
Q. What are some key characteristics of Johnson's culture?
Nelson: This is a place where both research and teaching are extremely important, and where colleagues are collaborative and help each other succeed at both. Students are a priority and their success is one of the ways we determine our success. I've got phenomenal colleagues who have helped me grow as a scholar as well as a teacher. It's a very supportive community. So, while people are ambitious and drive themselves hard, they also help each other succeed. We can achieve much more that way than we can on our own.
Q. You served from 2007–2010 as Johnson's associate dean for academic affairs. Did leadership experience gained in that role give you insight into leading Johnson as dean?
Nelson: The role of associate dean for academic affairs is a common precursor to a dean's role, because you're serving on the school's management committee and you're overseeing the faculty and the research environment. That gives you a lot of insight into what makes a school successful. When I held that role, the financial crisis hit, and I worked with Sunny Donenfeld, who was then Johnson's associate dean for administration, to think through the budget challenges we were facing. I also co-led strategic planning with Randy Allen, then associate dean for international and corporate relations. That had me engaged with recruiters, alumni, students, faculty, and staff, and made me think about the direction the school was taking. I learned a lot about Johnson and how we position ourselves with respect to competitor business schools. All of that experience is useful background in my new position as Johnson's dean.
Q. What new opportunities do you foresee for Johnson as it joins Dyson and SHA to become the Cornell College of Business?
Nelson: First, the three colleges have been siloed to a large extent. It's been difficult to cooperate on things like student programming or faculty hiring. The College of Business will make it much easier to create opportunities for students in all schools, and help us to hire faculty in functional areas that cross school boundaries.
Take our own experience within accounting, for example. Dyson has a good undergrad accounting program, but it didn't have faculty focused on intermediate accounting. So we offered a version of my MBA intermediate accounting course as Dyson's Intermediate II course, modified to make it appropriate for Dyson's CPA-focused program. And we hired P. Eric Yeung, a very strong faculty member, to teach an Intermediate I accounting course at Dyson, as well as teaching here at Johnson in our Cornell-Tsinghua MBA/FMBA program — in effect, a joint Dyson/Johnson appointment. We did that before the CCB existed — but it was hard, a one-off arrangement. There were lots of people we had to get to the table. The CCB should make these sorts of arrangements more common, allowing us to attract great faculty to Cornell that help students in all three schools.
The CCB also will allow us to collaborate more easily and add scale to our centers and institutes. Now when we talk about emerging markets, for example, it will be easier to coordinate what we do in Johnson with the great work being done in Dyson and SHA. Sometimes people outside Cornell assume we have operated fungibly and seamlessly across these units, but it's really very hard when you don't have the structures in place that make it easier. The idea is to help each other achieve each school's individual mission within the context of that coordinated CCB structure.
Q. How will you engage with students in Johnson's MBA programs?
Nelson: I want to spend time with students in each of our programs. I love to teach and I love interacting with students. I want to know their experiences and I want them to understand they're an important part of the Johnson community, not just now but for life. I'll look for opportunities to interact here in Ithaca, in New York — wherever our students are. And I plan to use technology as well as residential sessions to interact with students in our Americas and Tsinghua programs.
Q. You are an award-winning teacher, recognized many times for teaching excellence by the Johnson community and just last year you received the American Accounting Association's inaugural Cook Prize for excellence in teaching accounting at the graduate level. You call yourself a "personal trainer" of accounting. How will you bring your teaching approach to your new role as dean?
Nelson: Sometimes people ask, "Are students customers or products?" My view is that students are clients. They're hiring me for my expertise. I'm in the driver's seat, and I decide what painful exercises they have to do to get better and better. The "personal trainer" idea came out of that. It involves relentless preparation. I prepare a lot because the time we spend with each other is precious. I want students to get as much out of our time together as possible. And my students prepare too, because they know they face high standards and that what they are learning is rigorous and relevant. But I also try to make it fun. We laugh a lot.
So if you ask how that relates to my deanship, it's the only way I know how to operate. Plan on me anticipating that we're all going to work hard and have very high standards for ourselves and the people around us. We're going to rely on each other. And we're going to have a great time along the way.
Q. You have been at Johnson for 26 years, you've raised your two daughters here and view Ithaca as home. What has kept you here?
Nelson: I think of Ithaca as home because I have such a strong tie to Johnson and to Cornell. At the heart of it, it's the people. I love the combination of excellent faculty and staff who really care about making sure we're all producing the best teaching, programming, and research that we can. That's very important to me. The broader opportunities for learning in a place like Cornell are remarkable. Finally, every time I go away from Ithaca, then come back, I'm always struck by how beautiful this place is. I continue to feel very fortunate to be a part of Johnson and Cornell.