Hospitality and humanitarianism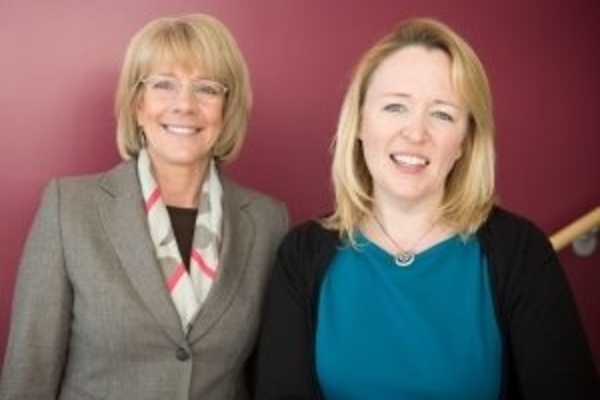 Today's post is a collaboration with Susan Devine '85, a CHR Advisory Board member and senior vice president of strategic development for Preferred Hotel Group.
Generally, this blog is in the format of an interview. In the course of our planning, Susan wrote a very passionate email on a Friday afternoon that encapsulated her thoughts on the topic. Couldn't have said it better myself! So, this time I will introduce the blog and then let her carry the point for us from the text of that email.
I found the topic of this blog post particularly appropriate to this time of year. The holiday season does remind us of giving, and giving back. It's also the season of hospitality—as we attend so many holiday functions and welcome friends and family into our homes for our own traditional celebrations.
Susan, who is senior vice president of strategic development for Preferred Hotel Group, reminded me that the connection between these two concepts—giving back and providing hospitality—is remarkably close. Susan is passionate about the intersection between hospitality and humanitarianism, and reinforced that the skills that make a great hospitality professional also are well-suited for humanitarianism—a lesson that is important to remember, particularly at this time of year. After an unusually turbulent year, and facing more uncertainty to come, I think many of us are wondering how we can help. For those of us with hospitality backgrounds, providing that help may be more natural than we think.
I'll let Susan tell the story in her own words:
Hospitality and humanitarianism have a lot in common. Each focuses on providing a service to others, and both strive to create positive memorable experiences for those they serve. The skills required of a hotelier to be successful are the same skills required for a philanthropic organization to be impactful: leadership, interpersonal communication, critical thinking, strategic planning, an entrepreneurial mindset, empathy, and the ability to understand and improve human relationships. However, service is at the core, and this is why, I believe, there are so many great examples of hoteliers—or those with hospitality backgrounds—who have transitioned into a life of humanitarian service.
I have seen students with a hospitality education follow their passion straight from graduation into leadership roles in successful humanitarian organizations. Hospitality professionals have transitioned their business models to a humanitarian focus. Prominent executives drive humanitarian values through their traditional hospitality organizations, while organizations take advantage of their position in the community to encourage associates, partners, and members to give back. Regardless of the model, these individuals and companies clearly share a passion for service, and effectively demonstrate the transferable nature of key skills between hospitality and humanitarianism.
Let me share two great examples of hospitality students who have moved directly into leadership roles focused on humanitarianism. Karim Abouelnaga '13 founded his company, Practice Makes Perfect, at age 18, during his time at the School of Hotel Administration. His organization provides summer school educational programming in high-need communities. Abouelnaga's leadership skills and entrepreneurial mindset also make him a role model for young humanitarian entrepreneurs, as a speaker, columnist, and entrepreneur in residence at the Hotel School.
EGBOK—Everything's Gonna Be OK—was founded by Ben Justus '08, also while at the Hotel School. EGBOK provides education, training, and employment opportunities in the hospitality industry for undeserved young adults in Cambodia. Justus shares his education and experience directly, providing opportunities through training and job placement for young people who are at high risk. Abouelnaga and Justus are educated hoteliers with a shared empathy for others, and they have strategically created successful organizations right out of school "from scratch" with a single purpose of helping others in need.
Established hoteliers have transitioned their business model as they recognize opportunity. The entrepreneurial Adolfson brothers now operate Hero Norway, a for-profit organization that houses and feeds refugees in 100 centers throughout Scandinavia (www.bloomberg.com/features/2016-norway-refugee-crisis-profiteers). They charge the Norwegian and Swedish governments a fixed fee—$31 to $75 per person per night in Norway—to house and feed refugees. While this for-profit model initially may seem counter to the premise of this blog, remember that most refugees are serviced by nongovernmental organizations (NGOs) like the Red Cross. These organizations have expertise in meeting basic human needs during crises, but ongoing hospitality is not their core competency. The Adolfson brothers have a skillset from hospitality that has allowed them to expand their business from hotels and ski resorts to preschools and nursing homes, and that makes them uniquely qualified to provide service to the significant needs of displaced individuals and families.
Other hoteliers, such as Harris Rosen '61, have made an important impact on people's lives while running a successful hospitality business. Rosen Hotels and Resorts has been nationally recognized for its innovative, trend-setting associate wellness and preventative care programs as well as the company's low-cost insurance and on-site, full-service medical clinic (www.rosenplaza.com/wp-content/themes/rosenplaza/images/pdf/Harris-Rosen-Biography_2-6-12.pdf). Many more hospitality executives also do what they can to make a difference.
Corporate entities also provide important opportunities to encourage and recognize humanitarianism. My company, Preferred Hotels and Resorts, contributes to and also recognizes the creative and successful philanthropic efforts of our member hotels. We just announced Banyan Tree Mayakoba as the winner of our 2016 GIFTTS (Great Initiatives for Today's (Tomorrow's) Society) pineapple award for their SEEDLING program, which mentors kids through both scholarship and work-study programs. So many hotels are doing amazing things to give back to their communities!
Both Preferred Hotels and Resorts and Kelly's employer, Wyndham Worldwide, actively encourage associates to give back to their communities by offering a "Wish Day," where each employee gets a paid day off to volunteer at an organization of his or her choice. Wyndham recently announced a global corporate partnership with Save the Children, while Preferred has chosen to sponsor LOVE46, an organization that works tirelessly to reduce sex trafficking. Most hospitality companies, led by innovative and caring executives, are using their position and influence to contribute where they can.
Richard Branson has said, "Telling a story is one of the best ways we have of coming up with new ideas, and also of learning about each other and our world." By sharing the many amazing stories of how hospitality executives are making a difference in our fragile world, we encourage others to do the same. Whether you are just starting out from hotel school, in the midst of an exciting career, or in the retirement phase of life, there is opportunity to use your core skills and capabilities to contribute in meaningful ways.
Life is Service and the hospitality industry is well-suited to make an extraordinary difference in the way in which we live! Please share your story!