Bricks, Mortar, Profit, and the Fate of the Earth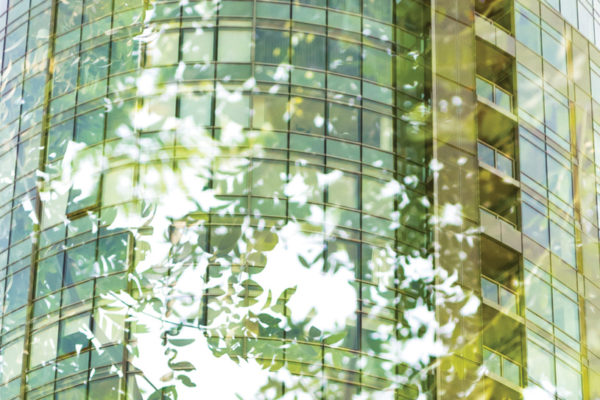 How sustainable practices in real estate nurture the triple bottom line
If we want to protect the earth, we need to think about real estate. Buildings exert tremendous pressure on the environment. According to a 2016 report by the United Nations Environmental Programme, they consume about 40 percent of the world's energy and produce up to 30 percent of the greenhouse gases released each year.
The good news is that many companies that design, build, invest in, and manage real estate have sharpened their focus on sustainability. "Twenty years ago, in the very early stages, sustainability was seen as more of an environmentalist, tree-hugger thing," says Brad Wellstead '83, Architecture, MS '96, Hotel Administration, founder of the consulting firm Ethos Project Management and lecturer in Properties Development and Management at Cornell's School of Hotel Administration. Today, interest in the topic runs wide and deep.
For example, developers, architects, and government agencies in the United States now take for granted that building projects will follow standards such as those laid out in the Leadership in Energy and Environmental Design (LEED) green building certification program. "If you don't end up at least at the silver level [the second of four levels of attainment in LEED], you're not even doing your job right as an architect and designer," Wellstead says.
Concern for environmental and social responsibility in real estate has generated conferences, university courses, and academic publications such as the Journal of Sustainable Real Estate and the International Journal of Sustainable Real Estate and Construction Economics.
At Cornell, the Senior Leaders Climate Action Group has launched an effort to address climate change through the university's own real property. Mark Milstein, clinical professor of management and director of the Center for Sustainable Global Enterprise(CSGE) at Johnson, participates in this organization.
In 2016, the Action Group released a report called "Options for Achieving a Carbon Neutral Campus by 2035." Among the strategies discussed are the use of air source, earth source, and ground source heating systems, and wind, water, solar, and biomass energy systems.
Future architects, planners, investors, developers, operators, and others study sustainability in courses such as Introduction to Green Real Estate, Project Management for Hospitality Real Estate Development, and Sustainable Development, all offered by the Cornell Baker Program in Real Estate, a program jointly administered and offered by the School of Hotel Administration; College of Architecture, Art, and Planning; and the Cornell College of Business.
"We definitely see a growing demand for our courses," says Jeanne Varney, lecturer in the School of Hotel Administration and principal with Olive Hospitality Consulting, who teaches Sustainable Development and Introduction to Sustainable Hospitality.
Owners are under increasing pressure to manage their buildings responsibly and report on their performance, Varney says. "As students graduate with more curriculum and knowledge in green building practices and green building certification, I've been told by some companies that this is an advantage on the résumé."
Doing What's Right
Clearly, many in the real estate world embrace the principle of the triple bottom line — measuring success in terms of social and environmental as well as financial performance — because they want to do the right thing. They may consider certain green activities important even when those tactics provide no direct financial return.
"There are absolutely initiatives we take on that cost us money but align well with our triple-bottom-line approach," says Bennett Thomas, MBA '03, senior vice president of finance and sustainability at Hersha Hospitality Trust in Philadelphia and a member of the Sustainability Roundtable at Cornell's School of Hotel Administration.
The "sustainability" portion of Thomas's title refers to his position as head of EarthView, a program implemented across the company's portfolio of hotels to benefit the environment and specific social causes. These range from energy efficiency and water-saving initiatives to encouraging staff to volunteer in the community to supporting several global charities. Hersha owns 55 independent, lifestyle, luxury, and upscale hotels in urban gateway markets throughout the United States.
Some of the EarthView social initiatives — such as a program to recycle used guest soaps and donate them to a charity for distribution in the developing world — create expenses, Thomas says. But energy-saving programs more than offset those costs. For example, an energy management system — which automatically turns off lights and adjusts the temperature when it senses that a guest room is unoccupied — has cut heating and lighting bills by 25 to 35 percent, according to EarthView's "2015 Sustainability Report." And a program to retrofit the hotels with LED lighting saves the company just under $800,000 a year.
Of course, real estate companies also pay attention to sustainability because they have to. Many states and large cities in the U.S. — especially on the East and West Coasts — incorporate environmental requirements into their building codes, says Divya Natarajan, MS '13, senior project manager at the sustainability and green building consultancy Paladino and Company in Washington, D.C.
In addition, shareholders and other stakeholders demand that property managers issue reports on their sustainability performance, says Natarajan, who earned her degree in Sustainable Design Studies at Cornell's College of Human Ecology and participated in Johnson's semester-long Sustainable Global Enterprise Immersion. "They want to know what these organizations are doing to protect the environment and the communities — whether they're enforcing responsible practices in construction and management."
Investors who care about green values may consult listings such as the Dow Jones Sustainability World Index, which gauges publicly traded companies against benchmarks for environmental and social responsibility. There are also investment instruments based on those values. "For example, through the Cornell 401(k) system, I have some of my money invested in sustainability indexes," Varney says.
Further Incentives
Some green practices — notably those aimed at energy efficiency — are popular because they cut expenses. "Savvy owners and operators caught on quickly to the way energy savings clearly translate into cost savings," Varney says, referring to the hospitality industry. Programs to reduce waste and recycle can save money as well.
But a sustainable approach also offers other fiscal benefits. For starters, going green can enhance revenues. Increasingly, people want to live, work, and vacation in properties that are healthy and cause minimal harm to the environment — and they'll pay extra for that privilege.
"Studies have proven that there are premiums related to sustainability and wellness certifications that you bring to a building," says Natarajan. "If you are able to tie your investments in sustainability to the goal of the building — if you're able to tell that story — it helps you market it better."
Buildings that are healthy, comfortable, and earth-friendly can increase productivity, some maintain. "We must produce good buildings to create environments that can foster innovation, or at least reduce the absenteeism that occurs because people feel mistreated by the environments in which they work," says Patrick Charles, visiting associate professor of architecture, art, and planning at Cornell.
A company that honors sustainable principles might also have an easier time recruiting and retaining young talent. "College grads and MBA grads interviewing with our company do mention EarthView as one of the aspects of the company that piqued their interest in us," says Thomas at Hersha. "They're saying that they are interested in joining a mission-driven company, as well as one that's top-performing in the financial sector [and] in the investment and hotel sectors."
In some cases, developers and operators adopt environmental measures to make up for scarce resources and inadequate local infrastructure.
"Newer 'green' practices at hotels include electric vehicle charging stations, replacing chlorinated water with salt water in swimming pools, and installing solar panels." — Grace Kang '99, MBA '06
"We're seeing Indian hotel companies often leading in renewable energy, water efficiency, water reuse, and wastewater treatment," says Eric Ricaurte '01, Hotel Administration, founder of Greenview, a consultancy and research firm based in Washington, D.C., and Singapore that focuses on sustainability in the hospitality industry. "That's because, one, they're under great water stress in much of India." Second, many parts of the country lack adequate wastewater treatment. "If you want to be a responsible hotel, you can't just dump your water in the ocean." Frequent brownouts also spur some Indian hotel firms to install solar and wind systems to generate electricity, Ricaurte says.
Hotel Trends
Greenview's products and services include the Greenview Portal, an online system that tracks the performance of hotels and other properties in sustainability and social responsibility; the Hotel Sustainability Benchmarking Index, published annually in conjunction with Cornell; and the Green Lodging Survey, a qualitative study of best practices at more than 2,000 hotels worldwide. Its research gives the company a broad view of trends in sustainable practices among hotel owners.
"Savvy [hotel] owners and operators caught on quickly to the way energy savings clearly translate into cost savings." — Jeanne Varney
The 2016 survey found that the industry has broadly embraced certain tried-and-true sustainability practices in its buildings. "There's a high prevalence of monitoring energy usage and water usage," Ricaurte says. "There's a very high uptake in energy-efficient lighting or efficient heating and cooling." Also, about two-thirds of the hotels surveyed have created onsite "green teams" or appointed sustainability coordinators to plan for future improvements, he says.
Some newer practices are also emerging, says Grace Kang, '99 Hotel Administration, MBA '06, managing partner at Greenview, who is married to Ricaurte. "Electric vehicle charging stations are coming out, so you can charge your EV car when you're at a hotel," she says. Operators with an eye toward guest health have replaced chlorinated water with salt water in swimming pools. And an increasing number of hotels are installing solar panels, she says.
In one newly emerging trend, some hotels have turned over some of their rooftop space to beehives. "Sometimes the beekeeper just uses the space, sometimes the hotel gets money, sometimes they get free honey, and sometimes they use that in their cocktails," Ricaurte says. A Greenview study of this practice three years ago found about 50 urban hotels experimenting with apiaries, but more recently the company has counted about 100.
The Holistic View
Beyond the discrete measures that companies take to save energy, reduce the carbon footprint, and eliminate waste, some in the field advocate for a more comprehensive strategy. In his courses at Cornell, Charles discusses a "concept-based" approach to design, which assumes that sustainability requires more than just adding "green features" to a building.
When architects and engineers do their work in isolation, each completing a step and passing the project on to the next, they miss important opportunities that arise only from collaboration, Charles explains. "We need to think a little harder right at the beginning, with everybody around the table, so we can capitalize on all potential opportunities that are specific to this program, this client, and this location." A well-integrated team might, for example, consider using a south-facing façade to harvest sunlight for heat in winter before it talks about installing the latest in heating technology.
In her work at Paladino, Natarajan also focuses on integrating all aspects of a building project to obtain optimal value.
"Sustainable design is when you take a holistic, long-term view of the cost of the project — not just financial, but opportunity cost, environmental cost, social cost — and balance that against the opportunities available to make an impact," she says.
"For example, if you're putting solar photovoltaic on top of your building, you need a better reason than getting a couple of points in a certification system or because you think it's the cool thing to do," Natarajan explains. Money budgeted for solar panels might be better invested in an energy-efficient façade or high-performance windows that manage building temperature while also screening out noise from the busy street below.
Designers also should remember that a building is a living environment, Natarajan says. Factors such as aesthetics, light, and air quality affect the mood of the people who occupy the building. And the building's performance — in terms of both sustainability and comfort — depends on how people use its features.
"For example, you can put in operable windows and manual blinds, but people have to be told how to use those things optimally, with the seasons," she says. "A building can't be designed for energy efficiency and operated in a vacuum."
Natarajan has helped apply principles of holistic sustainable design to properties such as the World Trade Center and The Bridge at Cornell Tech in New York City.
At the multi-building World Trade Center complex, part of her job is to guide tenants in choosing the best-performing appliances, equipment, and lighting fixtures. "I also give them advice on using the space effectively, so they can take advantage of the natural daylighting and views and implement best practices in construction," she says. She might, for instance, help them choose sustainable materials for interior walls. Natarajan also manages the LEED certification process for the World Trade Center project.
The Bridge at Cornell was designed to combine energy efficiency, beauty, comfort, and "super-transparent, open space" that encourages collaboration among academic researchers, entrepreneurs, and technologists, Natarajan says. It takes creative thinking to meet all those demands at once.
For instance, The Bridge uses large glass surfaces to bring in light and provide dramatic views. Environmentally speaking, that's a tricky choice, since glass doesn't insulate as well brick or concrete. "So we focused on making sure the façade was oriented right, to avoid excess heating and cooling loads, and we chose efficient glass, so the building could save energy without compromising on design goals," Natarajan says.
For John Bonhomme, MBA '07, managing partner and co-founder of Thorobird Real Estate in New York, and executive director, global strategic markets at J.P. Morgan, the holistic approach to sustainability includes an emphasis on improving people's lives. Thorobird develops residential buildings designed to enhance urban communities and provide affordable, healthy housing for people in distressed situations, especially woman who suffer domestic abuse and dislocation. Thorobird works toward those goals while also seeking profits for investors.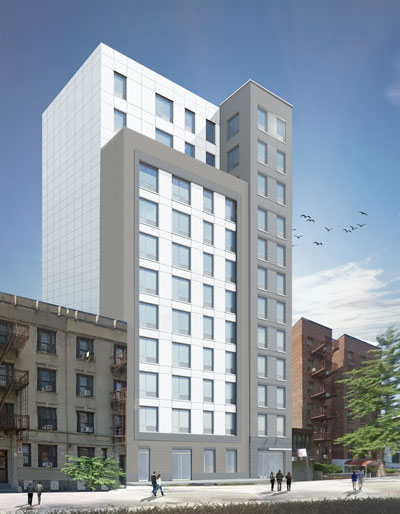 "We think sustainability has to do with the benefits you are providing," Bonhomme says. Thorobird's properties offer features such as security staff, social rooms, outdoor gathering spaces, and secure storage for bicycles. Environmental measures include passive solar heating and cooling, low-flow water fixtures, and energy-efficient appliances.
"We also try to find a price point where people will be able to live in their homes without spending a disproportion of their total income on housing," Bonhomme says. Thorobird's buildings include both apartments rented at market rates and subsidized apartments.
Careful financial management helps Thorobird succeed on all three portions of the triple bottom line, says Bonhomme. "Like all developers, we source properties where we can buy at an affordable rate." When choosing locations for its projects, Thorobird seeks neighborhoods that have seen better days but appear to be on the verge of a renaissance. The company also carefully manages its construction expenses.
Because of its social mission, Thorobird also receives government supports such as tax abatements, Bonhomme adds.
"Perfect sustainability isn't possible, but you can approach it. And any time you have opportunities to incorporate it, you should." — Brad Wellstead '83, MS '96
Whether they make improvements one feature at a time or use a holistic strategy, real estate developers, designers, and operators face abundant opportunities to enhance all three portions of the triple bottom line.
"I look at a philosophy of sustainability not as an absolute, but more within a continuum," says Wellstead. "Perfect sustainability isn't possible, but you can approach it. And any time you have opportunities to incorporate it, given the willingness of the primary players to do so, you should."
Illustration: iStock by Getty Images
---
Sourcing Locally
The farm-to-table trend in cuisine has a counterpart in sustainable real estate: the use of locally sourced materials and vendors.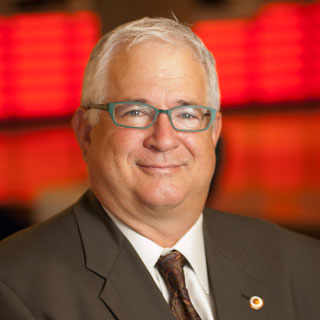 One example is the use of wheatboard, a particleboard made from hay, a byproduct of the grass seed that producers in Oregon ship to markets worldwide. Brad Wellstead '83, Architecture, MS '96, Hotel Administration, founder of the consulting firm Ethos Project Management and lecturer in Properties Development and Management at Cornell's School of Hotel Administration, has experience with this material. Some of his clients in the Northwest have used it to build several million dollars' worth of cabinetry in research labs and offices.
"I always thought that was cool, that we were using an Oregon-made product that's a byproduct of one of the state's bigger exports," Wellstead says.
---
Cornell Project Adds Storage Batteries to Smart Electric Meters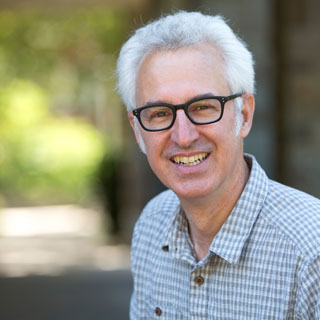 One strategy for cutting energy consumption in real estate could get a boost from a current project at Cornell. A research team headed by Todd Cowen, professor of civil and environmental engineering, is using a $1 million grant from the National Science Foundation to test the benefits of adding rechargeable batteries to "smart" residential electric meters.
Cowen, principle investigator on the project, is working with Richard Stedman, professor of natural resources; Robert Thomas, professor of electrical and computer engineering; William Schulze, the Robinson Professor in Applied Economics and Management; and Ricard Daziano, the David Croll Fellow Assistant Professor in civil and environmental engineering.
Smart meters measure and manage the use of residential electricity, often encouraging customers to defer their use of power to hours when demand on the grid is low. Such shifts could eliminate the need to bring more power plants on line during demand spikes, thus reducing carbon emissions.
The Cornell study uses batteries to create local energy reservoirs. The smart meters automatically charge the batteries when demand is low and power is cheaper, storing electricity for later use.
Smart meters are already installed in about 40 percent of homes in the U.S., Cowen told the Cornell Chronicle in September. But those devices have not yet met their potential for reducing utility bills and engaging users, he said. The research aims to determine whether local power storage could help.
---
The Bridge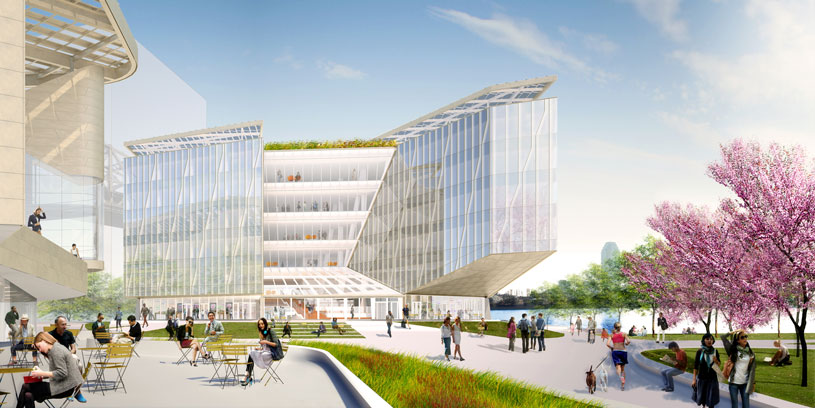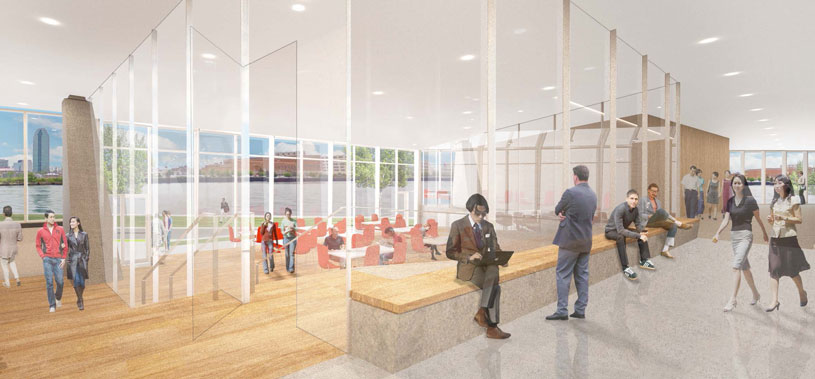 "The Bridge uses large glass surfaces to bring in light and provide dramatic views. Environmentally speaking, that's a tricky choice. … So we focused on making sure the façade was oriented to avoid excess heating and cooling loads, and we chose efficient glass." — Divya Natarajan, MS '13, senior project manager at the sustainability and green building consultancy Paladino and Co., who helped apply principles of holistic sustainable design at The Bridge, now under construction at Cornell Tech on Roosevelt Island