Johnson's Mark Nelson and peer deans discuss the value of the MBA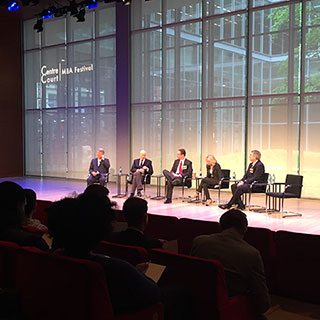 A master's degree in business administration offers the best return on investment among advanced degrees, but tuition certainly isn't inexpensive, a panel of deans from the nation's top colleges told prospective MBA students May 20.
The deans spoke to more than 300 potential applicants at The Times Center in Manhattan to kick off the inaugural CentreCourt conference sponsored by the media outlet Poets & Quants.
Samuel Curtis Johnson Graduate School of Management Dean Mark Nelson said that when he started at Cornell 27 years ago, classes and lectures were pretty static. In comparison, he described today's learning environment as "engaging."
"What's going on is very relevant, very impactful. An MBA program is challenging, but it's also an amazing experience. Nine out of every 10 graduates say they're happy they enrolled in MBA programs," said Nelson.
"The value of the MBA is extremely strong," said Yale School of Management Dean Edward "Ted" Snyder. "You are not going to be replaced by robots."
The panel's moderator, John Byrne, said, "The MBA isn't cheap, but there is a tremendous amount of scholarship support. … The true value of the degree occurs over time."
Byrne, founder & CEO of C-Change Media, which owns Poets & Quants, asked the panelists what they might change at business schools.
"You could lower the price," Snyder responded, generating a wave of laughter.
Judy Olian, dean of the Anderson School of Management at the University of California, Los Angeles, explained that among advanced degrees, an MBA offers the lowest debt-to-return ratio. A medical degree offers the worst ratio, she said. Total costs to enroll in any of the nation's top business colleges average more than $120,000 for tuition alone.
Snyder agreed: "The list price is outrageous, and it's getting worse."
"You have to look at this as a lifetime return," Olian said. "Today's the heyday, and tomorrow will be the heyday as long as we keep 'morphing.' MBA students need to make sure they know what it takes to be a team member. They're going to experience the most current thinking in technology and analytics," she said. "I don't look in the rearview mirror. I'm looking forward."
Nelson agreed that applicants should look for the best fit, visit campuses and "think about the trajectory it would put you on."
All of the deans noted that the technology boom, importance of networking and demand for entrepreneurs is changing, but also strengthening, MBA programs.
Eric Johnson, dean of the Owen Graduate School of Management at Vanderbilt University, described how the impact of technology and online classes will continue to grow. He reminded the audience that investing in their future is among the best investments they'll ever make. "What else would you really want to invest in? This is your life."
Nelson described how Cornell Tech's new $2 billion technology campus opening this fall on New York City's Roosevelt Island will build upon entrepreneurship and collaboration among students pursuing advanced degrees in business, law and engineering. "We'll have great new space," Nelson said. "And there's a tremendously exciting curriculum that's under way."
CentreCourt was shared live on Facebook. Watch the recording here.