Commencement ushers in first class for Cornell SC Johnson College of Business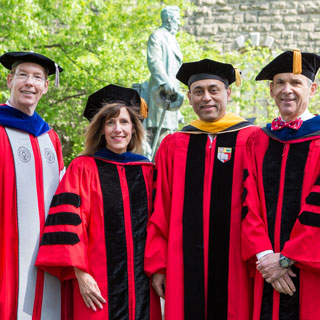 The inaugural class of Cornell SC Johnson College of Business graduated this past weekend, celebrating the achievement with family and friends who converged on Ithaca from around the globe.
The 1,256 graduates were honored at ceremonies held by Cornell's three accredited business programs that created the College of Business last year: the School of Hotel Administration, the Charles H. Dyson School of Applied Economics and Management, and the Samuel Curtis Johnson Graduate School of Management.
"You are the first to graduate as alumni of Cornell SC Johnson College of Business," Kate Walsh, Interim Dean and E. M. Statler Professor of the Hotel School, said in an address to 298 hotel school BS, MMH, MPS, MS and PhD graduates at Barton Hall. "It's a historical distinction that I know will become an ever-growing source of pride for you as the years go by."
At a ceremony in Bartels Hall, Edward J. McLaughlin, Interim Dean of the Dyson School, told 282 Dyson BS, MPS, MS and PhD graduates that just as business education at Cornell has been transformed, the world they will now enter, will be in constant flux.
"You can see that we have embraced changing with the times, and I urge you to do the same often in your careers and your lives," McLaughlin said. "Sure, change can be annoying, sometimes threatening, almost always uncomfortable. But don't make the mistake of avoiding it. We're almost always better off in the end."
Addressing 676 MBA and PhD candidates in Bartels Hall, Mark Nelson, the Anne and Elmer Lindseth Dean of Johnson, said there are more changes in store for the college in the coming year. He noted the relocation of Cornell Tech, including the Johnson Cornell Tech MBA program, to Roosevelt Island in New York City, and the completion of the Breazzano Family Center for Business Education this summer, in Collegetown.
"The degree you receive today marks an enduring investment in your future," Nelson said. "At Johnson, we'll continue investing in the future as well."
Mayank Chawla, MBA '17, who graduated with distinction, said his MBA has given him the ability to converse with people across the business world, from health care to high tech. Although he has accepted a position in operations consulting at McKinsey & Company Inc. in San Francisco, Chawla said he won't forget his fellow students at Johnson.
"Being with 250 students for two years, they feel like family now," said Chawla, whose family came from Delhi, India, to see him graduate. "I will be in touch with them for the rest of my life."
At the hotel school ceremony, Giovanna Lyssa Caixeta Cavagnaro '17 said earning a bachelor's degree in hotel management was the end of a journey that began at age 15, when she fled Brazil without her parents to earn a better education in the United States. She attended high school while living with an aunt near Atlanta, and her parents immigrated eight months later.
"I can't imagine a better experience than coming to the hotel school," said Cavagnaro, who received the Cornell Hotel Society Senior Award and addressed graduates in Barton Hall. Cavagnaro plans to work as an analyst at LaSalle Hotel Properties, a real estate investment trust company in Bethesda, Maryland.
Dean of External Relations for the college, Rohit Verma, said, "Our graduates are uniquely positioned to take on challenges of an increasing complex world, due to many opportunities for experiential learning and engagement with businesses, government and not-for-profits, in the form of class projects, case studies, guest speakers and internships."
Deputy Dean and Dean of Academic Affairs for the college, Chris Barrett, noted "This outstanding inaugural class of SC Johnson College graduates closes a year of remarkable progress. We have hired an extraordinary group of incoming faculty, seen a huge increase in applications, been blessed with an extraordinarily generous naming gift ($150M gift from alumnus Fisk Johnson and the SC Johnson company) and now congratulate and wish Godspeed to an immensely talented group of young alumni."
Founding Dean of the College of Business, Soumitra Dutta, said "The graduates make the world a better place in whichever way they choose to contribute. But at the same time, I hope they will remain connected to Cornell because, ultimately, our alumni are really the living face of the college."