Lessons after 200 days in the Americas program
By Femi Oloruntoba, Executive MBA Americas '18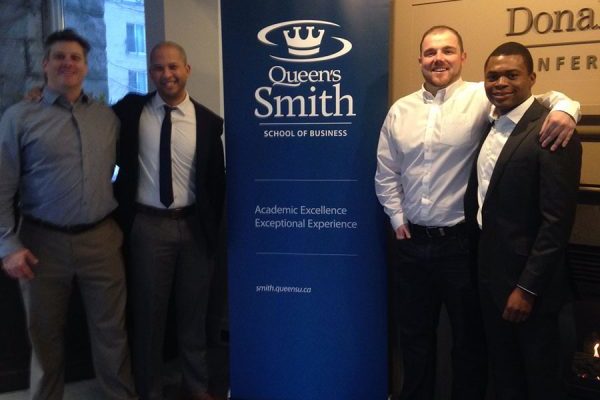 After I had increasing engagements with senior leadership at the firm where I work, I made the conscious decision to enroll in an executive MBA program to begin a journey of self development. I chose the Executive MBA Americas program, which is a dual degree program at the Samuel Curtis Johnson Graduate School of Management at Cornell University and the Smith School of Business at Queen's University. My firm was very clear about the type of outcome they would expect from a management and leadership MBA program: It should equip graduates with transformational tools to lead a regional or global enterprise.
For a mid-career manager, it's not only class grades that are useful and important, but also leadership development for the 21st century. We need to gain insightful new perspectives that can help frame, approach, and solve our enterprise's emerging challenges, and the Americas program does just that. Paul Roman, adjunct associate professor and director of executive MBA programs at Queen's University, has echoed this point. He says the intent of a stellar executive MBA program, specifically, the Americas program, is for middle managers to be able to make an immediate impact in their organizations.
Navigating through the Americas program the last 200 days has been challenging, but rewarding, and, yes, it hasn't been an easy degree to earn. With professional work and personal life commitments, life as an executive MBA student can easily become unmanageable; however, there are three pointers that worked for me in focusing on my goals.
Submitting assignments with dual objectives
First, it is important to note that you get out of the Americas program what you put into it. For me, my focus is to better understand the core of enterprise management. The Americas program allows students to use their own organizations as the context of assignments and projects, so I'm choosing to dive deeper into MBA courses that are relevant to learning outcomes that will add to my firm's success. Deliverables I submit for grading are sometimes tied to my firm's internal projects; therefore, I'm offering solutions for the organization to consider and delivering a quality assignment of my own.
Time on task
Class readings and/or individual and group deliverables differ in complexity and time requirement. It was helpful to allocate time before and after work hours in achievable 30–60 minute blocks to work on class deliverables and to match time with tasks. To the later point, the human body is not robotic in nature—we get tired and need to refresh, and we can't work constantly. This is why it's important to find the best ways to channel your energy to complete tasks with the useable time you have. I found that I was most productive early- to mid-morning and late afternoons. I can use that time to concentrate my efforts on completing key tasks.
Keeping track
It is easy to get buried in hurricanes of assignments and classes. It's important to stay on track and keep the program's intentions top of mind. I track learning outcomes by writing down key failures and successes as a continuous reference to my defined executive MBA goals.
To my Vancouver B boardroom cohort (who are supportive beyond measure), the receptive executive MBA Americas Class of 2018, and the incoming Class of 2019—just know we are close to the finish line, which is perhaps the beginning of the rest of our professional lives.
About Femi Oloruntoba, Executive MBA Americas '18
Femi is a regional sales manager for Drager Canada. He received a B.Hons in chemistry from the Federal University of Technology in Minna, Nigeria and a graduate degree in international business management from Centennial College in Toronto, Canada. Femi chose Johnson and the Americas program for its faculty and its culture of community, collaboration, and learning. His boardroom location is in Vancouver, Canada.