Sharonee Vaca '19 takes off for aviation industry
When opportunity knocks, Sharonee Vaca '19 is ready to answer.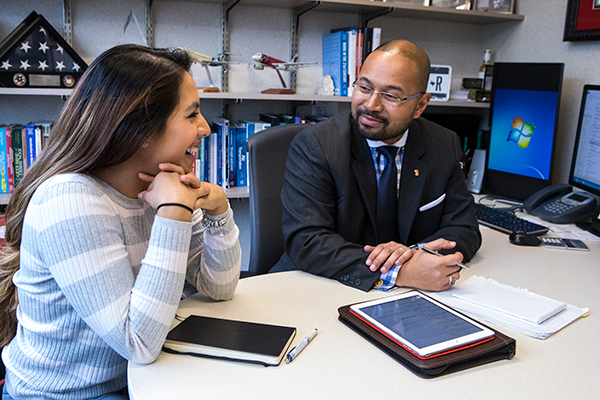 In her freshman year at the School of Hotel Administration, Vaca heard that Mariela Sanchez '00 (Eng), MEng '01, a general manager of sales at Delta Air Lines, would be speaking at a Latino Leadership Summit on campus. After arriving at the event and hearing her talk, Vaca introduced herself to Sanchez and told her about her passion for the aviation industry.
A few emails and interviews later, Vaca landed in Atlanta this summer for her dream internship in Delta's networking planning department.
"I cried—I was so excited," said Vaca, who got the news while she was home visiting her parents in Queens. "This is my first step into my career in the airline industry, and starting out with Delta—it's very, very competitive to get."
Her journey into the airline business began in ninth grade, when she enrolled in the Aviation Career and Technical Education High School in Long Island City. Vaca, the only child of Ecuadorian parents, chose to attend the public high school, which teaches students how to fix and maintain aircraft, because she had always been interested in the aerospace and aviation industry.
Four years later, Vaca could inspect a commercial aircraft, repair its hydraulic system, and troubleshoot electrical components. Although she was ready to graduate with an airframe mechanic certification, Vaca, who ranked first in her class, was selected to stay a fifth year at the school and intern at John F. Kennedy International Airport to become certified in powerplant, or engine, mechanics.
When Vaca heard that a friend in the program was applying to Cornell, she decided to visit the school.
"I came for open house in the fall of my fifth year. I loved it," she said. "This place is absolutely beautiful. It was everything I wanted in a university."
The first in her family to attend college, Vaca wanted to study aviation but didn't want to become an engineer. When she discovered the Hotel School during her campus visit, she realized that an intensive focus on the hospitality industry was the best option to prepare her for a career with the airlines.
"I read about the Hotel School and thought, 'Wow, this school is great,'" she said. "I read about how people go into all kinds of businesses. The alumni network is fantastic, and you literally meet people everywhere. So I applied."
Since arriving on campus, Vaca has found some unexpected ways to pursue her interest in the aviation industry. Last fall, she joined a new coed aviation fraternity, Alpha Eta Rho, and serves on its board. She also joined the Air and Sea Hospitality Club and traveled with the group to Miami to tour the airport and several hotels.
A course she took last fall, Airline Service and Operations Management, also helped jumpstart her career in the industry. Sean Rogers, the assistant professor who teaches the course, has degrees in aviation and professional experience in airline operations, a background that comes in handy for recruiting airline executives to guest-lecture throughout the semester. After learning a lot about the business side of aviation in the course, Vaca was able to demonstrate that knowledge in her interviews for her summer internship with Delta.
"I couldn't have interviewed successfully without the airlines course," she said. "I wouldn't have even known where to start."
Vaca said she is grateful that the Hotel School prepared her for the internship, which she hopes will help her focus her career goals.
"I think this summer is going to determine whether I want to be in the airline industry or not," she said. "This is my first step into it, and I think I'll end up liking it."