Thomas White, MBA '17, is Wall Street's "Best Athlete"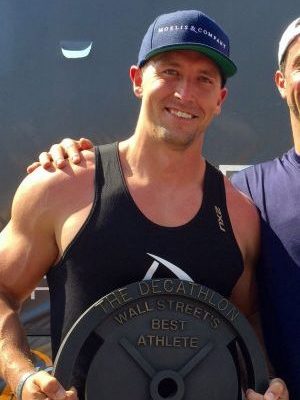 Thomas White may have traded football for finance, but on a blistering hot Sunday in early June, he proved he still had something left in the tank.
White, who spent time with the Baltimore Ravens and Winnipeg Blue Bombers before competing for two years on the United States Bobsled Team, won the D10 Wall Street Decathlon hosted at Columbia University. The Decathlon, popular with the type-A Wall Street set, functions as a fundraiser for pediatric cancer research and has raised more than $9 million to date. The competition itself marries elements of a traditional decathlon with an NFL-style combine to crown Wall Street's Best Athlete.
In preparation for the event, White, a new investment banking associate at Moelis & Company, squeezed in workouts between classes and credited his classmates for contributing to his success.
"The Johnson community never ceases to amaze; my classmates were extremely supportive—both financially to the cause and to me personally as I prepared for the event. At Johnson, we were always encouraged to strive for excellence—both in the classroom and in our outside endeavors," White said. "A big part of the school's ethos is learning that competition need not be a zero-sum game. I was pleased to see that same spirit of collaboration among the competitors at the Decathlon."
While the Decathlon is extremely competitive, White noted that there was much more to the event than just the athletic component. "There is something very appropriate about the physical nature of the competition. In the depths of the pain and discomfort, you remind yourself of the enormity of the cause, the children and their families who would do anything to trade positions with you in that moment. As much as I love to compete and win, those things ultimately pale in comparison to raising money and public awareness for the cause."
Event highlights:
Ran 4.44 40 yard dash

Jumped 43 inches in the vertical jump