Megan Larkin '17 finds the sweet spot in food and beverage studies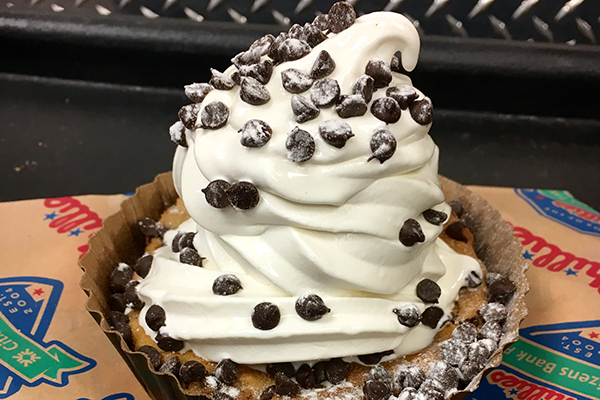 In the spring of 2016, Megan Larkin '17 traveled to Citizens Bank Park, home of the Philadelphia Phillies, to watch dozens of baseball fans line up to buy a warm chocolate chip cookie topped with a spiraled mound of soft vanilla ice cream.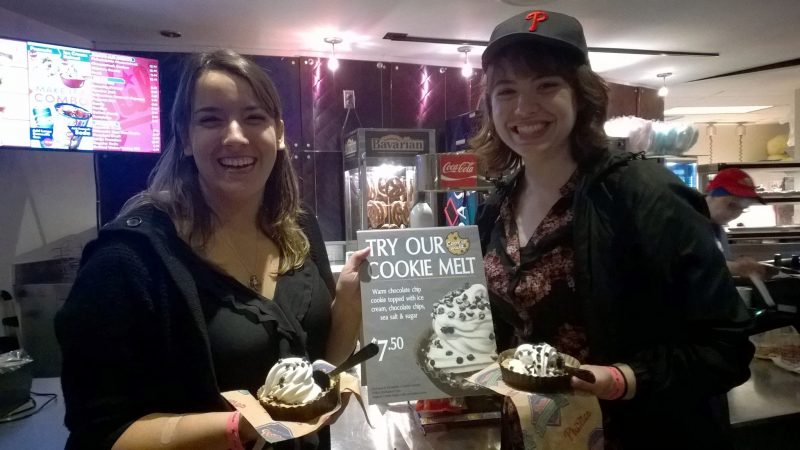 Larkin had created this sweet conception, called the "Cookie Melt," with two classmates in Product Development in the Food and Beverage Industry, a course taught by SHA lecturer Chris Gaulke. She and one of her teammates, Stephanie Cressler '16, were there in Philadelphia to savor every moment of the launch of their successful dessert concept.
"Being able to see something that you worked on in class actually working and successful in the real world is just so incredible, and it's a tribute to what we do in the Hotel School," Larkin said. "It's not just theory and general applications. It's coming up with ideas that work well."
Gaulke's course was one of the highlights of Larkin's time at Cornell. The course culminates in a showcase where student teams pitch their concepts to a panel that includes Gaulke and several other of the school's food and beverage experts.
The key figure on the panel, however, is Peter Zilper, MMH '01, vice president of food and beverage at Aramark Sports and Entertainment, the course's corporate partner. Zilper evaluates each food concept for its potential to be produced and marketed successfully at a professional sports venue where Aramark operates food and beverage concessions. While there is no guarantee that a student concept will make it to the majors, Zilper judged the Cookie Melt worthy of a big-league tryout. The product was a hit in Philadelphia, and Aramark is now considering offering the Cookie Melt in Los Angeles and Las Vegas as well.
Larkin first ventured into food product development in her first semester at Cornell, when she took Food Science 1101 and learned to make ice cream. For the final course assignment, she and her teammates developed a new ice cream flavor to enter in the course's annual contest, which has become a classic Cornell experience and a favorite topic for Cornell's campus tour guides. Larkin's team finished a close second.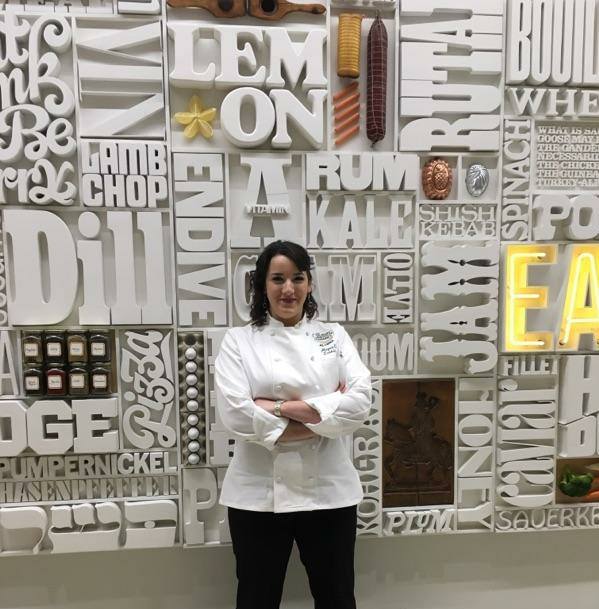 Larkin has wanted to be a chef since she was a kindergartener in Morristown, NJ. When she discovered a decade or so later that the Hotel School offered a collaborative-degree program with the Culinary Institute of America, she knew it was going to be "an absolute fit." After finishing her junior year at Cornell, she spent six months at CIA, taking courses in Mediterranean cuisine, meat curing, and fish preparation before returning to Cornell to complete her senior year.
In her years at Cornell, Larkin made it a point to enroll in one course outside the Hotel School every semester so she could take advantage of more of what Cornell has to offer. For example, in addition to taking the famed Hotel School course Introduction to Wines, she took Introduction to Viticulture and Enology, familiarly known as Wines and Vines, in the College of Agriculture and Life Sciences. A history class, An Intoxicating History of Beverages, introduced her to the concept of commensality—the idea of people sharing and understanding cultures through a meal.
"During this class, I was finally able to name the phenomenon that had been intriguing and driving me throughout my time at Cornell," Larkin said. "I firmly believe that food and cuisine is one of the strongest binding factors for all people and that, by eating the foods of other cultures, we can better understand our world. The classes at the Hotel School and, more broadly, at Cornell have strengthened my global and industry understanding in ways that I never could have imagined. I now cannot imagine my life without food, wine, and commensality at its core."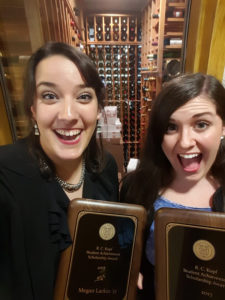 This fall, Larkin will explore the idea of commensality further when she spends eight weeks visiting and working at wineries, hotels, and restaurants in California, France, and Italy as a recipient of the R. C. Kopf Student Achievement Award. The prestigious award, which includes a $10,000 cash prize, was given to five other students across the country, including another SHA-CIA graduate, Cayley Boire '17.
Larkin hopes that the experience studying fine wines and cuisine across the world will help her reach her career goals of developing and designing restaurants. "Going on this trip will give me an even stronger foundation than I would have had so far for understanding different cuisines and cultures and the interrelationship between the actual physical design of the restaurant and how it all comes together," she said. "It's really building my skills to go into restaurant concept development, and even product development, and coming up with new ideas."
Since graduating, Larkin has been working in the facilities department at Dig Inn, a restaurant company in New York City. This summer, she will help the company develop efficiencies in its restaurant operations and launch a new restaurant in SoHo.
"My overarching career goal is not just to innovate but to bring more people together through food. Whether this means developing new restaurants or new products or teaching people about wine history, I couldn't be any happier as long as I can help people understand food."