What makes the Executive MBA Americas broadcast delivery method so unique?
By Kristi Rennekamp, assistant professor of accounting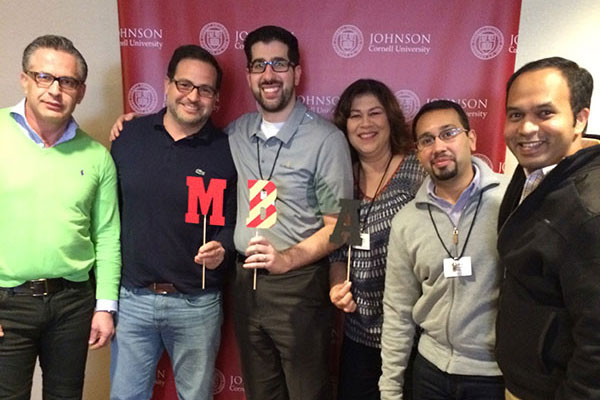 If you are looking into the Executive MBA Americas program, you probably know that about 60 percent of the coursework is delivered via live broadcast. One thing you might wonder about is how this unique delivery method is likely to affect your learning experience.
I'll admit that when I first taught in the program, I was a little worried about making a connection with students. How would I get to know them when they were scattered across two continents, in five different countries, and twenty-one different locations? Fortunately, it turns out that the broadcast delivery method is a very interactive and collaborative learning environment.
From the faculty perspective, I find that organizing students into boardroom teams actually makes it easier to include break-out exercises in class. Students are already in teams within their own space, so we will often do 10- to 15-minute "mini-cases" before we re-group and discuss together. These break-outs keep students engaged and allow them to apply the material and reinforce knowledge.
To better understand the student experience, I've also sat in boardrooms (while someone else was teaching, of course). What strikes me is how the boardroom format allows students to quickly ask each other for help without disrupting the whole class with their discussion. This not only helps students clarify a point as they are learning new material, but also lets the students who provide help to reinforce the knowledge in their own minds
Lastly, one other unique aspect of the broadcast method is the behind-the-scenes work done by our incredible studio staff. They can be working in the background to deliver multi-media while I am focusing on course content. If a company comes up in discussion, the studio staff is often able to find relevant news stories, videos, and more to enrich the conversation without interrupting the natural flow of class.
For an inside, behind-the-scenes glimpse of the technology, view our learning model video featuring my colleague, Professor Andrew Karolyi. Or you can connect with the admissions team and schedule a visit to a boardroom near you.