Cornell Chronicle: New food policies could take the bite out of India's malnutrition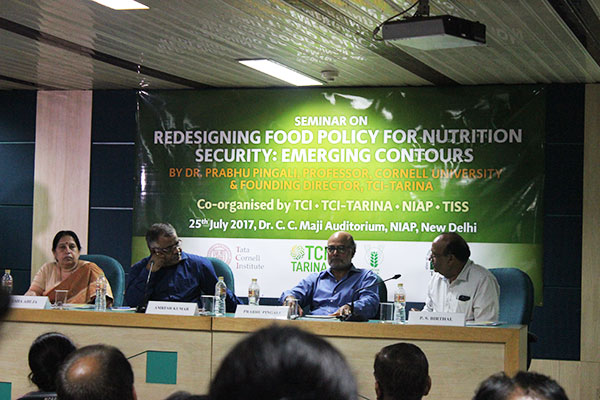 India's strategy over the last 50 years of increasing production of staple crops, such as wheat, rice, and maize, to combat hunger is facing its limitations. Despite producing enough calories with these staple crops to fend off hunger, India faces chronic malnutrition and child stunting.
"We need to first say, 'We have a problem. And then we can talk about solutions." – Prabhu Pingali, professor of applied economics and management and director of the Tata-Cornell Institute for Agriculture and Nutrition (TCI)
Pingali and his team of Cornell agricultural economists suggest that new policies introducing more nutritious foods into India's diet could solve the issue. Pingali presented his team's latest study on July 25 in New Delhi at the National Institute of Agricultural Economics and Policy Research, India's agriculture policy think tank. His co-authors are Bhaskar Mittra, associate director of TCI, and Andaleeb Rahmn, postdoctoral fellow at TCI.
Their study, "The bumpy road from food to nutrition security – Slow evolution of India's food policy", offers several suggestions, emphasizing the benefits of governments widening their exclusive focus on subsidizing staple grains.
One proposal is a "crop-neutral" policy that gives farmers incentives to actively respond to the market, such as investments in market infrastructure, credit facilities, and the availability of factors like fertilizers. In India's case, the country's current subsidies include paying a minimum price to farmers for their grain and selling it at low prices to poor consumers.
For instance, the government could utilize resources to develop paved roads, cold-storage systems, and telecommunications networks to improve the efficiency of communication between market signals and farmers, or include more nutritious foods in its subsidized distribution to the poor.
According to Pingali, the crucial factor is breaking the link between subsidized producers and consumers. One solution he suggests is for India to provide a cash incentive for farmers to grow crops based on market demand instead of subsidies for staple grains. Instead of simply giving the very poor grain or at low prices, India could provide them with cash to buy more nutritious foods, following examples from Europe and the United States.
Breaking this link will be complicated, Pingali and his team admit. Potential challenges include ensuring that policies allow women in patriarchal households access to the cash for the family's food while barring other family members from spending it on non-food goods, like alcohol, and ensuring that producers can meet diverse consumer demand during the transition period.
Read the full article from the Cornell Chronicle here.