Top 10 reasons to apply for Johnson's Women in Business event
By Ann Richards, Senior Associate Director of Admissions and Financial Aid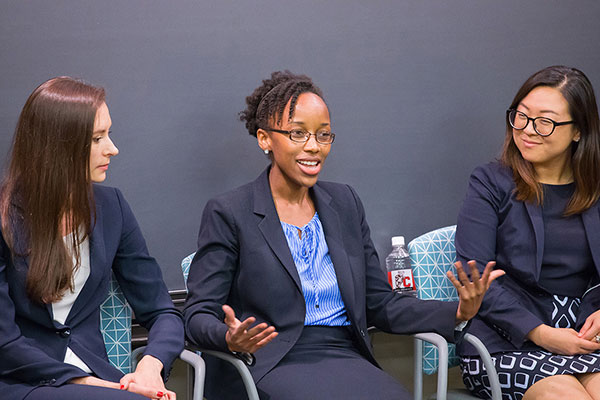 Johnson's Women in Business event, also known as JWiB, gives prospective women MBAs an opportunity to visit the Samuel Curtis Johnson Graduate School of Management at Cornell University and be among like-minded businesswomen. Our tight-knit community is definitely one to experience firsthand.
Women are continuing to play an important role in business, and many companies are actively seeking to increase the number of women they hire into management and leadership positions. Getting your MBA is the first step in your career trajectory, so why not complete your studies at Johnson—a place our students affectionately call home. JWiB can help you decide if our programs are right for you.
Here are the top 10 reasons JWiB could be a game changer in your b-school search.
#1. Meet like-minded businesswomen
Johnson's women faculty, staff, and students will welcome you as soon as you step into Sage Hall. You'll also meet other prospective MBA students who are beginning their journeys, too—all with the intent of making an impact in the business world.
#2. Take a deep dive into MBA programs and resources
You'll learn all about our MBA programs from students and faculty and we'll introduce you to some of Johnson's resources that are specifically for women, like leadership opportunities and ways to connect with other women or families in Ithaca. You'll also hear more about Johnson's clubs for women, such as the Women's Management Council or Forte Ambassadors group.
#3. Spend time with current students
JWiB attendees will be paired with a Johnson MBA woman to learn what life is like in the program and in Ithaca. You will be able to ask honest questions and receive honest responses from students about Johnson's day-to-day, the community, and our unique offerings.
#4. Hear real alumnae outcomes
Alumnae will return to Ithaca to participate in panels and networking sessions. You will hear their success stories and challenges, how Johnson helped them achieve their goals, and learn what "women in business" means to them.
#5. Attend hands-on workshops
One of our most well-received events at JWiB is our breakfast workshop, Great on the Job. Founded by alumna Jodi Glickman, MBA '02, Great on the Job offers corporate training and professional development. You'll also participate in interview prep workshops and get tips on how to prepare your MBA application.
#6. See the beauty of Cornell and Ithaca
Cornell University is located in the heart of the Finger Lakes in Ithaca, NY. Our campus is full of history and inspiration, surrounded by natural beauty, and is steps away from a bustling college town!
#7. Experience Johnson's community
Our intense, collaborative community is what makes us so unique. Classmates and colleagues easily become your lifelong friends.
"Two years has come and gone since my experience at JWiB, but the most prominent thing I will remember for the rest of my life was that my host showed me what it was truly like to be part of the Johnson community. She welcomed me in her home, introduced me to her friends (that I've still been in touch with), attended social gatherings with me, and took the time to get to know who I was. I felt as if I already truly belonged to this community. When the time came for me to choose which MBA program to accept, it was easy for me to select the program that I already felt I could call my home."
— Stephanie Isenman, MBA '18, JWiB Co-Chair
#8. Go to Sage Social
Sage Socials take place at Johnson throughout the academic year. Our students, faculty, and staff gather at Sage Hall on Thursday evenings for themed socials complete with free food and beverages. During JWiB, we'll welcome our prospective women MBAs—the Cornell MBA community is eagerly awaiting the opportunity to meet and connect with our JWiB attendees. Interestingly, Sage Hall served as the original dormitory for women at Cornell, as Cornell University was among the first universities to admit women.
#9. See what our academic day-to-day is like
When you're visiting during JWiB, you'll be able to attend classes with current students and hear from our outstanding faculty. Academics will be a main focus of your time here, so we hope these brief class visits will pique your curiosity. There's so much more beyond the day-to-day!
#10. Receive a special invitation
JWiB participants will be eligible to receive an application fee waiver and invitation to interview during the 2017-2018 admissions season.
Increasing the number of women in our MBA programs is a clear priority at Johnson. Women bring a unique perspective, play a large role in our community, and have the potential to make enormous gains as business leaders. For women and men alike, an MBA gives you credibility in the workplace, can help you pivot in your career, and will strengthen your confidence and leadership skills. Specifically for women, the increase in compensation can be as much as 55–65% of their pre-MBA salary within five years of graduation and can start with an increase of 34–40% right at graduation.
There's no better time to begin your journey. Take the first step by visiting Ithaca and getting to know Johnson's incredible community of women.