Research Recap: Todd Schmit examines regional food systems and economic opportunity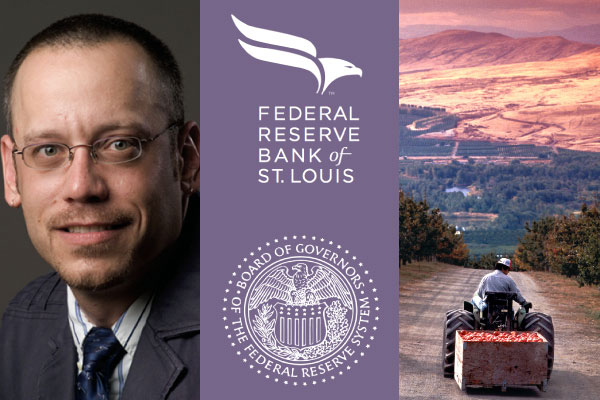 Publication title
Chapter 3: "Local and Regional Food Systems Driving Rural Economic Development" in Harvesting Opportunity: The Power of Regional Food System Investments to Transform Communities
Disciplines represented:
Food and Agriculture, Economic Development, Agricultural Economics
Contributing organizations:
Charles H. Dyson School of Applied Economics and Management at Cornell University
Department of Agricultural and Resource Economics at Colorado State University
Department of Rural Sociology at University of Missouri-Columbia
Resource and Rural Economics Division of the Economics Research Service in the U.S. Department of Agriculture
Co-authors:
Todd Schmit, associate professor in the Charles H. Dyson School of Applied Economics and Management
Becca B.R. Jablonski, assistant professor of food systems at Colorado State University
Mary Henrickson, assistant professor of rural sociology at University of Missouri – Columbia
Stephen Vogel, agricultural economist, USDA Economic Research Service
Summary:
Harvesting Opportunity explores the potential of regional food systems to promote economic growth in rural and urban communities throughout the United States, highlighting promising models for collaboration between policymakers, practitioners, and the financial community.
The chapter co-authored by Schmit, titled "Local and Regional Food Systems Driving Rural Economic Development," examines whether local and regional food systems are positively impacting rural communities and discusses the best ways to measure their impact. Key takeaways from the chapter include:
Existing studies provide evidence of small, positive regional economic impacts resulting from local food system initiatives, with the largest gains occurring in urban-adjacent rural communities.
New markets resulting from growing consumer interest in local and regional foods appear to support improved profitability outcomes for some small and midscale producers.  
Using a rural wealth creation (improvements in education, intellectual assets, and social relationships) approach to better understand the potential impacts of local and regional food system initiatives may prove valuable.
There is growing demand by consumers for the foods they eat to be grown and raised closer to them (local). They also want to get to know the producers and the production practices they employ. That said, with fresh food products grown in rural areas, and the highest demand in urban areas where more consumers live, producers face large constraints if they wish to take advantage of this opportunity centered on financially feasible distribution logistics. The constraints involve getting products to the urban consumer and market access issues when they do get it there. Harvesting Opportunity considers these issues through the lens of rural-urban economic linkages, food hubs, community capital impacts (in both rural and urban places), and much, much, more.
— Todd Schmit, associate professor at Dyson
Publication information:
Harvesting Opportunity was published as a partnership between the Federal Reserve Bank of St. Louis, the Board of Governors of the Federal Reserve System, and the U.S. Department of Agriculture's agencies of Rural Development and the Agricultural Marketing Service.
Read the chapter that Schmit co-authored here or download the full book from the publisher here.