Noteworthy: Eswar Prasad publishes NYT op-ed on China limiting the West's global influence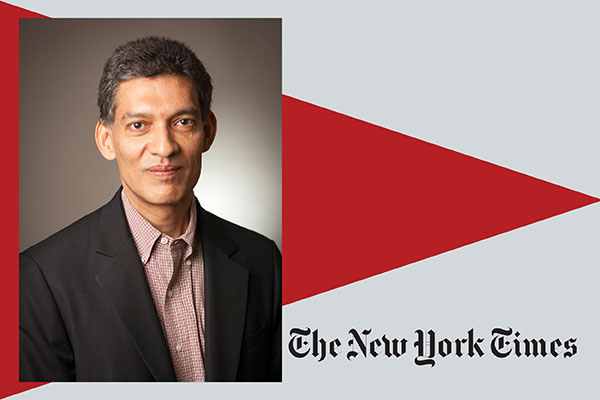 The United States's decision in January to pull out of the Trans-Pacific Partnership (TPP) left many pundits worried that America was pulling back from multilateralism, leaving the door open for Beijing to push its own brand of trade in a region that is home to one of the world's fastest-growing economies. In a recent New York Times op-ed, Eswar Prasad, the Tolani Senior Professor of Trade Policy at the Dyson School, argues that China is now "bearing fruit" from a strategy to advance its global economic and political influence by forwarding a new form of multilateralism in which it sets the tone and defines the rules of game.
Key Takeaways
In Prasad's New York Times op-ed titled, "How China Aims to Limit the West's Global Influence," he asserts:
Beijing's strategy has two main prongs:

The first is to change the rules of game from within, by expanding Chinese influence in existing international organizations like the World Trade Organization and in international financial institutions like the International Monetary Fund and the World Bank.
The second is to set up its own international institutions and initiatives like the Asian Infrastructure Investment Bank and One Belt, One Road that have a "professed multilateral nature," making it difficult for Western countries, such as Britain, Germany, and France, that do not share China's values to stay on the sidelines.

Beijing has promised that the approval of major policy decisions at the Asian infrastructure bank will require only majority support and, unlike financing from the United States or from Western-dominated aid and financial institutions, Chinese-led projects rarely come with obvious strings attached—a move that is likely to further weaken the dominance of Western economies and their worldview.
China's strategy amounts to systematic displacing of a multilateral system built on the high ideals of democracy, human rights, and freedom of expression that aimed to improve economic and human welfare around the world.
Read Prasad's full op-ed in The New York Times here.