Two Johnson alumnae will receive Johnson's 2017 diversity awards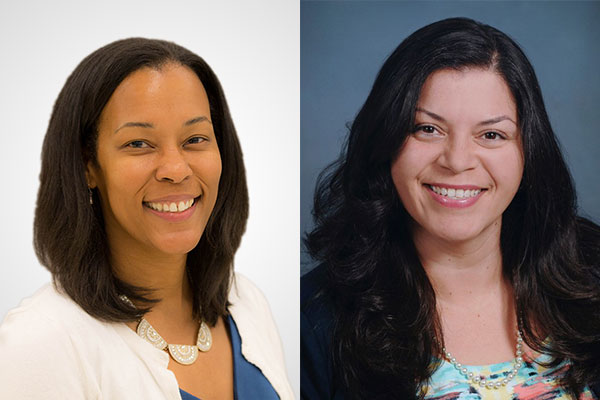 The Samuel Curtis Johnson Graduate School of Management will honor two graduates with distinguished alumni awards at its eighth annual Johnson Diversity Symposium and Alumni Awards Dinner on Cornell's Ithaca campus this Oct. 27.
Tyeise Huntley Jones, MBA '10
Tyeise Huntley Jones, MBA '10, director of strategic network support for Chicago's Chief of Schools, is this year's recipient of the Wilbur Parker Distinguished Alumni Award. Created by Johnson's Black Graduate Business Association in honor of its first recipient, Wilbur Parker '50, MBA '50, the school's first African American graduate, the award recognizes alumni who demonstrate outstanding professional achievement and commitment to their community.
Huntley Jones cares deeply about inequities in public education. As a girl growing up in Atlanta, she studied at a private Montessori school but persuaded her parents to let her attend the local neighborhood public school for a year. It wasn't a good experience educationally or in terms of how she and other African American students were treated, she says. It troubled her that for those whose families couldn't afford to send their kids to private school, it might be the only option.
After her undergraduate years at Georgetown University, Huntley Jones volunteered as an English and math tutor for underprivileged, at-risk youth in Atlanta. "I really saw the gaps [in their education], but I also saw the way they embraced that extra support," she recalls.
When she applied to business school, her essays about education and volunteering really resonated, an adviser noted. "But at that point, I wasn't sure how I could marry my dual interests in education and business," Huntley Jones says.
She enrolled at Johnson for her MBA because she liked the school's relatively small size and the opportunity to connect closely with classmates and professors. "It was its own environment, where people were smart and intellectual but also very open and kind," she says. "Students were there to develop as people, learn and grow, not just get their MBAs and check out."
After Johnson, she worked for four years in brand management at SC Johnson in Racine, Wisc. "I learned a lot of skills but wanted to do something more impactful in areas where I could change lives," she says. She was accepted in a residency program at the Broad Center on urban public education reform and placed at Chicago Public Schools, the third largest school district in the country, where she worked for two years as a manager of strategic projects, efforts that led to her current job at the school district beginning this July.
"I'm vested with the most underserved and underprivileged kids in some of the tougher neighborhoods," she explains. "That's where we can make the most impact, and need the best people."
Huntley Jones would like to see more women and minorities rise to leadership positions in business and education. "Just seeing others who look like you in business school and the work world is inspiring — but it's also important to have our voice at the table in decision-making roles." Only with that perspective can institutions adequately serve their diverse customer base, she says.
"That Tyeise has gone on to achieve this kind of professional distinction so early in her post-MBA career, and to apply her abundant analytical and interpersonal skills in a role that allows her to lead in service of the public good, simply validates the confidence that so many of us had in her from the outset," says Risa Mish, Johnson professor of practice of management.
Huntley Jones helped manage her husband Daryl's successful campaign for circuit court judge for Cook County's Juvenile Justice Division. The couple's son, Justice, was born in 2016.
Adrienne Rose Martinez '01, MBA '08
Adrienne Rose Martinez '01, MBA '08, a business information security officer at Bank of America Merrill Lynch and a community leader in Charlotte, N.C., is this year's recipient of the Carlos R. Quintanilla Distinguished Latino/Latina Alumni Award. Named in honor of its 2011 recipient, Carlos R. Quintanilla, MBA '80, a Johnson Advisory Council member and champion of the school's efforts in Latin America, this award recognizes alumni for exceptional achievements and significant contributions to their professions, community, and society as a whole; for their demonstrated commitment to Johnson; and for promoting the advancement of Latinos and Latinas in the business world.
Martinez grew up in a suburb of Los Angeles. Among the first in her family to earn a college degree, she followed an older brother to Cornell, enrolling in the ILR School as an undergraduate. After working at a small West Coast nonprofit, she returned for an MBA. The Toigo Foundation, which helps minorities pursue careers in financial services, linked her with the right resources, and she was named a Forté Foundation fellow at Johnson.
Asked what skills she learned at the school that have been most useful in her career, she says: "Everything!" When she enrolled in Johnson's capital markets and asset management immersion, she knew she wanted to be a relationship manager, she says. "I just didn't know what kind. Johnson helped me put those final pieces together."
After graduating, Martinez joined Deutsche Bank in New York City, where she worked for more than five years with institutional clients in asset and wealth management. In 2014, she moved to Charlotte, N.C., where she did a stint as director of corporate and foundation relations at the University of North Carolina at Charlotte. Earlier this year, a friend told her about the position at Bank of America. "I was up for a change and it was a good opportunity that fit my skill set," she says.
Martinez lives in Brightwalk, a mixed-income neighborhood in the center of Charlotte. Living there, she says, was an intentional decision to help remediate one of the city's greatest social challenges — boosting economic mobility.
"I'm a strong believer in reaching back and helping others," says Martinez, who calls her volunteering as resident leader of her neighborhood "my second full-time job." Among other things, she has helped execute on several grants that have brought diverse communities together through cleanups, a concert series and exercise classes in a neighborhood park, and a four-block-long celebration of National Night Out.
An active volunteer with Johnson and Cornell, Martinez is now president of the university's Alumni Association of Charlotte. In those two roles she looks for engagement opportunities such as Charlotte's first-ever Johnson predictions dinner, during which Professor Risa Mish and alumni made predictions on everything from next year's Super Bowl winner to where the Dow would be in a year.
But Martinez says her most rewarding involvement is being a big sister (as part of the Big Brothers Big Sisters of America program) to a young Latina whose family has limited resources. "When my partner, Kinson, and I learned that she and her brother had never seen the ocean, we took them on a trip to the beach. Now she has a whole army of our friends working to create opportunities for her. That's the stuff I live for."
Martinez hopes to see more Latinos and Latinas in leadership roles throughout society. "We make up such a large percentage of the U.S. population. Why aren't we equally represented in the classrooms and boardrooms?" she asks.
"I am so thrilled that Johnson chose Adrienne for the Quintanilla Award," says Mish. "Although she is so modest that she's the last person who would ever seek recognition of her many contributions to Cornell and to her community, she is among those who most deserve it."
"Adrienne embodies all that this award represents," says Sara Andress, Johnson director of alumni affairs. "The list of Cornell and Johnson organizations she has been involved with is long — Cornell Alumni Admissions Ambassador Network, the Cornell Latino Alumni Association, Cornell Mosaic, and Johnson Diversity Council, among others. Wherever she is, she gives of her time to her alma mater, her community, and the advancement of underrepresented minorities. We are honored to recognize her incredible commitment."