Johnson Cornell Tech MBAs settle into new Roosevelt Island home
By Doug Stayman, Associate Dean at Cornell Tech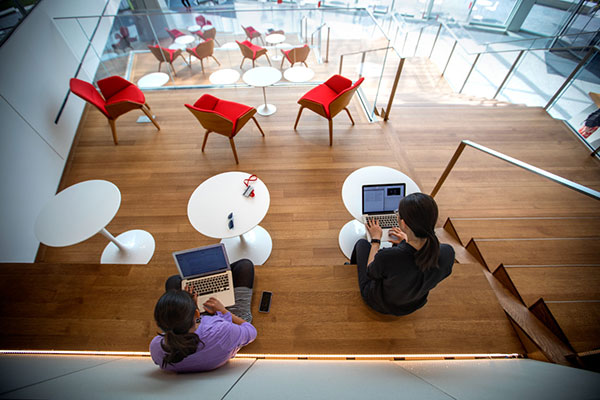 I am sorry to announce this is my last post as Johnson Cornell Tech MBA faculty director. But I am delighted to introduce Mukti Khaire, the Girish and Jaidev Reddy Professor of Practice at Cornell Tech, as the new faculty director of the Johnson Cornell Tech MBA program. She will be leading the ongoing efforts to build and innovate our curriculum and will author blog posts of her own going forward. Welcome, Dr. Khaire!
It is an exciting time to be a Johnson Cornell Tech MBA student. Following years of planning, Cornell Tech's beautiful new home on Roosevelt Island has opened for business. Members of this year's Tech MBA class are among the first to enjoy the spacious environs of this advanced and spectacular new campus.
After spending the summer on Cornell's main campus in Ithaca, NY, the fourth Johnson Cornell Tech class moved to New York City in August to begin their fall studies on Roosevelt Island. Members of the class are impressed by the sense of openness and collaboration fostered both by the innovative architectural design and the spectacular setting.
"The campus is very well thought-out," says Jonathan Kroll, Johnson Cornell Tech MBA '18.
"Everything from the lighting to the layout has been thought through specifically for facilitating interaction among Cornell Tech's seven programs. I see students from computer science, health tech, the law program, and Johnson all mingling throughout the entire campus, and there is a lot of energy and mixing of ideas. I'm very excited to see what comes from that."
Kroll notes that the campus architecture facilitates an unusual ease of access not only with fellow students across multiple areas of study, but also with faculty.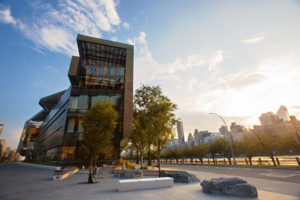 "In Bloomberg, which is the main academic building, it is very easy to speak with professors without making an appointment," says Kroll. "The building is designed with lots of glass, and you see people meeting everywhere. It creates a real buzz."
Cornell Tech has absorbed the philosophy of open collaboration championed both in Silicon Valley and by New York adherents like Mayor Michael Bloomberg and has made it a reality through architectural design.
Khemi Eleanor Cooper, Johnson Cornell Tech MBA '18, sees in the new campus a major draw for future students.
"The space at Google was great, but limited in scope," says Cooper. "The Cornell Tech curriculum demands its own space and working environment. The school's mission of promoting interdisciplinary work, with design at its core, requires bigger spaces. I believe this will definitely spur additional interest in the program."
Faculty are also quickly seeing the benefits of the new campus.
"The new Cornell Tech campus on Roosevelt island is not only stunning architecturally, with views that are second to none," says Roni Michaely, Rudd Family Professor of Finance at Cornell Tech, "but perhaps most importantly, it is inspiring. The space is conducive to fulfilling our two most important missions: to generate knowledge through research and to transmit knowledge through teaching."
"It's so rare to be the first class in a new campus, designed with all of this in mind," adds Kroll. "A few classrooms look out over Manhattan backdrop, making night classes really cool. The campus is designed to be an inspiring place."