Smith Family Business Initiative creates connections across Cornell's ecosystem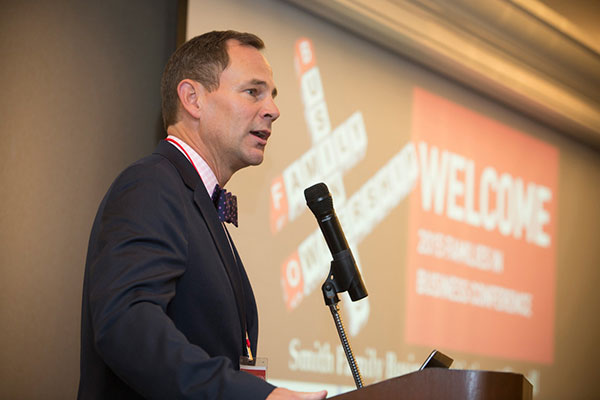 Daniel G. Van Der Vliet is the John and Dyan Smith Executive Director of Family Business at Johnson. We caught up with him recently for an update on the Smith Family Business Initiative.
Tell us about the Smith Family Business Initiative (SFBI).
We've tried to create a portal for all things family business—for students, for alumni, and for those who are within our network for any of our programs and offerings. Globally, family businesses represent as much as 90 percent of all firms, so it's a significant slice of the world economy. Members of family businesses often have many opportunities coupled with complex challenges to figure out—whether to return to the business or not, whether to innovate and change or stick with what's worked for generations.

At SFBI, we connect students who come from family businesses with alumni and business leaders who want to remain engaged with Cornell and see this as a much-needed resource. It's exciting, because we get to work with businesses from across the economic spectrum, from the corner store and entrepreneurs just getting started, to some significant global players and iconic brands.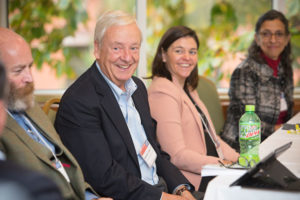 Johnson just hired Margarita Tsoutsoura, associate professor and the first John and Dyan Smith Professor of Management and Family Business. What impact will this hire have on SFBI and Cornell?
Professor Tsoutsoura comes to us from the Chicago Booth School of Business, and she is a rising scholar in the family business field. Family business is still emerging as a research space, so the body of literature is rapidly being formed. Tsoutsoura brings added capacity for the initiative to increase family business–related curriculum across Cornell, and she is considered a genuine thought leader in this area of study.

Tsoutsoura will help elevate the field and get more family business articles published in top-tier journals. We hope she will also inspire other faculty, here at Cornell, but also in her own network, to engage in top-level family business–related research.
SFBI is expanding its course offerings this year. What information can you share about the new classes?
Professor Tsoutsoura is currently developing two new courses. The first will be an undergraduate course covering the basics of family business—call it a "Family Business 101."

The second course will be graduate level. Tsoutsoura's training is in finance, so this course will be more technical in nature, dealing with how money flows in and out of the family and the business. The graduate course will likely appeal to those working in, or potentially with, family businesses. We're finding that many of our students end up in consulting, investment banking, and other fields where, unbeknownst to them, they will find themselves working with many of these families.

We expect the undergraduate course to be delivered in spring of 2018, and we hope the graduate course will be ready by then as well.
What role does SFBI play within the SC Johnson College of Business?
Having a program like SFBI with academic as well as programmatic capacity, embedded within a university like Cornell that has such great breadth and depth of expertise across many different academic areas, really helps to differentiate not just the College of Business but all of Cornell, at both the undergraduate and graduate levels.

We are beginning to see students choose Cornell because of the family business program. As SFBI continues to develop and the network and academic offerings grow, it will only help to further differentiate the college.

There are so few schools that embrace family business wholeheartedly. Particularly among our peer schools, very few have comprehensive programs. If Cornell continues in this direction, it bodes well for the future.
What are SFBI's long-term goals?
In entrepreneurial terms, we're just getting started. Eventually, SFBI needs to grow into a center, meaning cross-disciplinary, cross-college activity at the undergraduate and graduate levels, with multiple faculty members engaged in research and as practitioners.

That's going to require additional funding for research and additional staff and faculty lines. Because of the SC Johnson gift, with its challenge component, we've already started to see some gifts coming in benefiting family business, and we hope that will continue.

Whether you are a student, a member of a family business, or someone seeking resources to help you work with family businesses, I see Cornell becoming the global resource for family business.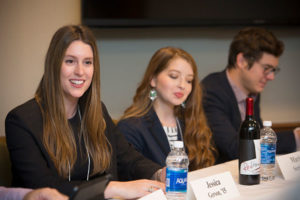 How can people connect with SFBI?
There are numerous opportunities for alumni to come back to campus and participate in a conference, be a panelist, or be a supporter. In 2018, there will be more opportunities to connect in New York City as well. Because we're still young, it's all about growing the network. I encourage alumni to reach out and get added to our list, since we are actively trying to connect students, alumni, and businesses in the Cornell ecosystem.
The 2017 Families in Business Conference, "The Future of Family Business" will be held October 25–27, 2017, at the Statler Hotel in Ithaca.