Emerging Markets Institute shines a light on global economy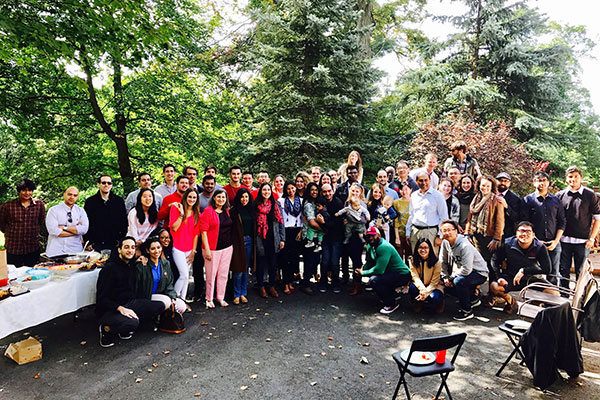 The world's top 20 emerging economies, a group including countries from Africa, Asia, and Latin America, along with Poland and Russia, accounts for nearly 50 percent of the world's gross domestic product. Cornell's Emerging Markets Institute (EMI) at the Samuel Curtis Johnson Graduate School of Management was established in 2010 to spotlight the role of emerging markets and emerging multinationals in the global economy.
We spoke with Lourdes Casanova, a senior lecturer and director of the Emerging Markets Institute at Johnson, about EMI.
What need does the Emerging Markets Institute fill?
EMI brings together prominent practitioners, students, and academics from around the world for thought leadership and impactful insights. It exposes students to a variety of business environments in emerging markets that are quite different from what they are used to in the United States; it enables them, through field trips and case studies, to get a concrete experience of these growing markets. In short, our goal is to prepare and support business leaders for increased competitiveness by becoming experts in emerging markets.
What is the purpose of EMI?
Three pillars define the Institute's purpose.

The first pillar is education. Our students, or EMI Fellows, must meet several requirements to graduate with a concentration in Emerging Markets. They must take certain courses with an international focus. Our curriculum includes participation in one of the treks Johnson organizes to emerging markets such as Colombia, Israel, Brazil, China, and India. Lastly, EMI Fellows must contribute to the Institute. If you visit the EMI website you will see a lot of content written by academics, but also some written by EMI Fellows.

The second pillar is outreach. Each year we organize a Conference in New York city, and I'm excited to announce that this year's conference will be held on the new Cornell Tech campus on November 10. In the spring, we host our Ithaca conference, focused on Brazil and Latin America. We also collaborate with other organizations on campus. For instance, last year we organized a symposium on Sino-Latin American relations and participated in another event focused on mobile banking in Africa.

The final pillar is research. Last year we published our first Emerging Market Multinationals Report, the China Surge (EMR 2016), which studied how emerging markets have become launch pads for companies that compete globally.
How do you promote EMI's activities?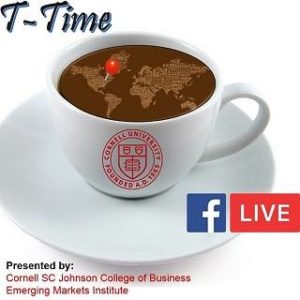 Aside from our events, we also populate the EMI website and the Cornell Emerging Markets Facebook page with articles from students as well as academics.
A few months ago we launched "T-Time with Emerging Markets" on Facebook Live. We discuss topics relevant to emerging markets such as the surge of China, India demonetization, Brazil political instability, inequality, Africa as an interesting business destination, or mobile banking. In each session, we host one expert and one graduate student. Recently we began including an undergraduate student to offer a younger perspective. T-Time has been very successful, averaging 2,000 views.
What impact has the Institute made on campus so far?
At first, it primarily attracted international students from emerging markets who were interested in other emerging markets. But now we have expanded and there are many American students interested in emerging markets, some of whom go on to work in these markets after graduation.

Last year we expanded the program to Cornell Tech. We started teaching some of the courses by videoconference from the Ithaca campus and opened the Colombia trek and other treks to Johnson Cornell Tech students. Ten percent of Cornell Tech students have joined the EMI fellows program. This increased the connection between Cornell Tech MBAs and MBA students from Ithaca.

Last year we also offered the program to Executive MBA students, and this year for the first time we have opened EMI to one undergraduate student from the Dyson School. We have also attracted students from the Public Administration and Real Estate programs.
What are the long-term goals for EMI?
Our goals are:

First, to expand the program to undergraduate students. To accomplish this, we will need to increase our funding, so we are readying an effort toward naming the institute and to obtain additional funding for the EMR report.

Second, to coordinate our efforts with those of the other schools within the SC Johnson College of Business. For instance, Dyson does a lot of development in Africa and research on emerging markets from a macroeconomic perspective, which is complementary to what we do.

Overall, our key objective is to combine all these efforts and to raise the profile of the SC Johnson College of Business for its expertise in emerging markets.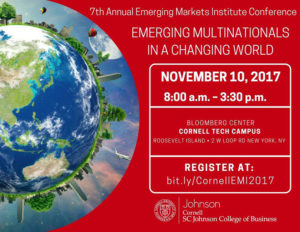 The seventh annual Emerging Markets Institute Conference, "Emerging Multinationals in a Changing World" will be held on Thursday, November 10th, 2017 at the Bloomberg Center on the Cornell Tech Roosevelt Island campus in New York City. Register today at: bit.ly/CornellEMI2017.