Student, father, husband: Balancing priorities in an Executive MBA program
By Faris Khader, Executive MBA Metro NY '19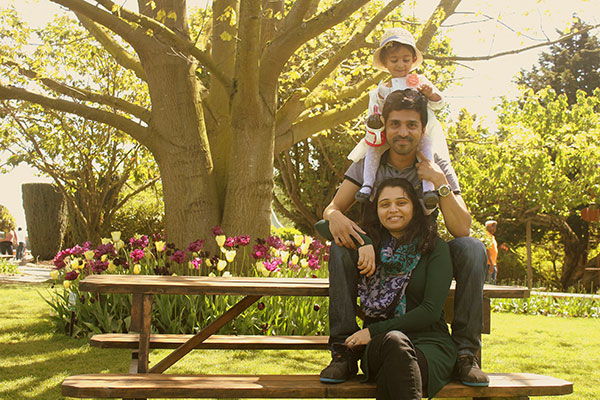 Why I'm getting my MBA
I have a long 14 years of technical and managerial experience in the retail and software industry. While it is important to build knowledge and experience at work, I realize that it is equally important to build lasting networks and relationships with leaders around the world to have a successful career. Cornell University and Johnson provide all of these ingredients, giving us the opportunity to gain numerous technical and interpersonal skills.
Deciding to pursue my MBA in the Executive MBA Metro NY program was a very crucial decision for me since I needed to continue to support my family: my three-year-old girl and my wife. The key to achieve success in the program is through a healthy work-life balance. Given that I am still working full time, that balance includes critical project deliveries and support to the business team.
Work-life-school balance
I find it extremely useful to prioritize my professional and personal goals while dedicating time for both. I sometimes must adjust my schedules to fit my priorities. But that helps me find a balance; though, it does not mean I am spending equal time on my professional and personal lives.
Another thing that I started practicing is saying "no." With two years of classes and tight schedules ahead, I find it reasonable to set boundaries wherever necessary. Of course, I have the support of my family on drawing these boundaries. I regularly find time for a couple of activities that energize me, too—yoga and taking keyboard/piano sessions for my daughter. I'm also thankful that the Cornell community offers a variety of amazing non-academic activities and programs for my whole family.
Making time for coursework while working full time
I love the support that I get from my workplace and my family to take time for my MBA coursework. It was very important to let them know how much support I would need to complete the program while working. I never underestimate the power of friends and family, and I find time to spend with them. I also make sure I never compromise on my priorities at my workplace. It is all about prioritizing and balancing work, my personal life, and the MBA coursework.
How I manage it?
I try to spend one to two hours on my readings every day after my daughter goes to sleep. Stretching myself about an hour beyond my usual bedtime helps me catch up with my coursework. Again, I try to squeeze in some time for relaxing activities as well. In order to save time, one of the first steps I deliberately took was limiting my social media time and TV time. That saved me some time for sure.
Another important practice that helps me is the use of practical gadgets and technologies to learn anytime, anywhere—listening to recorded lectures, speeches, etc. while I drive is an example. Overall, I find it manageable and, at the same time, enjoyable to do my coursework along with other my priorities of life and work. I try to apply the lessons from classroom at my work and vice versa to see how effective my learnings are.
Lastly, I try to tell myself that health is the greatest wealth. My advice is to never ignore your health while taking on extra tasks. This priority, for me, has been very important and reminds me that taking care of myself helps me take better care of my family.