Finding and fueling your purpose at Dyson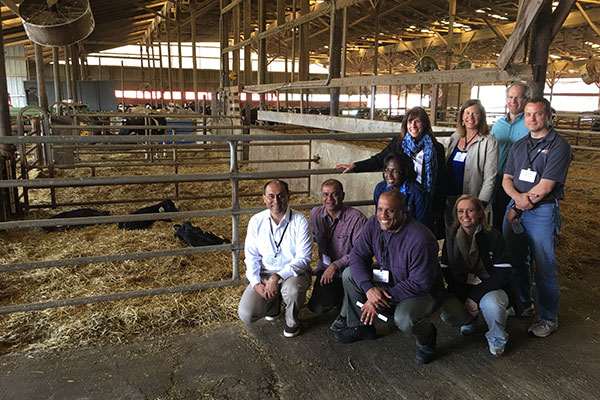 Cornell is a place where anything is possible and nothing is off limits. I know this to be true.
Case in point: I recently spent an afternoon in a green hairnet and white lab coat traipsing through dairy farms and cheese caves, experiencing the amazing things happening in agriculture across New York State. Several leaders from across the university, including colleagues from the Cornell SC Johnson College of Business, took in the sights, sounds, and smells during this agricultural tour.
If you're having a hard time envisioning it, check out the photo above. While these may not be images you would expect from a business school dean, what made this experience unique is also what sets the Dyson School apart from other business programs.
At Dyson, our faculty, staff, and leadership team are here to prepare you, our students, to positively impact the world in which you live, and we are exceptionally positioned to do so. As you know, the Dyson School is shared between two colleges — the College of Agricultural and Life Sciences (CALS) and the Cornell SC Johnson College of Business — with an outreach mission to develop you into thought leaders who are empowered to improve lives and shape the future by using business to make the world a better place.
Our motto says it all: Our business is a better world.
So, what does that look like? It is different for everyone. For some students, it may mean traveling on a global business trip to South Africa to help an entrepreneur in Soweto expand their business, or creating pop-up shops like The Wardrobe project to help students get access to affordable business professional attire. For our graduate and PhD students, it may mean participating in innovative research geared at eliminating food insecurity in low-income areas or finding new ways for people in India to have access to clean drinking water systems.
Here are three tips for finding and fueling your purpose during your time as a Dyson student at Cornell.
Discover
College is a time of self-discovery. Whether you're in your first year or preparing to graduate, this is the time to explore what's important to you. Not sure where to begin? Make efforts to connect with your classmates and get to know your professors. Attend a sporting event or a performing arts event. Volunteer on campus and in the community. Consider what you enjoy, and think of ways to tie your interests into your college experience. Spend time reflecting on what you want to accomplish at Cornell and beyond.
Dream
There's no better time to dream big than right now. Some students know exactly what they want to do while others are still in the discovery phase. I encourage students to dream big, but also to find ways to bring that dream to life. Dyson is home to some of the world's leading professors and distinguished alumni. Their guidance could help you make your dream a reality … or at least point you in the right direction.
Do
Are you ready to turn your passion into action? Set your goals. Create a plan. Turn positive thoughts and dreams into actionable goals. Reflect on your successes and failures. Talk to your advisor or trusted professors and classmates about your goals. Take advantage of the broad range of classes and co-curricular activities at the Dyson School. Most importantly, stay connected, ask questions and always seek help when you need it.
It's important to me that our students take advantage of all that Dyson has to offer. Whatever your passion, whatever your dream – there's a place for you at Dyson. We're glad you're here.