Park Perspectives: Johnson prepares women to "lean in"
By Kaitlin Devine, Two-Year MBA '18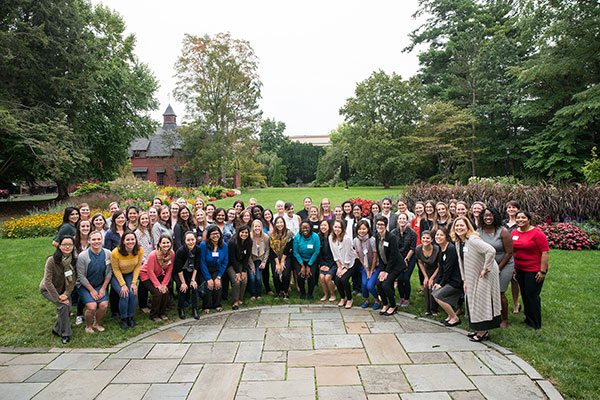 Park Perspectives are authored by Johnson's Park Leadership Fellows.
Just over four years ago, I read Lean In, by Sheryl Sandberg, with my book club — a dynamic group of intellectual, career-minded, and family-oriented women — and it opened my eyes to the significant struggles facing women in leadership positions in the workplace. While Sheryl Sandberg delivered many thought-provoking insights, shared relatable anecdotes, and argued points that may be controversial to some, she made one point that struck me. Sandberg claims that women lack the self-confidence and personal motivation that men have, and because of that, we inherently lower our expectations of what we can achieve.
In objection to that point, Forbes staff writer Susan Adams wrote in her review of the book:
"I believe that personal motivation is an incredibly complex thing, molded by our internal will but also strongly influenced by the parenting we receive, the peer group that surrounds us as we grow, the educational opportunities we get, the connections we make, as well as the expectations and prejudices of those around us."
I agree with Susan Adams; personal motivation is complicated. But in reading her list of objections, I realized how my decision to pursue an MBA and my experience at Johnson have impacted my personal motivation. Fair, Johnson cannot do much about the parenting piece (thankfully, I think my parents did a good job building my confidence). But the peer group that surrounds me, the educational opportunities available to me, the connections I have made, and the expectations and prejudices of those around me — ALL are elements of my MBA experience. And from that perspective, I believe Johnson has created an environment conducive to strengthening our personal motivations as women to push further.
Peer Group
Through seven years of work experience, I learned that while it is important to be surrounded by exemplary leadership, it is oftentimes more important to have strong role models within your peer group. My closest female friends have earned multiple advanced degrees among them, risen the ranks within their companies, redirected their careers successfully, started families, dealt with devastating losses, and continue to be my primary support network and influence for life and career advice. I have been lucky to form bonds with strong women at points in my life when I did not have female leadership to emulate.
At Johnson, I added more incredibly impressive women to my peer group. Women in this program do not shy away from opportunities to be involved, to help others, to improve themselves, and to take on leadership roles. Knowing how influential strong female allies had been for me in my professional and personal experiences, this is what I hoped to find in business school: peers I admired who would push me to be my best self — and that is exactly what I have found here at Johnson.
Educational Opportunities
A defining difference in the Johnson educational experience is our focus on leadership. We take two core leadership courses, and many other courses weave leadership skills into practical lessons. During our first semester, students are assigned to core teams, with whom we complete all our group assignments. Within that structure, each team member will lead a major assignment and then provide and receive structured feedback. This forces all students into the driver's seat at least once and allows us to reflect on our strengths and shortcomings as leaders. I cannot imagine a better, more hands-on way to bolster confidence and motivation.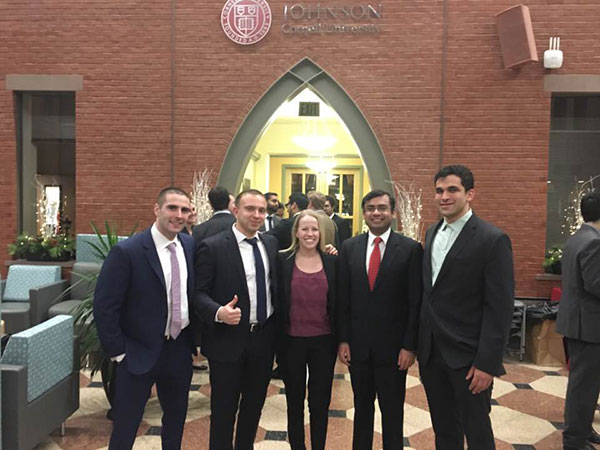 Connections
Nothing screams "business school" like "networking." Here is where we learn that, love it or hate it, networking is going to be part of our professional lives forever. As Susan Adams pointed out, the connections we make can have a powerful influence over our personal motivation. At Johnson, a result of our small, tight-knit community, is that the connections we form through alumni networking often become deeper, more meaningful relationships than just superficial, job-search-focused interactions.
This extends to our connections within the school as well. Each September, Johnson hosts a Women's Welcome Reception, bringing together female faculty, staff, and students to get to know each other in a low-stress environment. We have quite a few powerhouse female professors at Johnson, including Risa Mish, Maureen O'Hara, Soo Kim, Angela Noble-Grange, MBA '94, Randy Allen, and many others. There are multiple events throughout the year aimed at building connections between students and faculty.
Expectations and Prejudices
In a perfect world, our male colleagues would recognize the challenges women face and adjust their intentional and unconscious behaviors to be more supportive, inclusive, and understanding. Reflecting on my experience through the lenses of expectations and prejudices, I do believe the Johnson community is diligently trying to overcome the less-than-perfect world of gender parity struggles. The expectations of participation, involvement, and leadership are no different for women within these walls. For example, of the 13 professional clubs at Johnson, eight of the club presidents are women. Similarly, we are very conscientious of both prejudices and unconscious biases. One of Johnson's core curriculum courses is Critical and Strategic Thinking, where we are taught to recognize and adjust for our unconscious biases when making assessments or decisions. We do not live in a perfect world (yet), but I am optimistic about the steps taken toward gender parity on business school campuses.
In April, Hernan Saenz, MBA '98, MILR '98, managing partner with Bain & Company and senior lecturer at Johnson, gave a compelling talk about Bain's analysis of barriers that prevent women from climbing the corporate ladder. In it, he shared research that confirmed what Sheryl Sandberg stated five years ago: women are lacking the confidence and motivation needed to get there. While certainly discouraging, back to Susan Adams' point, there is a lot we can do to affect positive change to personal motivation and confidence within the walls of Sage Hall.
For as much as Johnson does well, I know the school continuously is striving to do more. My hope is that in twenty years, when my female peers and I are approaching that stage in our careers where the c-suite is within reach, we can say we have leaned in and are ready to assume our seats at the table.

About Kaitlin Devine, MBA '18
Kaitlin is a second-year MBA student in the Two-Year Ithaca residential program at Johnson. She is co-chair of the Johnson Student Council, a Park Fellow, and an active member of Women's Management Council, Consulting Club, and Johnson-on-Tap. Kaitlin is passionate about supporting women in leadership roles and is dedicating her Park Fellowship service project to assessing Johnson's programming around women in business to identify opportunities for growth. Before business school, Kaitlin worked in business development and non-profit fundraising. She is originally from the greater Philadelphia region, and plans to join EY's Strategy practice in New York City after graduation.