Margin and mission: The economic impacts of farm to school
By Todd Schmit, Associate Professor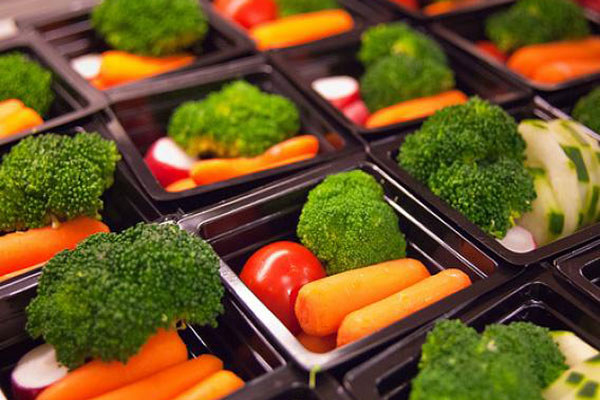 In the United States, we are the beneficiaries of a hyper-efficient globalized food system. Thanks to tremendous technological advances, farms have seen improved economic viability, and customers an efficient food delivery system.
And yet, over the past decade or so, there has been a resurgence in local and regional food systems, led by farmer cooperatives, direct-to-consumer food delivery through farmer's markets, and farm to table wholesaling systems. The rise in popularity of the farm to table movement isn't difficult to understand. Consumers want to know their farmers; they care about what they're eating and where it comes from.
At the same time, there's also been a renewed interest in community economic benefits to local and regional food system developments. Every generation is different, and recently, I've seen a relatively higher proportion of students that are interested in things like sustainability. These students aren't just thinking about profit; they are thinking more about the triple bottom line: people, planet, and profit.
Certainly, the economics of local food systems matter. As I like to say, without a margin, you have no mission. Ultimately, the producer, the food hub, or the farmer need to have a margin and a financially feasible business strategy to be successful long-term. And while farmer's markets mean farmers can sell their produce for a higher price per unit, there are other costs and risks to consider, such as the increased labor and marketing costs, or the risk that poor weather decreases customer attendance. That has led food producers to search for wholesale opportunities within their local food system that better serve their bottom line. One of the local wholesale opportunities that's gaining traction is selling directly to schools.
Schools, especially elementary and secondary schools, are showing an increased interest in acquiring food from local sources. Again, though, the margin matters. Schools are on thin budgets. They are not going to buy local food if it's twice as expensive just because they feel good about the other positive externalities associated with local food systems.
School administrators, consultants, and economists are all trying to analyze the economic impact of local food systems. And as they educate themselves, it's crucial that economists use replicable methodologies. When different school systems conduct their analyses differently, it's hard to compare numbers.
Luckily, there are resources for practitioners to help them conduct a transparent economic analysis and have an informed conversation with the local elected officials, residents, chambers of commerce, and other stakeholders required to implement a farm to school network.
Upcoming webinar October 11, 2017
On October 11, we'll be sharing some of those resources in a free webinar, co-hosted by Cornell University, the National Farm to School Network, Colorado State University, and the USDA. In this webinar, we'll highlight the use of two key resources for conducting economic impact studies of local food system initiatives, including a toolkit from the USDA and a systematic approach to conducting an economic impact assessment, using a procedure that I've developed using IMPLAN.
Beyond simply sharing important resources for audience members who want to investigate farm to school networks, this webinar will serve as an excellent learning opportunity for practitioners, as we'll discuss a large research study led by the Food System Research Team at Colorado State University, in collaboration with the USDA and the National Farm to School Network. You can register for the webinar, which will take place on Wednesday, October 11, from 12–1:15 pm Eastern Time (9:00 am Pacific Time), through Colorado State University.