Johnson School congratulates Richard Thaler on Nobel Prize win in economics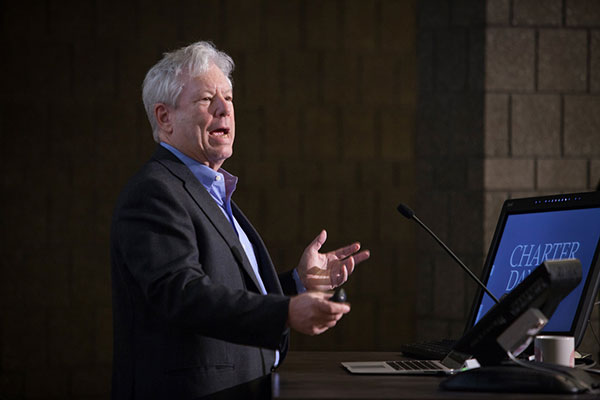 Cornell University and the Samuel Curtis Johnson Graduate School of Management congratulate our friend and former colleague Richard Thaler on his Nobel Prize win in economics.
Thaler worked at Cornell between 1978 and 1995, serving as the Henrietta Johnson Louis Professor of Management at the Johnson School and founder of the Cornell University Center for Behavioral Economics and Decision Research.
"For anyone who cares about human behavior, Richard led the way in creating a more realistic economics, one informed by knowing about the capacities and limitations of the human mind," said Thomas D. Gilovich, the Irene Blecker Rosenfeld Professor of Psychology at Cornell. "And for those Cornellians who were here in the 80s and 90s, he made this a more exciting place to tackle questions about consequential human behavior."
Considered one of the founding fathers of behavioral economics, Thaler, currently an economics professor at the University of Chicago Booth School of Business, received the honor from the Royal Swedish Academy of Sciences for his research using psychology and economics to understand how people make economic decisions.
"The Nobel committee called attention to the special importance of Thaler's work by naming him the sole recipient of this year's prize, a departure from its recent practice of sharing the award among multiple honorees," said Robert H. Frank, the Henrietta Johnson Louis Professor of Management and an economics professor at Johnson. "We can all take pride that the work cited by the committee took form during Thaler's years as our colleague."
Thaler's work influenced the Obama administration, which encouraged executive departments and federal agencies to "identify policies, programs, and operations where applying behavioral science insights may yield substantial improvements in public welfare, program outcomes, and program cost effectiveness." He is also well known outside of academic circles. Thaler made a cameo appearance in the film "The Big Short" and a 2008 book he co-authored with law professor Cass Sunstein, Nudge: Improving Decisions About Health, Wealth and Happiness, became a popular hit.
"Although trained in the tradition of rational economics, Richard Thaler saw the need to include in economic theories human behavior that is less perfectly rational—or anomalous as the economists said," said J. Edward Russo, the S.C. Johnson Family Professor of Management and a professor of marketing and of management and organizations at Johnson. "Even more to be admired, he began the project of modifying explanations of economic behavior and was a pioneer in creating the subfield that we now know as behavioral economics."
Learn more about Richard Thaler, his work, and his accomplishments in the Cornell Chronicle.