Undergraduate Women in Investing Conference, two years and counting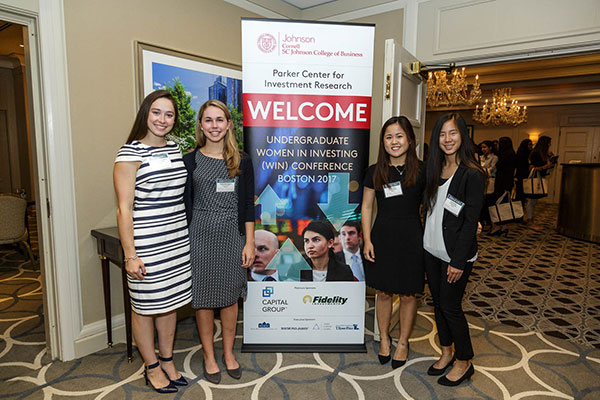 If you think women shy away from the fast-paced world of investment management, meet Amy Tran '18 and Christina Luniewicz '19.
They're undergraduate students at Cornell University at the Charles H. Dyson School of Applied Economics and Management and the School of Industrial and Labor Relations, respectively, and they are on the brink of starting their careers. Both live and breathe the world of investing. For them, and other women, it's the strategy and competition, coupled with the camaraderie in the industry that they find inspiring.
It wasn't too long ago that Wall Street finance was known strictly as a boys' club. Yet, as the years passed, things started to change. Today, while finance is no longer a career choice for men alone, women are still underrepresented.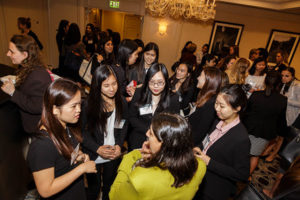 One mark of progress we see now is an increase in the availability of resources for women interested in investing. Indeed, Tran, Luniewicz, and 51 others from 12 colleges attended the recent Boston-based Cornell Undergraduate Women in Investing (WIN) Conference, founded by Lakshmi Bhojraj, Breazzano Family Executive Director of the Parker Center for Investment Research at Cornell's SC Johnson College of Business. The conference is designed to encourage and educate young women starting out in this field.
"When I first started college, I didn't know what I wanted to do," Tran said. "I took a bunch of different classes and joined different clubs, but of all the things I did, finance was the thing I loved most."
A native of Hanoi, Vietnam, Tran, a 21-year-old senior majoring in applied economics and management in Cornell's Dyson School, came to the United States for college and attended the Cornell Undergraduate WIN conference for the first time last year. Tran credits what she learned at the conference for helping her figure out what she wanted to do after graduation.
"It's great to meet these wonderful women and see that they've made it in this industry," she said. "It's easy to connect to them and discuss investment philosophies. They're excited about their jobs, so we get excited because they have careers paths we would love to follow."
For Luniewicz, a 20-year old junior majoring in industrial and labor relations, this conference provided an important opportunity to see and meet female leaders in action.
"Knowing that these women are industry leaders making the critical decisions for their companies is really valuable to me and the other young women attending the conference," she said.
Students must submit an application to the Parker Center to attend the conference. Women have the option of participating on a stock pitch team, where they work in groups ranging from two to four and present an investment idea to a panel of judges. The exercise is structured similar to what a job applicant might encounter during an interview for a position at one of the big investment houses, such as Fidelity Investments or T. Rowe Price.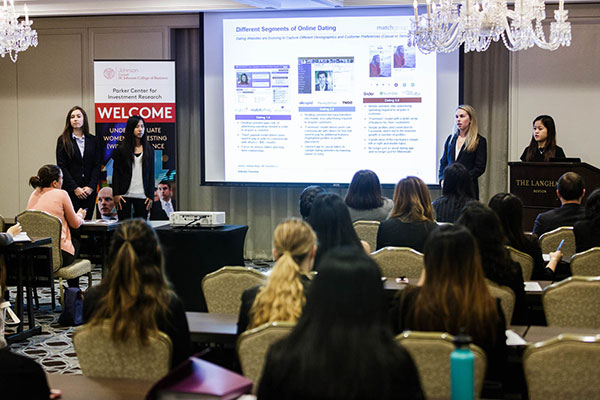 At the conference, Tran, Luniewicz, and two others composed a team that pitched Match Group, a global company known for the popular dating sites, Tinder and Match.com. With a rise in smartphone usage and changing attitudes toward online dating, the Cornell women argued that investors should buy. "We found that it was undervalued by the market," Luniewicz told the panel.
The Parker Center at Johnson has organized an annual WIN conference for MBAs for several years, but the first Undergraduate Women in Investing conference was held in 2016. The creation of the Cornell SC Johnson College of Business—which joined Johnson, the Dyson School, and the Nolan School of Hotel Administration—has given undergraduates new opportunities, like this one.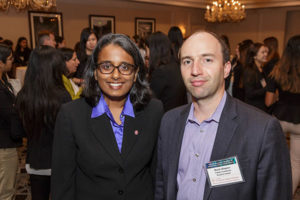 The reason women aren't prevalent in investment management is multifaceted and a cultural phenomenon, explained Bhojraj.
"Part of what turns women off of this field is that they don't see enough other women doing these jobs," she said. "They sort of internalize maybe this field isn't a good fit because 90 percent of it is male."
Bhojraj came to the Parker Center after working as an equity analyst covering life sciences companies at Citi in New York City. She also spent four years working as an equity associate on the medical devices team at Deutsche Bank before returning to Johnson for her MBA.
At the Parker Center, Bhojraj is helping train the next generation of investment managers while demystifying the field for women.
"There are a lot of studies that show women have certain traits that are very valuable in the field of investment management," she said. In a general sense, these traits include patience and long-term focused investment strategies. They also take into account contradictory information when making an investment decision more so than their male counterparts—in other words, women weigh all sides of an argument before making a decision.
Moreover, in her work at the Parker Center, Bhojraj is also trying to show people that investment management is a wide field with many opportunities.
"We don't necessarily introduce girls at an early age to investing and have them pick a stock they want to follow," she said. "I think women don't even know how to get started in this field. That's what we're trying to do, create awareness and say: 'Here are your options, your potential career paths, and what you need to do to get there.'"
—Written by Tracee M. Herbaugh, a freelance writer for the Cornell SC Johnson College of Business
Many thanks to our event sponsors.
Platinum: Capital Group and Fidelity Investments
Executive: New Mountain Capital, Three Corners Global, Raymond James, and T. Rowe Price
Benefactor: Blackstone