Building a home and culture on Roosevelt Island
By Andy Rudd, Johnson Cornell Tech MBA '18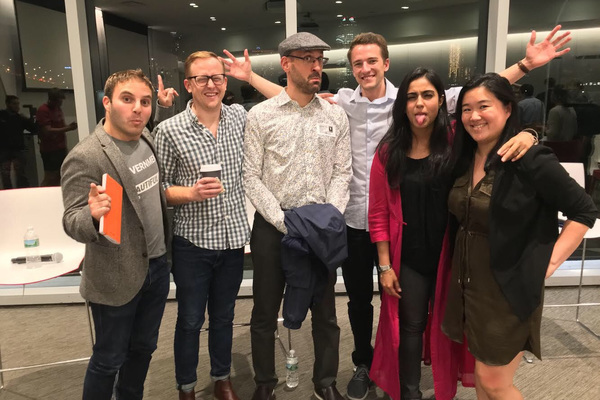 Cutting ribbons
The inaugural semester on Cornell Tech's new Roosevelt Island campus has reached the halfway point. In our first few weeks, students in the Johnson Cornell Tech MBA program and faculty dove into coursework while finishing touches were made around us. It wasn't uncommon to pass former Mayor Michael Bloomberg, current Mayor Bill de Blasio, or New York Governor Andrew Cuomo on your way to class. Leaders in the public and private sector scurried to the island to get a sneak peak at the city's newest project—an academic hub to cultivate innovation and technical leadership for the evolving digital economy.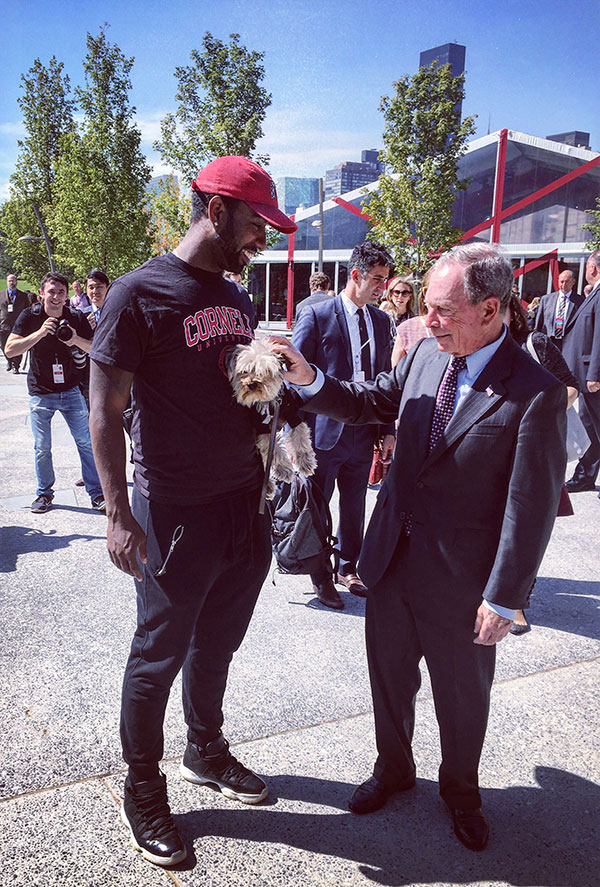 Features in the Wall Street Journal and New York Times brought many inquisitive visitors to the southern tip of Roosevelt Island. Standing in the middle of campus between the Bloomberg Center and The Bridge, with an unobstructed view to the south of Manhattan, it is difficult to imagine they weren't inspired.
Trains, trams, and ferries
The majority of Cornell Tech students live at The House, the world's largest passive house built for sustainable living just steps away from classrooms and campus lawns. These students have an easy "commute" and unmatched views of Manhattan to their west, Queens to their east, and Brooklyn to the south. For students living elsewhere, a variety of commute options make the daily trek to Roosevelt Island quite an adventure.
The F Train is typically the first place I run into classmates in the morning on the way to Digital Marketing or Advanced Strategic Analysis, two standout courses that have led the day for Johnson students this fall.
For the thrill seekers, the Roosevelt Island Tram carries students and tourists across steep cables above the East River. It's easy to detect a Cornell Tech student, studying or focused on getting to campus, from a typical tourist, GoPro in hand.
Finally, the newly unified New York City ferry system offers an aquatic route for students traveling from Wall Street, Midtown, or Queens. While not the fastest, this is a relaxing way to take in sunrise or sunset views (needless to say, the snack cart and bar can come in handy.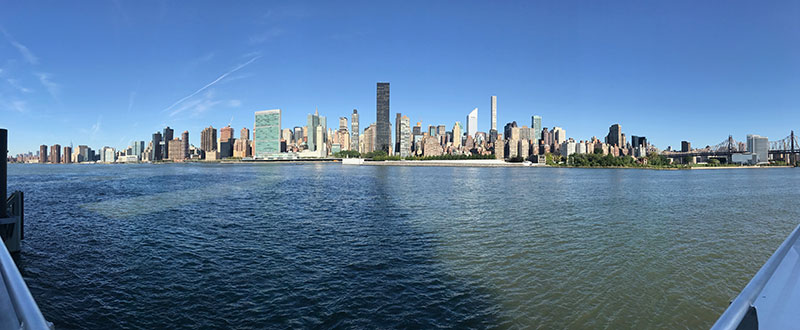 Distinguished visitors
Interest in the campus has expanded quickly beyond academics, as industry professionals have joined with enthusiasm for Conversations in the Studio. These student-led panels invite the world's tech leaders for an in house, off-the-record discussion. Guests over the semester have included:
Denise Young Smith, VP of Diversity and Inclusion at Apple
Allison Elizabeth Taylor, renowned artist
Fred Wilson, venture capitalist and partner at Union Square Ventures
I was thrilled to moderate the recent discussion with Jason Goldman, the White House's first chief digital officer under the Obama Administration, and early team member at tech giants like Twitter, Medium, and Blogger.
Another great conversation in the @cornell_tech studio. This time with the one and only @goldman. pic.twitter.com/rgrWkacRt4

— Andy Rudd (@aruddd) October 6, 2017
The young campus continues to develop a cadence, character, and culture as the semester progresses. Johnson students look to foster an atmosphere both distinct and inseparable from Cornell's campus in Ithaca, where we spent our summer together in Sage Hall. There's an undeniable energy felt by the first class on the island, driving a hope and commitment to build something special.

---
About Andy Rudd, Johnson Cornell Tech MBA '18
Andy Rudd is a 2018 MBA candidate at Johnson through Cornell Tech, focused on product management, big data, and social media. Prior to Johnson, he was a product manager at Dataminr in New York City, supporting back-end engineering teams for the enterprise social media event detection platform. Before that, he served as a strategy consultant for Deloitte Consulting, primarily supporting clients in the federal government. He holds a BA in economics and government from the College of William & Mary.