Noteworthy: Shreya Bajaj, MBA '18, talks with P&Q on pursuing a U.S. MBA as an Indian student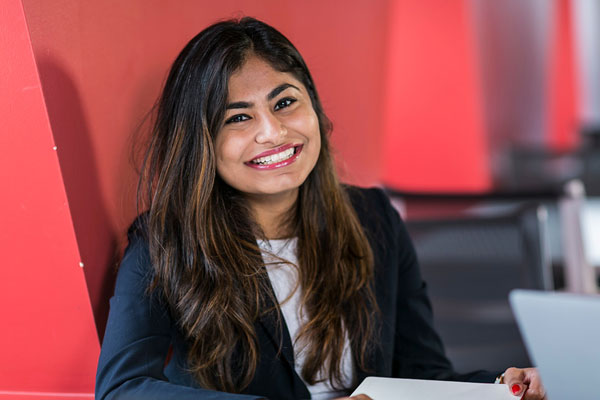 Despite the ambiguous immigration policies of the Trump administration, many Indian students continue to apply to U.S. MBA programs because of the advantages such programs give them in today's global economy. In a recent Poets&Quants article, Shreya Baja, MBA '18, discusses her decision to pursue an MBA at Johnson. Amanda Shaw, assistant dean of student services at Johnson, is also quoted.
Key Takeaways from Poets&Quants:
Shreya Bajaj was attracted to Johnson because of its unique tech and business track.
That program plus a scholarship made the choice easy for Bajaj, who hopes to land a business leadership role in the lucrative tech industry. Thanks to an internship this past summer at Cisco in San Jose, Calif., she is one step closer to achieving her goal.
Embracing cultural differences is sometimes challenging, but U.S. business schools' emphasis on collaboration and discussion teaches leadership and hustle.
"I think if you embrace the differences, it helps you not only to assimilate to the culture, but even when you are going out for an interview and other career stuff, you understand more and have more to relate on," Bajaj says.
Business schools often have specific programs for international students to help ease the transition, and, in general, are committed to creating inclusive communities.
One of the biggest cultural events at Johnson is Diwali, a traditional Indian event that always draws a huge turnout of both students and faculty. Indian students at Cornell say they integrate easily into the community.
It's important for MBA students to adjust to their new environment quickly.
"If you think of undergrad as a marathon, the MBA is like a sprint because you're on campus and three weeks in, recruiting is starting," says Amanda Shaw, assistant dean of student services at Johnson. "It isn't different challenges [from undergraduate students], but it is on an accelerated timeline."
Read the full article in Poets&Quants to learn more about what Shreya Bajaj, MBA '18, and Amanda Shaw had to say about what life is like for –international students at U.S. business schools.