India → Ithaca, NY: Tips for international MBA candidates
By Chandni Prasad, Two-Year MBA '19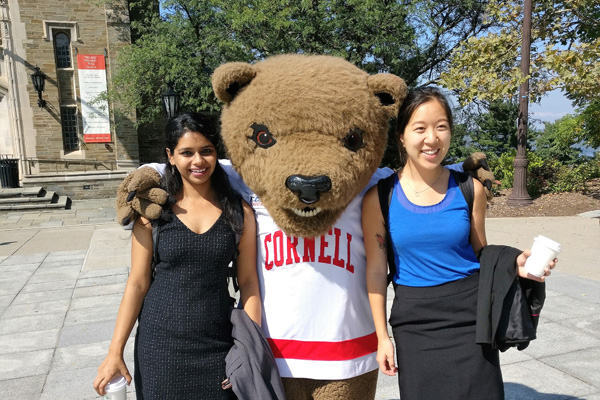 The time was 1 a.m.; the date June 26, 2017, also known as Harry Potter's 20th anniversary. I was perusing through online articles as I lay in my bed, about to fall asleep, when there was a familiar email ping on my phone. At that time of the night, I assumed it was another coffee marketer trying to get me to buy a subscription to their unicorn sparkles, heaven-roasted beans. Luckily, though, I checked the notification and got a huge surprise.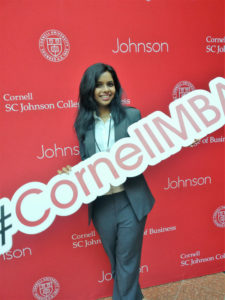 It stated: Congratulations and Welcome to Johnson!
For one ridiculous minute I assumed it was a promotional campaign for the Johnson & Johnson company, but thankfully, my brain did comprehend the situation and the next thing I knew, I was jumping around the house yelling at the top of my voice, waking up my grandma, my dog, and the friendly neighborhood watchman. My acceptance into Johnson, though late, was every bit as exciting as I had hoped it would be. My dog barking away into the night was, in fact, the highlight of my post-midnight celebration.
So, what was the process like from being accepted at Johnson to starting my MBA program as an international student? Busy, is the answer. This post, though in no way comprehensive, touches upon certain key points that every international student must keep in mind as they prepare to embark on their MBA journey at Cornell University.
Being a very visual person (and a business school student), I have designed a flow-chart comprising the important steps—from acceptance, to coming to Cornell, and checking in with the International Students and Scholars Office (ISSO).

The detailed process, however, can be referenced on ISSO's excellent website. This website will be your key resource for the entire length of time that you're enrolled as a student at Johnson.
I would also like to bring to your attention, dear reader, that while the visa is, of course, the only thing that will allow you to entry this country, there are other aspects of the transition that you must also bear in mind so that your arrival into Ithaca is as smooth as possible. It doesn't sound like fun, but you will be 100 percent glad that you had everything sorted before you arrived into Ithaca—and you'll be ready to be out and about from day one!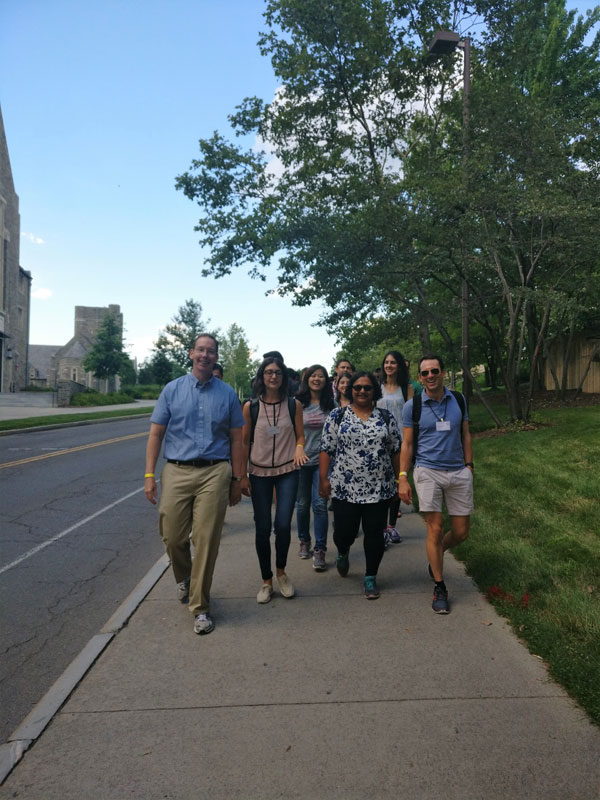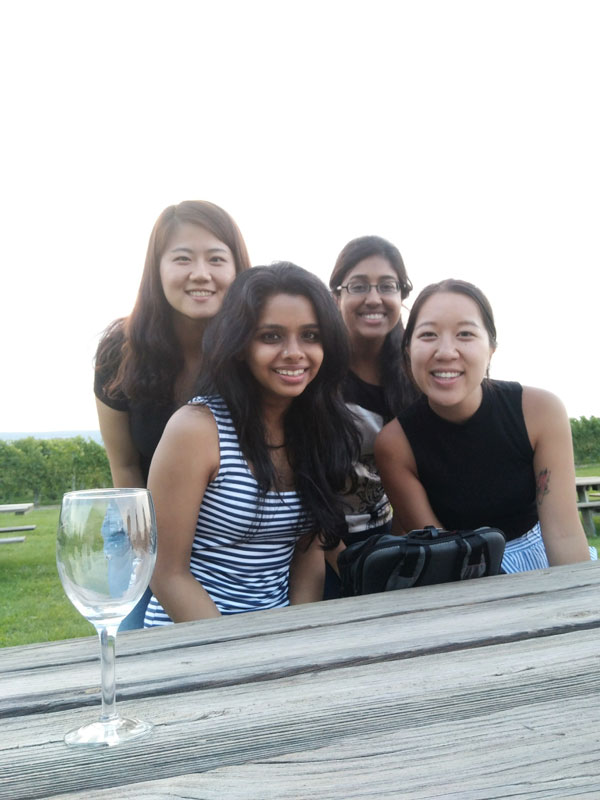 Understand that your visa interview is not done until you are out of the airport, with all your luggage in hand, well on your way to the rest of the United States.
You also have the option of scheduling emergency visa appointments in case you received your acceptance letter late and needed to expedite your visa process.
The to-do list on the new student's web page should be your best friend. It will list exactly the things you need to get done before you get on that flight. (You will get it in your email.)
Immunization compliance is essential. Schedule your doctor's appointment before you even embark on that visa process, because you do not want to take all six shots over the span of two days. (I couldn't move my arms for two days!)
Visit your dentist. Get those cavities taken care of. Get your eyes examined. Your health insurance at Cornell does not cover dental and optical related expenses. You will need those dollars!
Ithaca is a small town where shopping isn't exactly the easiest thing to do. Carry essentials that you will need for your first day in Ithaca. If you're lucky enough to find a fully furnished apartment, this doesn't apply to you.
When you initially get here, it's summer, which means Ithaca is a ghost town and the buses aren't frequent. At all. You will need to walk a lot, and yes you will be walking up and down hills all the time, so carry comfortable shoes and be prepared to shed a few pounds which you will inevitably gain eating free pizzas throughout your journey as a b-school student.
Carry an umbrella. Summer in Ithaca doesn't mean sunshine and blue skies. Okay, to be fair, most days it does mean that, but the weather changes mood quicker than my dog changes loyalties when offered food.
Carry your passport to all the bars. This is probably the single most important advice I can give to you. Alternatively, you can get a driver's license issued in the United States if you're so inclined to do so. In case you aren't too keen on driving on the wrong side of the road, get a non-state ID card from the DMV office that will serve as perfect proof of identification at all the bars in town and you can leave your passport at home.
Enrolling in the International Student's Orientation is optional, which means it's low-key compulsory.
Ithaca is a beautiful town; it has gorges and wineries and beautiful bodies of water that will make your heart sing. Take time to explore the USA and Ithaca before your MBA courses begin, because once they do, you will be buried so deep in work you won't even have much time to walk around campus, let alone explore the city.
Finally, take heart my friend, you will be surrounded by some of the best people in the world and come to love the community that Johnson stands for. Few people are lucky enough to be a part of a tight knit community like Johnson, and international or not, you will be well taken care of. This will be your home for the next two years and these people will become your family.

---
About Chandni Prasad, Two-Year MBA '18
Chandni is an MBA candidate and Social Media Ambassador at Johnson. She was born and raised in India and has an undergraduate degree in economics. Prior to Johnson, she was working in her family business doing market research about technology trends in the emerging market. She believes that education plays a huge role in the progress of a society and has been an active volunteer for an NGO contributing toward educational development of children in India. At Johnson, Chandni has been involved with various clubs and organization, such as Women's Management Council, Johnson Women in Business, the High-Tech Club, and the Consulting Club. She enjoys long runs outdoors, photography, and trying out new cuisines from across the globe—documentation of which can all be found scattered across her various social media profiles.