Park Perspectives: Buying in to challenge by choice
By Mandi Fried, Two-Year MBA '18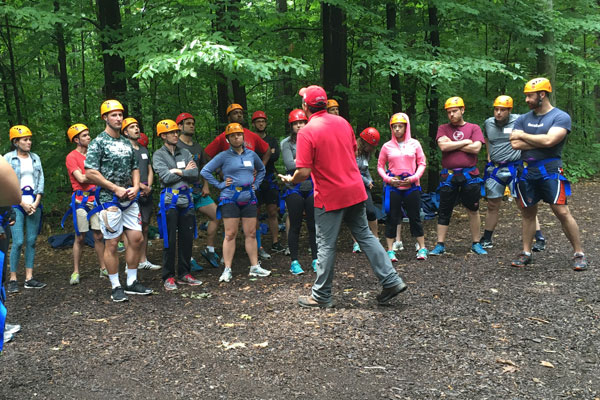 Park Perspectives are authored by Johnson's Park Leadership Fellows.
I began my MBA at Johnson when I was 27 years old. While excited to embrace changes like making new friends and switching careers from finance to a mission-driven company, I was anticipating certain constants. At that point I had 5 years in the workforce under my belt (including one year of self-discovery and an unsuccessful venture at stardom), moves between various cities on the east coast, and hobbies and interests that I felt defined me. I had also identified some signs that indicated that I was becoming a real, live grown up! One self-revelation I was proud of was the decision to exclude myself from situations that I knew would make me uncomfortable. For example, growing up, I would always go to the Miami Youth Fair and torment myself by waiting in line for a rollercoaster I knew I would hate, running out of the line at the last minute, and then being sad I wasn't just the kind of person who liked roller coasters like my friends! So, yes, owning up to my fear of heights, deciding I would never go to a fair again, and saving myself from anxious lines and self-loathing seemed like a real adult win for me.
Imagine my reaction when I arrive at Johnson, meet my lovely Park cohort, and am told that our first activity together is a high ropes course at Cornell's Hoffman Challenge Course! (In case you were wondering, it was an internal Nooooo!!!!!). I thought part of being an adult was knowing when to say "no thanks, not for me…y'all kids have fun, though!" We were told all activities were "challenge by choice," which at first I thought was a passive-aggressive way of saying "do this or you'll cause a scene." So when I was ascending a tall and narrow pole to then stand on top of it and finally trust fall with Hannah (a stranger to me a few days prior), I must have screamed "I can't! No! Please don't make me!" a dozen times.
Although instructors told me I could stop the activity and come back down, my new Park classmates were enthusiastically cheering me on. Encouraged by their confidence in me, I continued to climb up, shrieking embarrassingly the whole way. It probably took me 5 minutes of quivering at the top and holding onto Hannah for dear life before I fell to the ground. But, I will give it to the instructors and my Park family, it felt so good to accomplish something I thought I could never do! Making fast friends with Hannah due to the intimate circumstance and my total vulnerability was also a perk.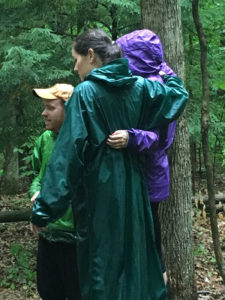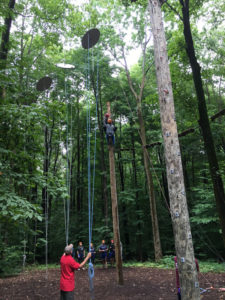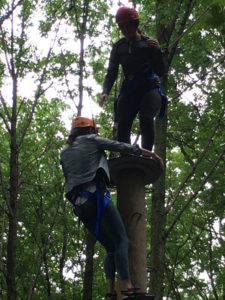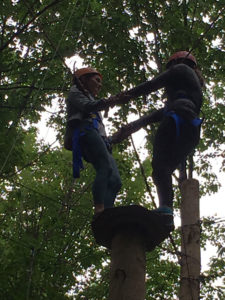 Since that fateful day, I have learned not only to accept challenges, but to welcome them with greater openness and confidence, and I am so grateful for all of the ways that Johnson and the Park program have given me the tools to expand my comfort zone and skillset. I have taken courses I felt totally lost in, signed up for responsibilities that sometimes seemed like more than I could handle, attended intimate social gatherings at Johnson where I didn't know anyone, and participated in case competitions in subjects outside of my expertise.
The best part about all of these endeavors is that I found some success in each, even though prior to Johnson I may not have opted into them because of some level of discomfort. But the ultimate proof that I now believe in "challenge by choice" is this semester I am enrolled in a rock climbing class at Cornell's climbing center to overcome my fear of heights! Little quivering Mandi atop the telephone pole clammily grasping onto Hannah would never have believed it!

About Mandi Fried, Two-Year MBA '18:
Previous Academic Institution: Cornell University
Previous Employer: The D.E. Shaw & Co.
Internship: SC Johnson & Sons
Interests: Singing, Design, Poverty Alleviation