Noteworthy: Ed McLaughlin's food retail Q&A with FreshFruitPortal.com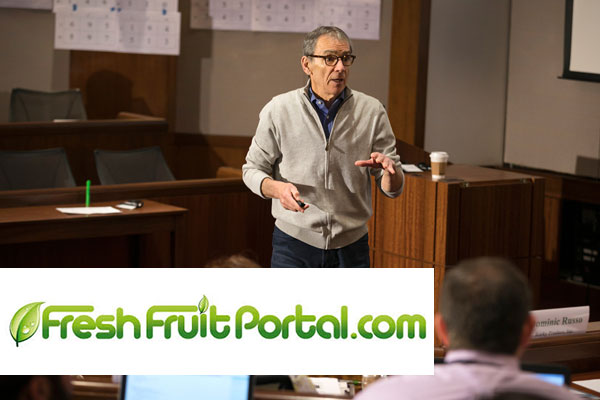 The food retail sector is currently experiencing more radical change and disruption to its structure than at any time in its history, according to Ed McLaughlin, the Robert G. Tobin Professor of Marketing and director of the Food Industry Management Program at the Charles H. Dyson School of Applied Economics and Management. In a recent interview with FreshFruitPortal.com, McLaughlin talks about the food retail business and the game-changing implications of discount stores, Amazon's recent merger with Whole Foods, and the strategic actions being taken by Wal-Mart to maintain its dominance.
Key Takeaways from Ed McLaughlin's Q&A:
Discount retailers are more of threat than ever to traditional supermarkets.
"One of the most rapidly expanding sectors is dollar stores, Aldi, and Lidl. This poses an enormous challenge to traditional supermarkets because of the very low prices and increasingly improved quality. Yet this also represents an opportunity for produce suppliers in a channel that's just beginning to develop, where they can sell products that might not have the highest quality or cosmetic appearance for conventional supermarkets but still good quality attractive for an aggressive price discount format."
Wal-Mart is investing billions of dollars to lower its prices.
"Wal-Mart is being very aggressive in pricing, and this is a challenge for all suppliers, not just produce suppliers. Wal-Mart has announced that it expects suppliers to help it to be at least 15 percent lower than its competitors' prices, some 80 percent of the time. This requires substantial price concessions. Suppliers need to figure out how to do that or not retain Wal-Mart as a customer."
Amazon's merger with Whole Foods caught the industry off guard.
"Amazon's $13.7 billion acquisition of Whole Foods is an historic disruption . . . Make no mistake about it, this Amazon/Whole Foods deal sends shivers up the spines of virtually every retailer in the United States."
Conventional retailers are under pressure to differentiate themselves from high-end specialty stores and low-end discounters.
"Retailers need a brand story from their suppliers even more importantly than they needed it before. [For example], retailers understand their consumers are concerned about sustainability more than ever before. They want suppliers with stories about clean water production, sustainable soil practices, reduction of chemicals, and responsible labor practices. More and more retailers are interested in organic and local products, where you can create a very effective narrative with a supplier/retailer partnership that maybe the discounters and e-commerce competitors can't easily duplicate."
It's no longer enough to just have a brick-and-mortar store. Every retailer needs to tap into the digital marketplace.
"It's indisputably clear millennials are the consumer segment most often using digital means for food shopping. Ecommerce of food now is something like 5 or 6 percent of the total U.S. retail food sales, but accounting for 10 to 15 percent of food sales for millennials. So, as millennials grow and build families, and are conversant in technologies that older consumers are not, I expect the combination of better technology and more consumer demand to drive electronic fresh fruits and vegetables."
Read the full Q&A at FreshFruitPortal.com with Ed McLaughlin here.