Beyond networking: Johnson's annual Marketing Executive Coaching Program
By Mike Anderson, Two-Year MBA '18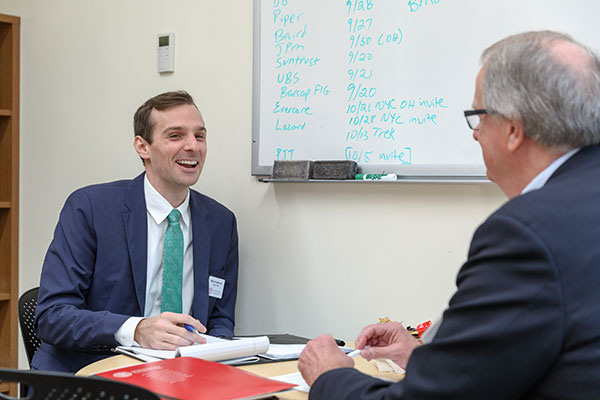 It's no secret that one of the greatest strengths of Cornell's Johnson Graduate School of Management is its incredible network of alumni and professional contacts. What might remain a secret to some students, however, is the best way to access these invaluable resources. Well, thanks to Johnson's marketing faculty and a hard-working group of second-year MBA students, here's how you can take a step in the right direction: the Marketing Executive Coaching Program (MECP). This annual program was not only the highlight of my first year at Johnson, but changed the direction of my career entirely.
50+ marketing executives… no exaggeration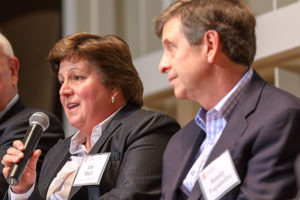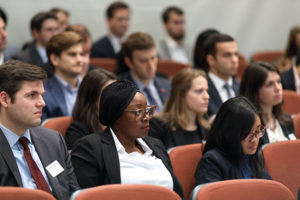 Every year, the Johnson's marketing faculty hosts a two-day event during which more than 50 marketing executives—many of them alumni—make the trip to Cornell. These professionals and alumni don't return with the intention of giving the usual panel discussion or distant speech, but rather to build one-on-one connections and serve as mentors to the next generation of marketing professionals at Cornell.
When I first heard this, I was positive that the event was being blown way out of proportion. Surely "executive" meant a recent Johnson grad who barely had more experience than me, "one-on-one" meant a room of endless introductions, and "50+" probably meant a baker's dozen. To my great surprise, the assertions were not only true, but actually understated.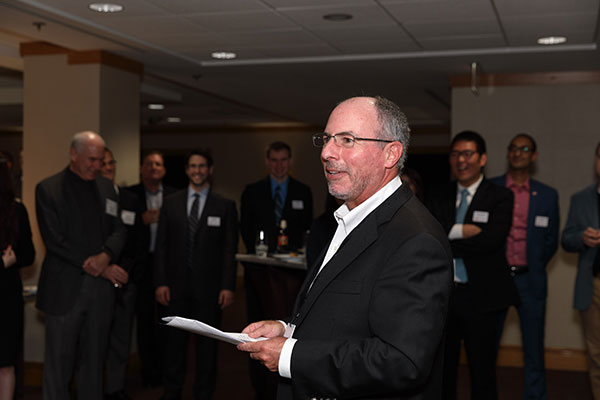 As I arrived at the MECP opening reception, I was surprised to find the room was packed to the brim but not with Johnson students alone. The individuals in the room seemed much older—not the recent grads I had expected. The setting, while still formal, wasn't stuffy and fabricated, but actually very comfortable. It felt like a gathering of old friends who were just happy to be there catching up. The best part was that this feeling of comradery wasn't limited to just the executives who had come in for the event. As I entered, I was immediately greeted by several individuals. As we casually chatted about Cornell, Ithaca, and marketing, I started to ask them about their backgrounds. To my astonishment, the acronyms started flying: CMO, GM, CEO, VP. These weren't the recent grads I was expecting; these were titans of industry. The rest of the evening was spent chatting with, learning from, and building relationships with true leaders in the world of business and marketing.
One-on-one coaching sessions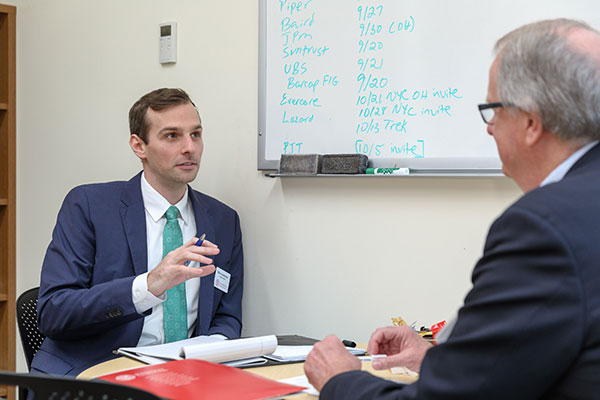 The next day, I arrived bright and early to take part in the high point of the event, the executive one-on-one coaching sessions. During these sessions, each student has the opportunity to sit down, one-on-one for 45 minutes with three different executives. Each executive has a different background and unique perspective, but all share a desire to serve as a mentor and resource to Johnson students. There was no recruiting pressure, no job on the line, no sales pitch to give. Each meeting was just me and an experienced executive who wanted help and provide insight to my questions.
Prior to these meetings, I had developed a short mental list of questions from why I should pursue a career in marketing to what are common mistakes I should avoid. Though the main question I had revolved around which type of company (CPG, tech, etc.) I should start my marketing career at. Over the course of these three, 45-minute sessions, I learned more about the field of marketing—with its pros and cons, the internal workings of large marketing firms, the complexities of career decision making, and what it takes to be successful—than I had through all of my schooling up to that point. My three executives gave incredibly open, honest, and candid answers. Their responses not only answered my questions, but completely altered the direction of my career path.
Maintaining connections
The advice and insight didn't stop there, however. Following the MECP formal events, I remained in close contact with two of the executives with whom I had met. During my internship interview process, they were there. During my internship selection process, they were there. And now, after my internship, they are there. These executives have become trusted mentors who graciously give of their time, expertise, and talent, to help me, a young marketer, earn my place alongside those great leaders who attend the Johnson Marketing Executive Coaching Program each year. I cannot speak highly enough of these leaders and the impact that their advice and mentorship has had on me and my career—all of which is thanks to the MECP.
Don't miss the opportunity to learn from these great leaders this year—their successes and their failures. If not for the Marketing Executive Coaching Program I would never have connected with the invaluable executive mentors that continue to help shape my career. Take it from this second-year MBA, Cornell's Marketing Executive Coaching Program will be the highlight of your first year at Johnson.