Restaurant revolutionary Damian Mogavero visits Hotel School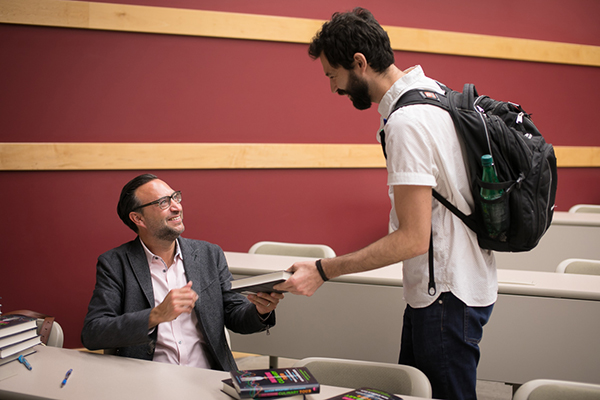 When Damian Mogavero was working as the chief financial officer of a New York City-based restaurant group in the 1990s, he discovered that the chefs and managers didn't know the basic facts about their restaurants' operations.
Why were food costs up? Why were labor costs rising? And who were their top and bottom servers?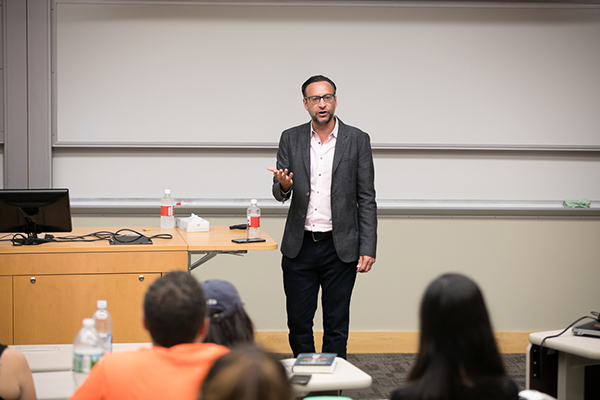 "These were all things, seemingly, that you should know if you're running a restaurant," Mogavero recently told the students in associate professor Helen Chun's consumer behavior class. "The problem was, they made up the answers and they spent all their time doing administrative tasks in the back office. And so we had a situation where they didn't know what drove performance, but they also didn't spend time with their customers."
For Mogavero, that was a business problem that needed what was, back then, an unconventional solution—data analytics, a tool that would transform the restaurant industry. In 1999, he founded Avero, a software company that now processes $26 billion in food and beverage transactions annually and serves more than 10,000 restaurants, casinos, and hotels in 70 countries. He recently launched a new company, DM Ventures.
Mogavero brought his success story to the Hotel School on Sept. 18 in a whirlwind 24-hour visit that included guest-lecturing in two classes, sharing every meal with groups of students and faculty members, speaking about his new book—The Underground Culinary Tour: How the New Metrics of Today's Top Restaurants Are Transforming How America Eats (Crown Business, 2017)—and signing hundreds of copies that he gave away to students throughout the day.
The visit to the Hotel School wasn't the first for Mogavero, who spoke in the Dean's Distinguished Lecture Series in 2013 and received the 2015 Cornell Hospitality Innovator Award from the school's Leland C. and Mary M. Pillsbury Institute for Hospitality Entrepreneurship. After he launched Avero, Mogavero donated his software for the school's faculty to use in class.
"We gave our software away for free to help teach the students about restaurant analytics," said Mogavero, who has offered a good number of those students internships and full-time positions in the years since. "It's taught in many of the classes, so we have this amazing partnership."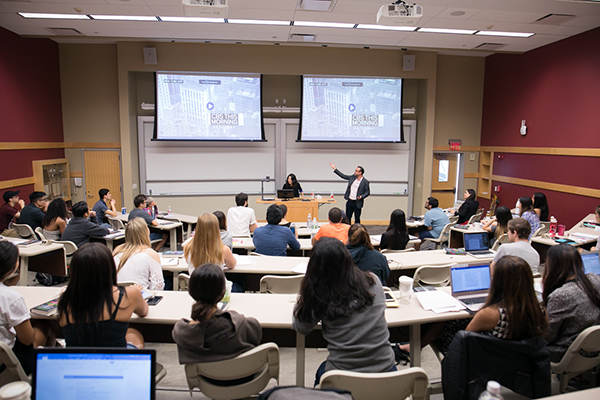 Mogavero explained to Chun's consumer behavior class that he analyzed the data he gathered from the restaurant industry to identify the top trends that restaurants are using to outperform their competitors. He also created an annual, invitation-only "underground culinary tour"—a 26-hour, 16-stop food odyssey—which includes a six-hour nap—for restaurant and hospitality executives in New York City to learn about the latest innovations in the industry.
"I do believe that we are in this grand foodie revolution," Mogavero told the class. "The thing about it is that trends that happen in New York City used to take 20 years to get to the middle of the country. But because of technology and everything on TV, it now takes 12 months."
What Mogavero calls the new-guard restaurants have not only embraced data but have also focused on the following four trends:
Highest-quality ingredients
Top restaurants are using the best ingredients, as seen in the farm-to-table movement that has spread globally. Vegetarian food is also moving from the side to the center of meals because of concern for the environment.
New focus on beverages
Beverages are no longer an afterthought but a mainstay for restaurants. Independent coffee companies, wineries, and breweries are growing at a frenetic pace to meet consumer demand.
Innovative spaces
Food and beverage companies are moving into "food halls," elevated takes on the mall food court. In response to the growth of Airbnb and other rental platforms, food and beverage offerings are moving to the forefront in hotels as a means to differentiate them and make them culinary destinations.
X Factor
Social media, including sites that promote the sharing of food photos, are playing a big role in determining whether restaurants succeed or fail.
One student in the class, Rachel Pollack '19, told Mogavero that she had worked for an advertising agency during the summer that used influencers to post content about brands it represents. Pollack, who also runs her own food page on Instagram, said she was impressed that Mogavero identified the impact of social media on the restaurant business as one of his top trends. "He was amazing," she said. "He's very smart and he knows what's going on with the trends."
Vaibhav Bhutani '20 had heard Mogavero speak in professor Sherri Kimes's restaurant revenue management class earlier in the day. Keen to hear more insights from an innovator who has brought a new level of operating sophistication to the restaurant business, he sat in on Chun's class as well. "He knows the industry," he said. "He knows contrarian truths that will never be otherwise unfolded."