Product Studio at Cornell Tech achieves cruising altitude
By Mukti Khaire, the Girish and Jaidev Reddy Professor of Practice at Cornell Tech and Faculty Director of the Johnson Cornell Tech MBA program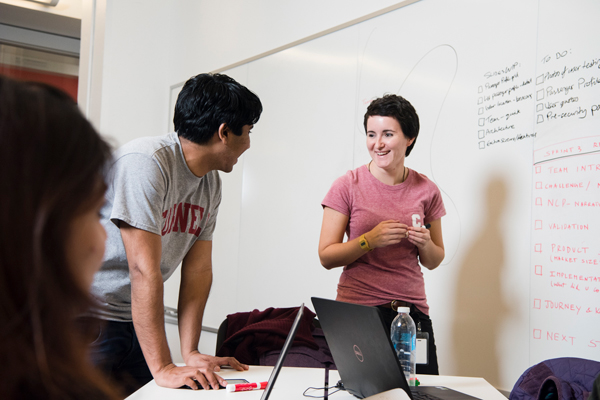 Each fall, Johnson Cornell Tech MBA students enter the Product Studio, forming multidisciplinary teams to tackle one of dozens of business challenges posed by leading organizations in New York City. As one of Cornell Tech's most innovative and unique differentiators, Product Studio allows MBA students the opportunity to work closely with their cross-disciplinary colleagues to solve a real-world business, technical, or strategic problem.
Product Studio is phase one of the two-part Studio curriculum, culminating in Startup Studio in the spring. The foundation of Product Studio is Corporate Challenges, in which Johnson Cornell Tech MBA students are placed in cross-functional teams with other Cornell Tech students to tackle a "How might we?" challenge posed by an actual startup, for-profit, or non-profit organization.
Building teams and spanning industries
This year, a late spring call produced a total of 176 challenges from a diverse group of organizations, including eBay, Verizon, Amazon, MasterCard, Memorial Sloan Kettering, and the Bill and Melinda Gates Foundation. From this initial "super-set" of challenges, 52 were ultimately matched with teams of four or five Tech students. The teams were formed using the Dreamteam algorithm, created by Cornell Tech alumni, which matches students based on complementary strengths, challenge interests, and program of study. The teams are composed of students from across the Cornell Tech campus—engineers and computer scientists, law students, business students, and information systems students—to maximize cross-disciplinary peer learning. A company advisor from the sponsoring organization provides support to the student team.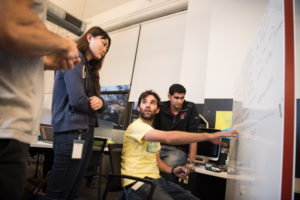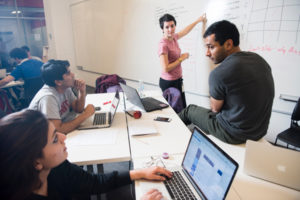 This approach closely replicates how cross-functional project teams work in the real world and is borrowed from the Design Sprint concept developed by Google. The goal of addressing a "How might we?" question is not to create a fully-functional app, or to conduct detailed user or market research. These are not "work for hire" engagements or internships, and, in fact, the submitting organizations and student teams explicitly waive their exclusive intellectual property rights to any concepts or solutions developed through Product Studio. Neither party may patent or license the intellectual property, and anyone, including the organizations and students, may freely use it as they wish.
The "How might we?" challenges cover a remarkably broad range of concepts that span industries as diverse as financial services, healthcare, retail, advertising, transportation, and consumer technology.
Some examples include:
A major national retailer asked: How might we create a smooth multi-channel shopping experience for customers who have the option of using online and brick-and-mortar stores interchangeably?
From a healthcare provider: How might we leverage the recent boom in consumer virtual reality technology to improve quality of life for people with cancer?
A financial services company posed: How might we use blockchain technology to create and maintain a financial identity that is country independent?
Narrative, validation, build
The student teams recently completed their second of three "sprints" this fall. Classes are suspended, and the students work together in their product teams over a dedicated 24-hour period. The first sprint was about "narrative," and was designed to help the teams narrow down the focus of the challenge to two or three possible solutions. The theme of the second sprint was "validation," and teams were tasked with continuing to refine their concepts and test validity. The final sprint, which will run shortly after Thanksgiving, is dubbed "build." This is when teams are expected to create a viable mockup of their solution, and then stand and deliver it to a live audience of key stakeholders, peers, and community members.
One key goal for Product Studio is to help Johnson Cornell Tech students develop sufficient understanding about today's emerging technologies in order to make significant contributions to multidisciplinary teams. It's critical to learn how these technologies are used as tools in a business context and to develop this understanding within a safe academic setting.
Additionally, the experience of working in diverse, multidisciplinary teams within a pressure-cooker environment—with short deadlines and tangible outcomes—helps students build their leadership and teamwork skills.
Elevating the case study model
Product Studio provides a strong foundation for Startup Studio in the spring, where these skills are put to even greater test under more open-ended constraints. The Studio program helps Johnson Cornell Tech stand out among the multitude of MBA programs. While many b-schools teach using the case method, Johnson's Cornell Tech MBA program takes that to the next level. In addition to learning through lectures, textbooks, case studies, and writing papers, Tech MBA students participate in real-life business and technology challenges that closely replicate the experience of working in the business world, whether at a first-round startup or an established multi-national, where listening to customer and market feedback and achieving rapid iteration are the benchmarks of success. This experience gives them unique perspective into digital leadership in business and society.
I look forward to sharing the results of this year's Product Studio Corporate Challenges with you in a future post. In the meantime, our students are busy in the Studio, developing and launching creative solutions to today's strategic, business, and technological challenges.
Stay tuned!