It's complicated: Understanding the relationship between the economy and the environment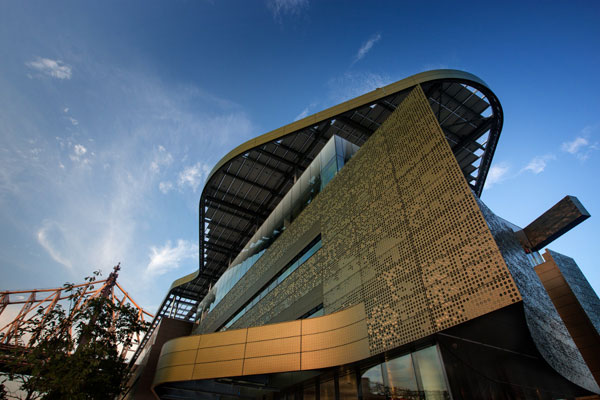 Kicking off the Johnson Club of New York City's 2017–2018 Thought Leader Series, Mark Milstein, director of the Center for Sustainable Global Enterprise and professor of management at Johnson, moderated a panel discussion at the new Cornell Tech campus on Roosevelt Island, Oct. 24. The evening's topic, Building a Sustainable Future, One Cornellian at a Time, was also an opportunity for Associate Dean Doug Stayman to discuss the role that the Cornell Tech campus plays in the sustainability space.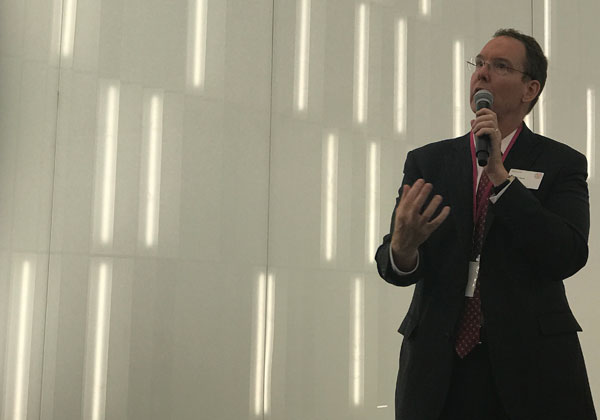 Following an introduction by Dean Mark Nelson, Stayman explained that much like the industrial revolution of the 19th century led to the birth of engineering and business universities, the digital revolution of the current century has created a need for higher education that focuses on digital technology, like Cornell Tech.
When it came time to actually build the campus, Stayman said, a question arose around what it should digitally enable. In retrospect, the answer was clear. "One of the greatest problems we face today is climate change, and digital technology can help us solve it. That's why we built this campus sustainably," he said.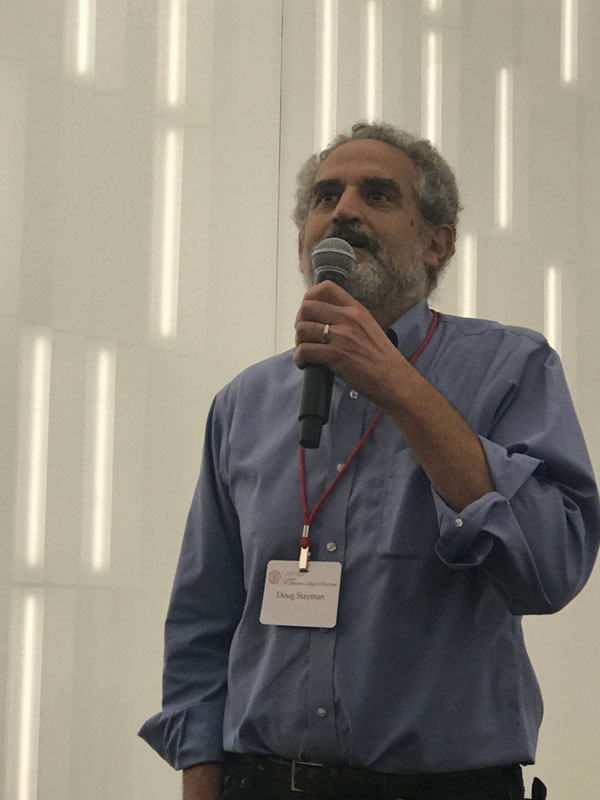 Stayman went on to describe how the campus is an experiment in teaching by doing. It's home to the first high rise passive house in the world, for example, and the Bloomberg Center, where the event was held, has net-zero carbon emissions. "Cornell Tech's mission is to do something different and lead. We want people to adopt our approach. If people don't do what we're doing, then we're not successful," he said.
The overview segued into the panel discussion, which quickly gravitated to politics. To start, Milstein asked the panelists about whether or not environmental and economic issues are mutually exclusive, and whether there was a way for both to thrive. Architect Laurie Kerr, MS '79, a Bloomberg administration alumna and director of policy at the Urban Green Council, said the two are inherently linked. New York City, for example, has made it a goal to reduce carbon emissions by 80 percent by 2050 and the biggest obstacles it faces are its buildings. There are more than a million buildings in NYC that have to cut their energy consumption in half and electrify utilities such as heat and water. "There's a real business need here. It's a tremendous opportunity to make money and grow the economy," she said.
When asked how much Washington's policies effect sustainability matters, the panelists had mixed opinions. In the heavily regulated energy sector, for instance, tariffs are always a major concern. Ram Akella, MBA '03, chairman and managing director at Centrosolar America, a solar module manufacturing company, said he never knows what to expect with regard to policy. "If you ask me what my operation will look like on January 1, 2018, I have no idea. We don't know what tariffs will be imposed, and that's something everyone in the sustainable energy space has to contend with," he said.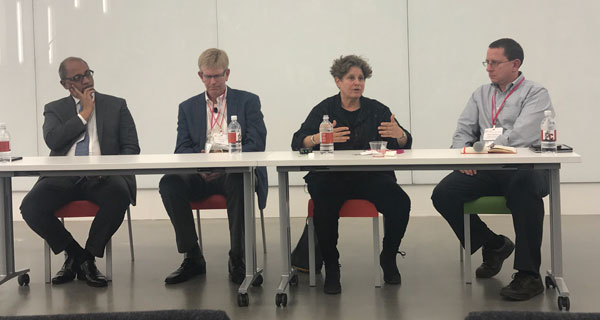 Growing produce—fruits and vegetables—on the other hand, is "an unsubsidized, free market business," according to Paul Sellew '80, founder and CEO of Little Leaf Farms, a company that grows baby leaf lettuce locally and sustainably. That means that for Sellew's business, Washington policy is, for the most part, irrelevant. "All my business depends on is the quality of the product and the cost of production," he said.
The discussion wrapped up with a question on what budding entrepreneurs should do if they're interested in started a sustainability-oriented business. Kerr's advice, and her overarching message throughout the event, was to focus on developing solutions for energy use in older buildings. Sellew, meanwhile, emphasized that though agriculture is often considered a "sleepy industry," it's hot at the moment. "We have to double food production by 2050, but that's only 30 years away. We have to reinvent agriculture and technology is going to help us revolutionize it," he said. As for Akella, he said there are two areas that will always be great business ideas both in and outside of the sustainability space—data and software.