Award-winning family business documentary opens Families in Business Conference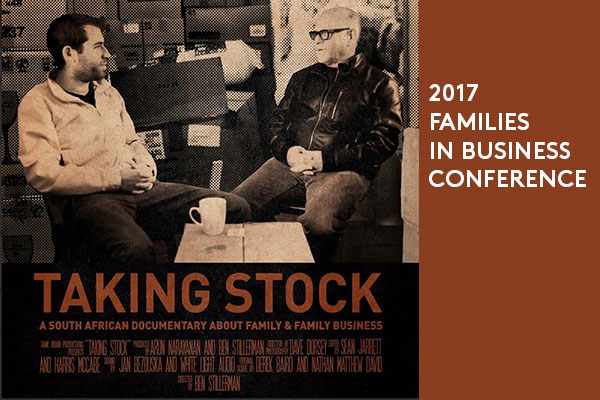 The Smith Family Business Initiative's second annual Families in Business Conference, which showcases family businesses across the economic spectrum, kicked off this year on Oct. 25 with the screening of Taking Stock, a personal drama that explores a father-son relationship while also capturing the overlay of a family business in South Africa, Benoni Discount Stores.
Taking Stock director Ben Stillerman was on hand for a "talk back" at the event, co-hosted by the Smith Family Business Initiative and the Cornell Jewish Studies Program and held at the Breazzano Family Center in Ithaca's Collegetown.
Stillerman would have been the third generation in his family to join the business, but instead pursued a master's degree at the University of Southern California's School of Cinematic Arts. Taking Stock was the project for his graduate thesis. The film won the Best Documentary award at this year's Massachusetts Independent Film Festival
In explaining his inspiration for the title of the film, Stillerman said that stock signifies both the value of owning assets in a business and the pressure of having to sell inventory. His father avoided walking through the supply room because, as a business owner, stock was a constant reminder of what needed to be sold.
"This film went through many iterations, but one thing I was always sure of was the name was Taking Stock," Stillerman said. "The reason for that was because the stock is the direct representation of the weight of being in business."
Filmed on location in Benoni, South Africa, the movie included a glimpse of culture and race relations between management and workers there. Stillerman explained that because he was only filming in Benoni for a month, he had to create instances that would result in discourse.
"It felt a little exploitative to force this interaction to take place that would never in the real world take place," Stillerman said. "I knew that I needed to catalyze some moments that wouldn't have naturally happened."
At one point, he encouraged his father to travel to some of the employees' homes, something Clive had never done before.
Clive's friends questioned why Ben forced his father to make these visits, because very few bosses spend time with employees outside of work. According to them, the reality of power dynamics makes it difficult to befriend coworkers while also acting as their boss.
During apartheid, the system of institutionalized racial segregation and discrimination in effect in South Africa between 1948 and 1991, employment opportunities were especially scarce for non-white South Africans. Stillerman explained that because South Africa still has one of the highest rates of income inequality in the world, he wanted to see his father become familiar with his employees' lifestyle.
He also said that, despite his father's domineering leadership style, workers stayed with the business for many decades because they felt personally connected and valued within the organization.
"[My father and grandfather] were old-school in their ability to communicate with their employees, but they always paid above the grade and they always took care of them when it mattered," Stillerman said. "He paid for all sorts of things that were above and beyond because he thought that his staff were part of his family."
Current employees expect Ben to take over the business when his father retires. Ben is trying to convince his father to eventually hand over the business to the employees, some of whom have been working for Clive for more than 40 years.
"It's as much their story at it is his, and certainly more their story than it is mine," Stillerman said.
After the screening, Stillerman took questions from the audience. Overall, audience reaction to the film was positive, with reactions ranging from "visually fantastic" to "personally gripping." One audience member said the film was "full of universal truths for anyone who is growing up in a family business."