Forum focuses on longtime family businesses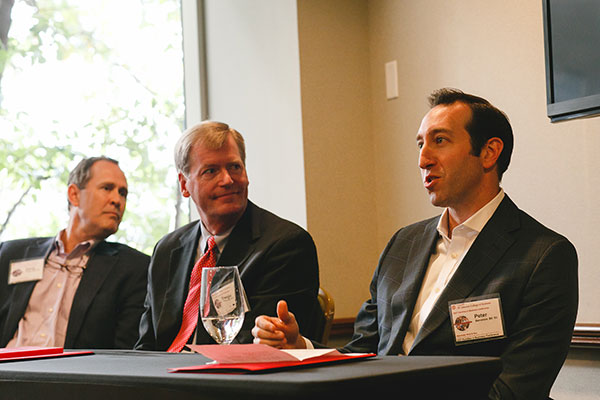 The alumni behind three family firms that have survived and thrived for 100 years or more shared their insights on longevity and maintaining the ties that bind the generations of business ownership in a panel discussion held on Oct. 27 during the Smith Family Business Initiative's 2017 Families in Business Conference.
The forum, "Looking Back, Moving Forward," was moderated by David BenDaniel, the Don and Margi Berens Professor of Entrepreneurship, and featured Peter Bernstein '03, director of operations for Alexander Wolf & Son; David Tingue, MBA '92, CEO of Tingue, Brown & Co.; and Dwight Vicks '84, MBA '91, owner of Vicks Lithograph & Printing. All three men, whose companies represent disparate markets, contend that keeping control within the family has its own rewards.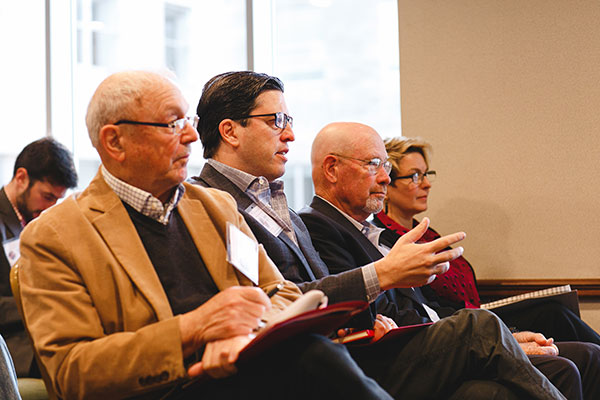 Bernstein, who runs a Manhattan-based construction company founded in 1905 by his great-grandfather, started as a laborer before earning an engineering degree and an MBA and returning to the fold. "I did each of the jobs in our company to understand what they entailed," he said, noting that Alexander Wolf & Son has done interior renovations at the Rockefeller Center, the United Nations, the Empire State Building, and many other office buildings over the years. "Being a family business helps us establish working relationships," he said. "We have a good reputation and, for us, it's all about repeat business. It's much harder to get new clients than to work with the people we know, and who know us."
Tingue, Brown & Co. has provided parts and supplies to the commercial laundry industry since 1902. In addition to the core business, the company has expanded to include a plastics molding operation. The current CEO represents the third generation of his family to control the business. "When I was growing up I was encouraged to do work that I enjoyed, not necessarily get involved with the family business," Tingue said. After college he worked for Citibank and Chase Manhattan before deciding his future was with the family business — and earning an MBA at the urging of his father.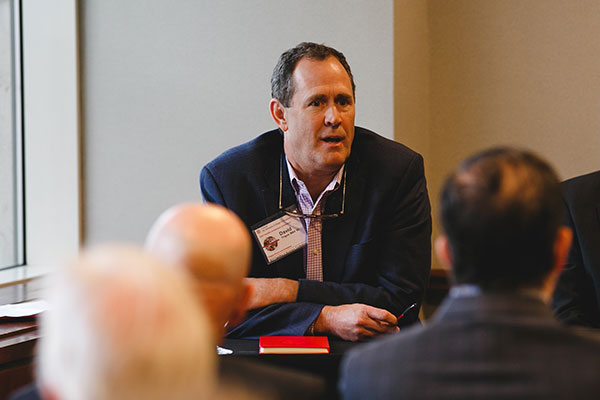 Like Bernstein, Tingue cites the value of ownership continuity. "Customers appreciate the familiarity we have established over the years — some of them remember my grandfather and father. And a strong reputation does open doors for us."
Vicks runs a printing company that dates to 1918 and was launched by his grandfather, who established a niche in the music industry by printing sheet music; later, the company expanded into content distribution and digital book production. "I worked in every department and decided that I did want to do this — to be captain of the ship," he said. Vick joined the company in 1991, just when the digital revolution caused the demand for printed materials dropped, leading to a drastic contraction in the print industry. "We had to diversify, and did more custom printing jobs and more distribution of content than content creation," he said. "We are doing well, but we are smaller than we used to be. We now have new partnerships and new markets for printed products."
As for family ownership conflicts and plans for succession, the executives noted that planning is critical, including the creation of trusts and communication among family shareholders. "Our trust arrangement helps limit family disputes by defining who controls the company," Tingue said. "It also helps with the transition to the next generation. We have tried to consolidate ownership by buying back shares held by employees and others not in the family."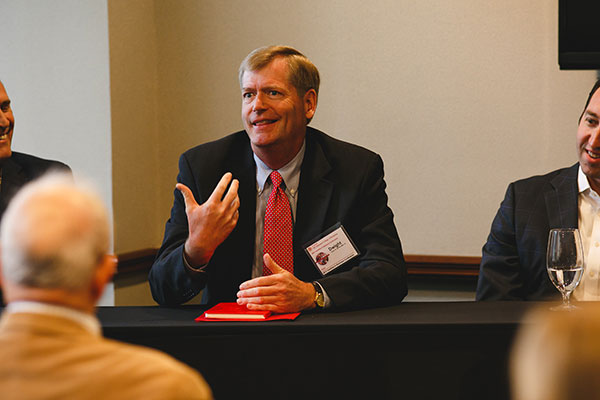 Bernstein noted that Alexander Wolf had a transfer of ownership from two families to one family in 2012, which helped reduce disputes, as does a buy/sell agreement with family shareholders.
Asked if they feel any pressure as the stewards of well-established family businesses, the three men said that there is a responsibility to maintain the successes of their forebears.
"I am the third-generation owner, and I don't want the ship to go down on my watch, so there is some pressure to keep it going," said Vick.
Tingue agreed, saying, "Yes, there is pressure of sorts. My father told me I am not obligated to continue my involvement if there is a good offer to buy the company. But at this point, I need to do some succession planning before I step down and before my son and daughter are old enough to get involved, if they so desire."
"Our business is strong, but we need to plan for a rainy day and stay within our means," said Bernstein. "We have to keep a tight watch on the company and the bottom line. There is also a great opportunity in a family business. If you want to get involved, you can own your own company."
—All images by Tania Lezak