Why MMH? To strengthen our family business in the hospitality industry
By Richelle King, MMH '18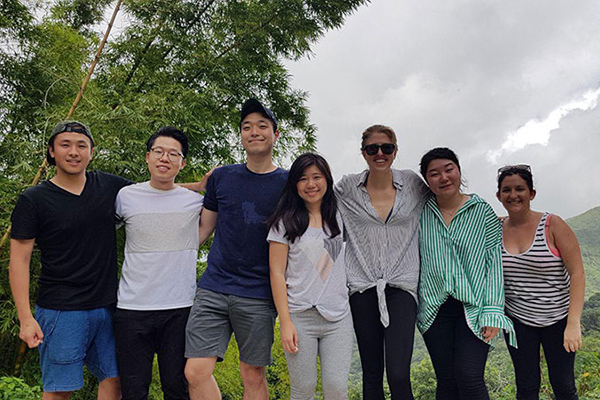 When I was five years old, every Sunday my family and I would visit our first hotel property and have breakfast there; I remember the executive chef always cooked the perfect sunny-side up eggs, my favorite. When I was in my high school years, I would work summers as a front office agent at our city hotel, while my brother would work as a bell boy. Sometimes, when I was bored of front-of-the-house operations, I would ask my dad to assign me to the administrative offices so I could help with accounting and finance.
My family had absolutely no background in the hospitality industry, but my grandfather had a lot of prime undeveloped real estate across the Philippines and my father decided to develop them into hotels. He established our homegrown chain of hotels and resorts, Crown Regency Hotels & Resorts, with a current portfolio of 10 properties across major destinations in the Philippines. He expanded into a timeshare and vacation club, Club Ultima, with more than 10,000 members nationwide and 3,000 hotel affiliates across 80 countries, and he established a real estate development company, Fuente Triangle Realty Development Company, focused on building high-rise condominium towers in Cebu City, Philippines.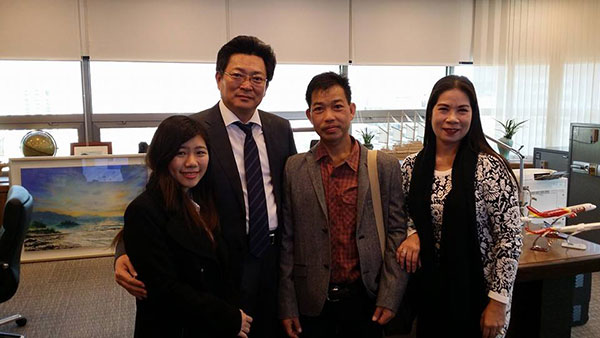 Although I grew up exposed to the hospitality industry, I had very little interest in it. My undergraduate degree was in management with a minor in finance because I wanted to work in banking. A series of events after graduation eventually led me back to the family business, where I was tasked with creating the first digital marketing team. I eventually moved on to manage the Marketing Communications team, the Reservations team, and the Purchasing Department, all the while attending bi-monthly Management Committee meetings, accompanying the Sales team to sales calls and international travel and trade shows, as well as finishing a brief rotational operations immersion program in our city hotel and resort properties. After three years of helping manage our hospitality conglomerate, I decided to take the next step and get a master's degree in hospitality at Cornell. A lot of people, especially my family members, questioned why I chose to go to school to learn hospitality when I could learn it in my own backyard. Some asked why I didn't just get an MBA.
And so, these are my top reasons for choosing the Master of Management in Hospitality (MMH) program at Cornell University's School of Hotel Administration:
Cornell has the best hospitality program in the world.
When I made a decision to go back to school and get a master's degree with a strong hospitality focus, I looked through various different programs from all over the world—from Switzerland to the United Kingdom to the United States. I looked through each curriculum, but the only one that really stuck out to me was Cornell's. It was a curriculum that focused on developing technical skills (core classes), soft skills like leadership (Leadership Development Program), and exposure to the industry (Dean's Distinguished Lecture Series). I also really liked that the program included a Properties Development and Planning class, which I didn't find in any other program curriculum. It also helped that the program only ran for 12 months with a two- to three-week winter externship, because as a hotel owner, and active top management member of my company, I couldn't afford to be gone for so long. I also figured that if I was going to take time off to get a master's degree, I might as well get it from the #1 program in the world.
The program focuses more on hotel management than hotel operations.
When I was fixing my application for Cornell, I reached out to a then-current MMH student to ask him more about the program and student life in general. After telling him my background, he stressed to me that if learning hotel operations was something I was looking to get out of my master's degree, Cornell was not the right program for me. He told me that Cornell's focus was more on hospitality management and that it was not an operations school, and this further sold me on Cornell's MMH program because it was exactly what I was looking for. After three years of helping manage my family business, I realized that management was not something people picked up as easily as they could operations. Hotel management was surprisingly difficult and a trial and error process that required a knowledge of how the industry works and industry best practices, and sadly, time to test out what worked and what didn't wasn't something my company could afford.
The program allows flexibility for people interested in other hospitality-related fields like real estate and restaurant management and development.
Because my family focused on not only hotels but also residential and commercial real estate development, I wanted a master's program that offered me the opportunity to learn more about real estate. Cornell's Baker Program, the real estate program under the Hotel School and the College of Architecture, Art, and Planning, is one of the most acclaimed real estate programs in the world. Aside from hotel management, I really wanted to learn more about hospitality asset management and real estate development and I found that no other program in the world offered a more seamless integration than Cornell's MMH program did.
Cornell's hospitality network is unsurpassed.
The fact that Cornell's MMH program is so diverse (58% international students!) and that at least 90% of students have hospitality experience drew me in because I find it really valuable to find a space where you can freely exchange ideas with fellow industry professionals and hotel owners from across the globe. Learning from others' experiences and struggles in the context of hospitality is something I find very interesting.
Although I didn't think much of Cornell's Hotelie alumni network when I matriculated, I find that I appreciate it more and more as I'm going through the program. It's probable that no other school can boast of a network with this caliber in such a relevant and global industry. No matter where you are in the world, there is likely at least one Cornell Hotelie ready to help out with anything you need, from a job to advice or maybe even a mentorship. And as one of my mentors used to tell me, in an industry as social as hospitality, you are only as valuable as the people you know. Even in classes, hospitality company CEOs phone in or make guest appearances to give lectures about their experiences. The Dean's Distinguished Lecture Series exposes us to industry executives in an impactful and intimate way, which I find extremely valuable.

---
About Richelle King, MMH '08
Richelle was born and grew up in Cebu City, Philippines. She obtained a business degree from Ateneo de Manila University in Quezon City, Metro Manila, Philippines. Though Richelle was exposed to the hospitality industry at a young age, it wasn't until she started working in the family business in May 2014 that she developed a passion for the industry. She eventually moved on to manage and work closely with several departments. Richelle plans to expand her family's business and introduce innovative concepts in the market while staying true to her family's original vision of creating properties that are a "destination within a destination." She hopes to propel her family business into becoming the market leader in the Philippine hospitality landscape