Practice makes perfect: Bringing core marketing principles to life with the SC Johnson Case Competition
By Kaitlin Woolley, Assistant Professor of Marketing

At Johnson, hands-on learning is a core component of our MBA curriculum. Our goal is to provide students with intensive, roll-your-sleeves-up experience in leadership, collaboration, decision-making, and strategic thinking.
A key aspect of our curriculum is case competitions. Case competitions give students the ability to take the lessons they learn in class and apply them to a previous problem a company or business faced. This year's annual SC Johnson Case Competition was centered on a case about Starbucks, whose national expansion left it serving two distinct customer segments. Teams of students received the case on Monday morning and presented their analysis of the issues and their final recommendation for the company that Friday.
From a faculty perspective, we're looking to see how well students can apply the marketing frameworks taught in class to a new problem they haven't faced before, coming up with creative ideas and thoughtful solutions.
For the Marketing Management core, which I co-teach with Professor Soo Kim during the first semester of our Two-Year MBA program, we are lucky to host a case competition sponsored by SC Johnson. Part of this sponsorship means that SC Johnson brand managers come to campus to help judge the competition, with prizes going to the finalist team they select. SC Johnson also sponsors a reception after the event, giving students an opportunity to meet the judges and learn more about the role of marketing in the company.
In Marketing Management, we provide students with a structured approach to thinking about marketing problems and solving cases. The SC Johnson Case Competition is engineered to get students thinking about those concepts and frameworks and how they might apply to a particular issue that a real-world company has faced in the past. Specifically, we're looking for students to consider the problem through the lens of the consumer and apply the core concepts that they have learned, like segmentation, targeting, and positioning–STP analysis– to a situation that does not necessarily have one right answer.
Benefits of the SC Johnson Case Competition
Beyond academics, case competitions offer students a variety of benefits, including the opportunity to learn more about themselves, their strengths, and areas where they can improve. They also bond students from different class years together as it's an experience all first-year Johnson MBA students have.
Ultimately, however, I see three core benefits for students who participate in the SC Johnson Case Competition.
1. Simulated business experience
Each aspect of The SC Johnson Case Competition is meant to simulate an actual business context. By giving students their case on Monday, and asking them to present their ideas and analysis on Friday, we're creating an environment with a healthy level of stress that pushes students to prioritize the areas of the case they want to explore and the solutions they want to highlight as part of their presentation.
Presentation day is also set up to create an environment where students need to think on their feet. From 9 a.m. to 2 p.m., teams take turns presenting to faculty judges. Once all teams have presented, each team attends the final presentation, not knowing what teams have been chosen as finalists. Then, one by one, the faculty announce the finalist teams, who have to immediately present to our panel of SC Johnson judges. Altogether, it's a spontaneous environment that gives students the opportunity to flex their creative muscles and receive immediate feedback.
2. Presentation skills
In the first round of the competition, students present their analysis to select Johnson marketing and communication faculty members. Communication faculty give immediate feedback on team's presentation skills, highlighting what individual team members did well, what they need to focus on for improvement, and how their group can work to present more cohesively. This feedback, in part, is meant to help teams who are chosen to present in the finals. After all teams have presented, the faculty judges pick four team finalists, who then present again before their classmates and judges from SC Johnson and the Cornell College of Business. This year, these judges included brand managers from Off!, Ziploc, and Glade. For teams chosen as finalists, there is an additional component to the presentation: fielding questions from the panel of SC Johnson judges. This final rapid-fire question and answer session gives students a valuable opportunity to receive immediate feedback on their ideas and case analysis and respond to that feedback in the moment.
3. Leadership and teamwork skills
For students, learning how to navigate in a team is a crucial component of the Johnson MBA curriculum. At the start of the school year, students are assigned to teams and complete assignments in these groups for all core classes. The SC Johnson Case Competition represents the first meaningful presentation for students in the marketing core course.
The competition is a challenging project for a number of reasons, but teamwork is near the top of that list. Students need to navigate various schedules, understand each team member's strengths and weaknesses, and use that information to put together a presentation, all in a matter of days.
Working in groups, especially on short-term projects such as case competitions, pushes students to understand their team dynamic and each team member's working style in an accelerated environment. The teamwork and leadership lessons that students glean from this situation will set them for success should they choose to participate in optional Johnson programs, such as our Leadership Skills Programs or Leadership Expeditions.
The SC Johnson Case Competition is engineered to get students thinking about the concepts we teach in the Marketing Management core course and how they might apply to real business problems companies face. As a faculty member, it's rewarding to watch students present carefully considered solutions to a challenging problem, and to see the creativity and bold thinking each group brings. For students, the competition is an opportunity to take the lessons that they learn about in class, like the STP framework and break-even analysis, and apply it in a real-world environment.
To learn more about case competitions, or the Johnson core course curriculum, visit our Two-Year MBA curriculum page.
---
About Kaitlin Woolley, assistant professor of marketing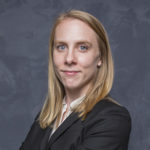 Professor Woolley studies consumer motivation and goal pursuit, with a focus on understanding what consumers value when pursuing their goals and how to use this to increase goal persistence. She also researches the influence of goal conflict on consumer choice, and the role food consumption plays in social connection.