Bringing the Stock Pitch Challenge trophy home
By Abdullah Al-Rezwan, Two-Year MBA '19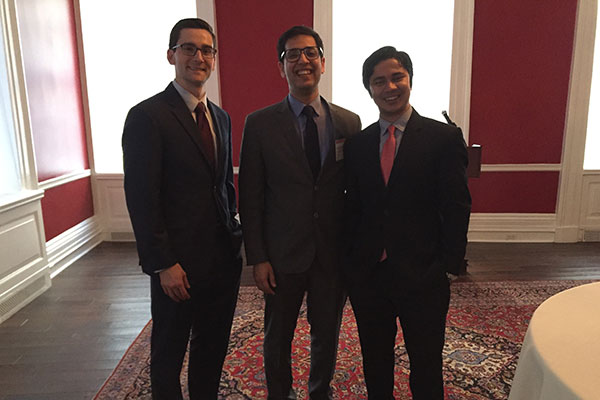 Johnson was the first business school to introduce the idea of an MBA Stock Pitch Challenge in 2003. Later, the idea was replicated by other schools. While Johnson students have placed in the finals several times in years' past, the school has not won this fiercely competitive event in the last 12 years—until this year. This year, my teammates—Mark Krutty, MBA '19, and Shashank Manchanda, MBA '19—and I are absolutely thrilled to bring home the Jack M. Ferraro Trophy. We are elated, overwhelmed, and relieved to finally have Johnson's name back in first place on the trophy.
3 stocks, 12 hours
On October 31, my team and I got together waiting for the 9 a.m. email to mark the start of the Stock Pitch Challenge. The structure of the competition requires every member of the team to be on top of his or her game to proceed to the final. Here are the logistics of the competition:
On Tuesday morning at 9 a.m., organizers sent an email assigning one common stock and two industries to the participating teams. They also provided a list of the eligible set of stocks in each of the two industries.
Teams had to decide whether to present a long (buy), neutral (hold), or a short (sell) recommendation on the common stock.
For each of the two assigned industries, teams had to choose a company that they will pitch as either a long, neutral, or short candidate.
We had 12 hours to complete our assignments. All assignments were due by 9 p.m. on Tuesday night.
All teams presented their recommendations on the common stock and on one industry-specific stock in the preliminary rounds on Thursday morning. The two highest scoring teams from each group in the preliminary round advanced to the final round on Thursday afternoon and were given the opportunity to pitch their final stock.
Understanding an essentially unknown company's business—including its fundamentals, strategies, and financial statement analysis—to come up with a value to recommend a buy/sell decision is, of course, a daunting task even if you have weeks to prepare. What makes the process even more difficult is the time constraint that we had to grapple with. But since every participant was essentially dealing with the same challenge, we focused on using our time the best we could. For 12 hours on that Tuesday, we truly delved into those companies and immersed ourselves to find out what the business was really worth. When we submitted our stock pitch presentation slides, it was 8:58 p.m.
Arrive in NYC just in time
On November 1, we left for NYC at 11 a.m. and reached the hotel 30 minutes prior to the start of the evening networking event. Fortunately, the event venue was just a 5-minute walk from the hotel where we were staying. At the networking event, we had the opportunity to meet some of the Stock Pitch Challenge judges and learn more about their careers and experiences in the investment management industry. This was a great opportunity to connect with some of the top investment companies, such as Fidelity Investments, Vanguard, American Century, ClearBridge, JP Morgan, and OppenheimerFunds—all of which sponsored this year's MBA Stock Pitch Challenge. However, as per the competition's confidentiality requirement, we could not disclose to the judges which schools we represented.
We also met students from other business schools, and we all discussed our experiences in respective MBA programs. It was not surprising to hear that everyone's life is essentially dictated by Outlook calendars. But even with their busy schedules, everyone seemed to really enjoy their b-school experience.
Showtime: A game of both narrative and numbers
At 6 a.m. the following morning, we received an email from the organizers revealing which sector we would present in the second round. We certainly wanted every member of our team to have the opportunity to present their stock pitch, and the team was very determined to reach the final to ensure that—otherwise, we would not be able to present the third stock we prepared for!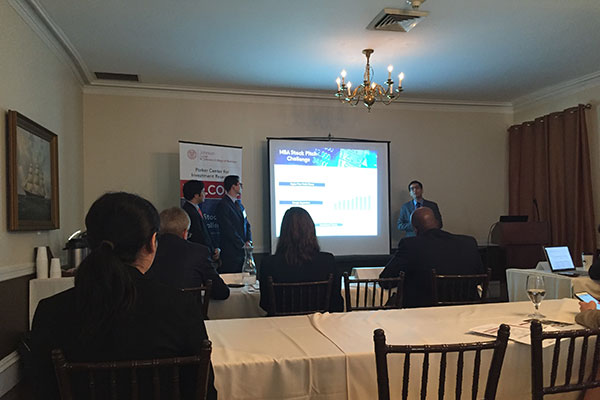 After our first and second presentations, we felt quite confident about our chances of making it to the final since we generally sensed a positive vibe from the judges during the pitch. Our intuitions proved to be spot on: Cornell, along with Wharton, Columbia, and Notre Dame, reached the final.
After the final round pitch, we really did not know what to expect. We felt we did just fine, but since we were the last team to present, we did not get the opportunity to watch the others' presentations. We didn't have to wait in suspense for too long, as the result was declared 15 minutes after the final round. Wharton was named the runner-up, and after a few very tense seconds, Cornell was announced the winners of the 16th annual MBA Stock Pitch Challenge.
The secret sauce for team Johnson
Looking back, we are incredibly indebted to many people for our success in the Stock Pitch Challenge. First and foremost, the Investment Management Club was truly instrumental in making sure we knew how to prepare financial modeling and pitch a stock even before we finished our first core finance course. Their guidance, coaching, and direction were definitely the primary reasons for our competitive performance. Moreover, there were quite a few events such as the Parker Center's summer Fundamental Investment Research Seminar and Stock Pitch Camp that helped us hone our skills. However, the major differentiating factor for us this year was that Johnson organized, for the first time, a Stock Pitch Mentoring Weekend, which brought alumni who are working in equity and credit research back to campus for one-on-one sessions with students to help them perfect their individual stock pitches.
This was led by Rob Symington, visiting senior lecturer of finance, and Scott Stewart, faculty director of the Parker Center. Rob also leads the Investment Research and Asset Management Immersion in the spring semester for first-year MBAs. This early exposure to professionals and hands-on guidance gave us a lot of confidence, and this definitely showed during the Stock Pitch Competition.
We certainly hope this is the start of something exciting for Johnson and that the Class of 2020 will help us retain the trophy next year. Go Big Red!

---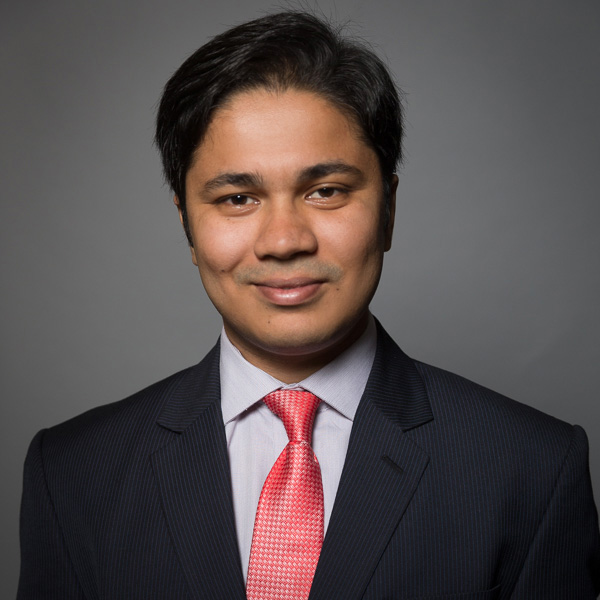 About Abdullah Al-Rezwan, Two-Year MBA '19
Originally from Bangladesh, Abdullah is an avid follower of Capital Markets and a perennial Cricket fan!