Top marketing executives empower Johnson students to reach their goals
By Marcela Moreno, Two-Year MBA '19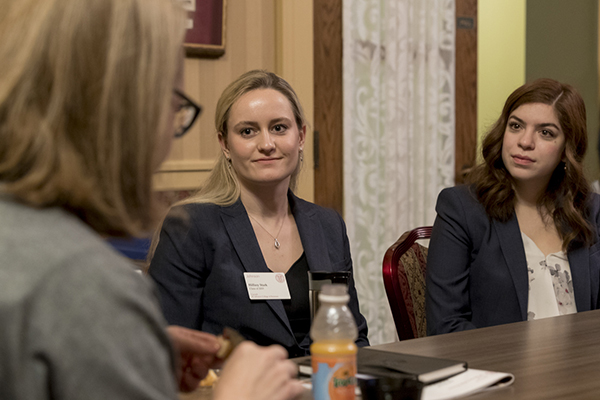 If you ask a 7-year-old what she wants to be when she grows up, the answer is often something along the lines of "an astronaut veterinarian to help space animals… and president." I have always been fascinated with the natural curiosity of children and their unrelenting desire to learn. I ask myself why it is that as we get older, we get sort of pathetic at dreaming?
Big dreams are accompanied by risks. Like me, MBA students are confronted with scary and difficult leaps of faith. Johnson MBA students face these risks on a regular basis as we seek to make an impact in the world, exploring careers and looking for our dream jobs. I chose Johnson because its program would challenge me to think even bigger. I could leverage its supportive network of expert faculty, students, and alumni to make my dreams a reality. A clear example of how Johnson does this was this month's Marketing Executive Coaching Program (MECP).
F. Warren Ellish, visiting senior lecturer of marketing at Johnson and president and CEO of Ellish Marketing Group, partnered with the Johnson Marketing Association to bring the MECP to life. For the 11th consecutive year, Cornell students had the unique opportunity to get first-hand advice from some of the country's top marketing executives on how to navigate their careers and grow as leaders. I participated in this year's event and the experience surpassed my every expectation.
"Marketing is all about possibilities"
The 2017 MECP panel was the largest since the program's inception. More than 50 of the most successful leaders in marketing came to Ithaca to share their experience and provide guidance to students. The event kicked-off with a panel of 18 executives with expertise in a variety of industries including food, consumer packaged goods (CPG), fashion and retail, hospitality, telecommunications, healthcare and pharma, sports, and tech. The panel highlighted the various functional roles available such as brand management, advertising, marketing consulting, product development, and consumer insights. I really enjoyed how the panel demystified the marketing world, discussing not only the breadth of opportunities available within marketing but also the many ways one can get there.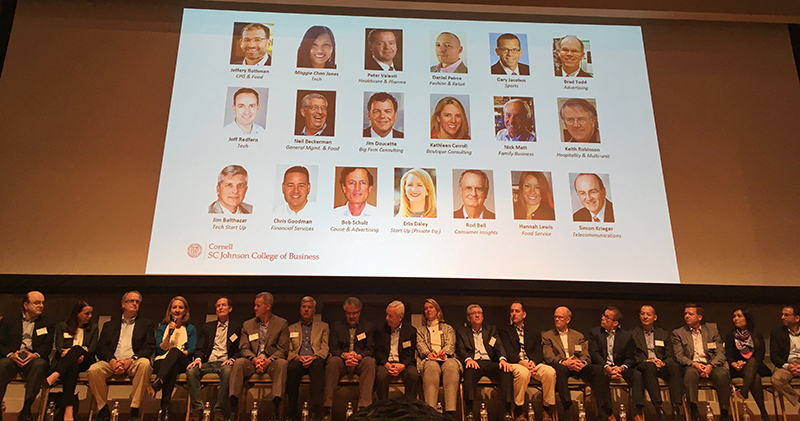 Put in the words of Keith Robinson, one of the executives in attendance, marketing is all about possibilities. Marketers build their careers around ideas, and it was amazing to learn about the impact the ideas of each of these executives have had in their respective industries.
"Ask me anything"
After the opening panel we headed to a cocktail reception where students could network with all the participating executives. As I nervously munched on a shrimp appetizer and debated whether the questions I had planned to ask were good, one of the executives approached my group. Peter Bright, MBA '00, director of Oral Care Marketing at Philips Personal Care, casually joined the conversation and in the most caring and genuine manner said: "ask me anything." Like Mr. Bright, all the executives in the program were incredibly receptive and kind. The MECP allowed me to ask all the burning questions I had in the back of my mind and get insightful answers specific to me, straight from industry experts.
"Let's talk about us"
After an evening of lighthearted conversation, the program resumed the following day with an early-morning women's breakfast. A new addition to the MECP, the breakfast was designed as an open and casual conversation centered around specific challenges that women face in the workplace. Women executives shared tips and tricks on everything from making yourself heard to negotiating. I loved getting advice from these incredibly successful women that spoke to us as if they were speaking to their friends.
The idea of adding a women's breakfast as part of the MECP came from Karen Martin, MBA '09, senior brand manager at P&G, and one of the executives in the program. Learning this was further proof of the true commitment that the MECP participants and Cornell University have to the development of future women leaders.
In the video below, Karen Martin and other executives from the event talk about current marketing trends.
"Let your values guide you"
We reached the pinnacle of the MECP with the much-anticipated one-on-one coaching sessions. I had three 45-minute conversations with different executives where I could guide the questions any way that I wanted. I initially thought the sessions would be relatively similar. However, each meeting was unique and helped me discover different ways to better position myself as a candidate for my future dream job.
My first session taught me a lot about the marketing function and working cross-functionally, including how to motivate others and how to lead with integrity. My second conversation was centered around leadership and taking the time to develop the skills that can make the difference between good and great. Finally, my last coaching session was about staying open to different opportunities but always letting my values guide my decisions.
I am humbled by the opportunity to have met with these three executives to discuss my background and personal goals. Their guidance helped me put things in perspective and I left Sage Hall inspired and excited about what the future might hold. In just a few hours, I built a mentorship relationship with these executives that will last for the rest of my career, and for that I could not be more grateful. I would encourage my peers and every student in the next generation to participate in next year's Marketing Executive Coaching Program.
---
About Marcela Moreno, Two-Year MBA '19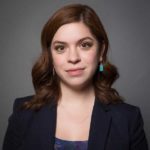 Born and raised in Chihuahua, Mexico, Marcela is an MBA student from the Class of 2019. She holds a BBA in economics and finance from the University of Texas at El Paso. She started her career in human resources and ultimately transitioned to finance, leading the group responsible for managing sales and trading P&L at a Spanish investment bank. Marcela is passionate about the idea of taking what you have and turning it into something new and improved. She finds inspiration in improving people's lives and is a self-proclaimed art enthusiast.