Noteworthy: Eli Shanks '18 converts school bus into solar-powered home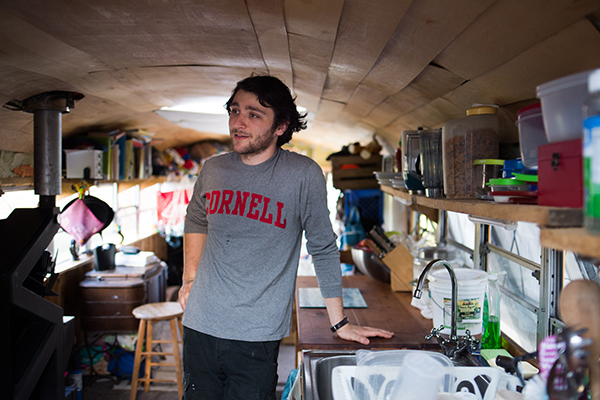 When Eli Shanks '18 got tired of paying rent in Collegetown, he decided to take matters into his own hands. The Dyson School senior bought an old school bus and used his remodeling know-how to turn the vehicle into a solar-powered home. In a recent article, The Cornell Daily Sun talked to Shanks, a farm manager at Dilmun Hill Student Farm, about his unusual home and the work it took to turn the bus into an inhabitable living space.
Key Takeaways from the Daily Sun article:
Shanks' bus is completely solar-powered with running water, a shower, a full kitchen, a bathroom, and plenty of electricity.
Converting the school bus into a solar home required building, plumbing, and electrical skills, all trades that Shanks gained from taking woodworking and furniture design classes in high school.
Shanks is pleased with the result.
"I am most proud of the fact that I built something that can safely and comfortably house my family and me," he says. "It really is a house. It's not like we are camping all the time."
Read the entire article in The Cornell Daily Sun to learn more about Eli Shanks and the school bus he converted into a solar-powered home.